Seventh title 'beyond wildest dreams', admits Hamilton who says 'keeping believing' key to Turkish GP triumph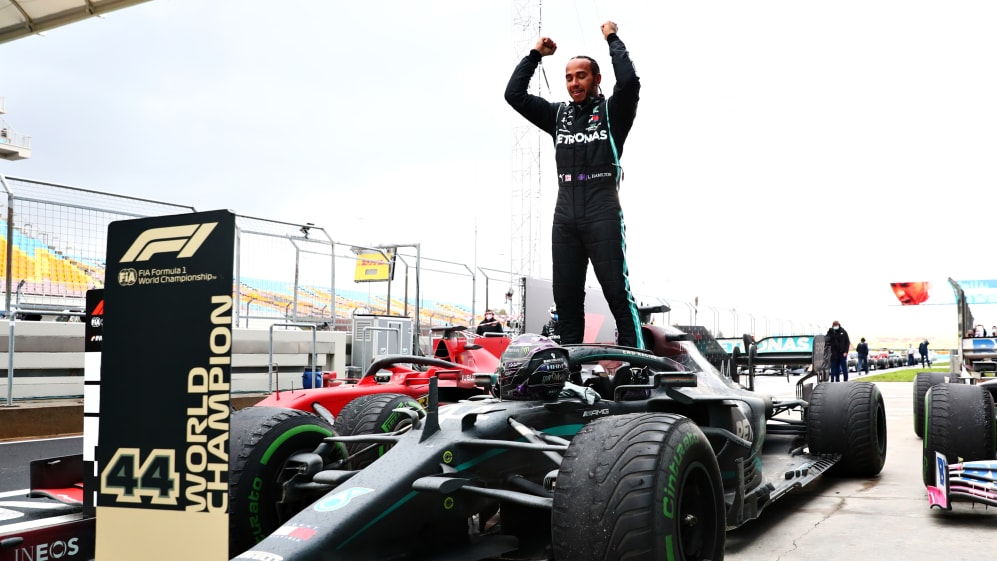 Lewis Hamilton has done it – he's a seven-time world champion. And it was typical of a man who has made raising the bar a habit that he did it with a true champion's drive in Turkey, using all of his skill and racing intelligence to win from sixth on the grid in treacherous conditions in Istanbul. And afterwards, having equalled Michael Schumacher's all-time championship record, he was visibly moved by his achievement, saying "This is way, way beyond our dreams..."
Dreaming – or rather believing – was a big part of Hamilton's 94th career victory.
READ MORE: Hamilton seals historic 7th title with peerless wet-weather victory in Turkey
Having admitted that sixth was his maximum in qualifying, it initially looked like it might not be Hamilton's day on Sunday, when he slipped back to that same position having initially jumped to third at the start.
But the Briton, whose career is littered with brilliant wet-weather drives, hung in there and after switching to intermediates the race began to come to him as he ramped up his pace and others either fell off the road or lost their way.
When he made it to the chequered flag in first place, he'd made his tyres last a full 50 laps – the longest of anyone in the race.
"Today, we knew coming here it was already such a difficult weekend," said Hamilton.
"We weren't massively disappointed with our qualifying position. We knew that we were on the back foot and we did the best we could but then we learnt a lot. This is what we do as a team. There's no blame game; we hash it out and we continue to try and improve our communication so that we can make moves forwards and you don't always get everything perfect.
"Today we had that small moment at the beginning of the race with the new tyres and then I couldn't get past Seb for a while and at that point I could see Albon pulling away and I was thinking 'Jesus this race, this podium has fallen away from me, fallen through my fingers', but I just kept my head down, kept believing that I would pick up pace of some sort, at some stage. And that's what I did."
Having surpassed Schumacher for the most wins in history earlier this year, and now equalled the great German's record championship haul, the debate around the greatest of all time will no doubt run and run. But there was no doubt about what re-writing the record books once more meant to Hamilton.
"I know often I say 'it's beyond my wildest dreams' but I think my whole life, secretly, I probably have dreamt as high as this, you know, but it felt so far-fetched. I remember watching Michael winning those championships and you know we all here, all us drivers, are always doing the best job we can and just to get one, two or even three [titles], you know it's so hard to get.
"Seven is kind of unimaginable. When you work with such a great group of people and you really communicate and trust one another and listen to one another, there was just no end to what we could do together, me and this team and I'm so proud of the work that was done and them trusting me today, you know. That comes with experience.
"I think it's so important for kids out there to hopefully see this and know don't listen to anyway who says you can't achieve something," he added. "Dream the impossible and speak it into existence. You have to work for it, you have to chase it and never give up, and never doubt yourself."
The only question now is how far Hamilton will raise the bar before he eventually hangs up his helmet.