Magnussen expects Hulkenberg to be 'big asset' for Haas as he addresses 2017 fall-out with German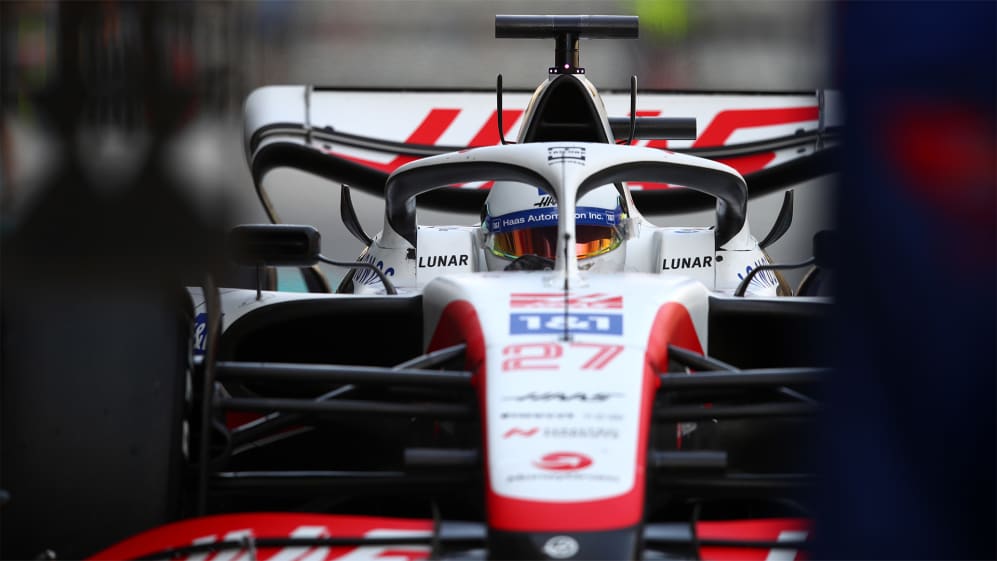 Kevin Magnussen has given his thoughts on the driver line-up change at Haas for the 2023 season, with the team opting to part ways with Mick Schumacher and bring in the experienced Nico Hulkenberg.
Haas confirmed ahead of the 2022 finale in Abu Dhabi that the 23-year-old Schumacher would be leaving in favour of the 35-year-old Hulkenberg, who has 181 starts to his name but last held a full-time F1 seat back in 2019.
Reacting to the news, Magnussen described mixed emotions at seeing Schumacher depart and Hulkenberg take his place, but ultimately expects the older German to be a "big asset" for Haas and help the outfit take "another step forward".
ANALYSIS: Why Haas split with Schumacher, how Hulkenberg got the nod – and why Steiner isn't worried about tension with Magnussen
"It's exciting and also sad at the same time, because I like Mick and had a good time with him this year, and I think he's done a good job at the end of the day," said Magnussen, who returned to F1 with Haas for 2022 after a spell out of the sport.
"I certainly wish him all the best. I know better than most that you can come back, even though you lose your place on the grid.
"I'm also looking forward to starting working with Nico and getting him on board. He's a very experienced driver and I think that's hopefully going to be a big asset to the team. We've had a fun season this year and [I'm] looking forward to hopefully taking another step forward next year."
Haas's decision to pair Magnussen and Hulkenberg immediately brought back memories of their spat at the 2017 Hungarian Grand Prix, where Hulkenberg criticised Magnussen's defensive driving, leading to some choice words from the Dane in response in the TV pen after the race.
Magnussen revealed that he and Hulkenberg discussed the incident for the first time, and shared a laugh, when the latter replaced Sebastian Vettel – who had come down with COVID-19 – at Aston Martin for the first two rounds of the 2022 season in Bahrain and Saudi Arabia.
READ MORE: 'Proud' Hulkenberg admits it was 'not a no-brainer' for Haas to give him a seat for 2023 after 3 years out
Asked what he expects from their working relationship, Magnussen said: "I'm sure it's going to be fine. I think in the beginning of the year, it was the first time I really actually spoke to Nico. We met at the airport [and] had a short chat on the drivers' parade in Bahrain.
"It was kind of the first time we laughed about what happened back then in Hungary. It's a funny thing that has been joked about many times since. It's going to be fun [to be his team mate]."
Haas ended the 2022 season eighth in the constructors' standings, a rise of two places from the foot of the 2021 order, with Magnussen contributing 25 points to their tally, and Schumacher scoring 12.
Hulkenberg, meanwhile, made his first outing for Haas at the post-season test in Abu Dhabi (main image), completing 110 laps of the Yas Marina Circuit as he got to grips with the team's 2022 challenger.