Magnussen gutted to miss out on 'eventful' race sparked by his own retirement at Monza
Kevin Magnussen's retirement from Sunday's Italian Grand Prix turned out to be the pivotal moment of the race – but the Dane was left to wonder what might have been given that he was showing some of the best pace he'd had all year before his car let go.
After an early pit stop to replace a damaged front wing, Magnussen's Haas ground to a halt on Lap 20. The Safety Car was immediately deployed and the pit lane closed, to allow the marshals to wheel the VF-20 out of harm's way. Fatefully, Mercedes pitted Lewis Hamilton after that call had been made, earning the reigning champion a stop/go penalty that dropped him to the back of the pack.
READ MORE: Hamilton accepts responsibility for race-wrecking pit stop error
That opened the race up massively, eventually allowing Pierre Gasly to win, and Carlos Sainz and Lance Stroll to pick up rare podium finishes, in just the kind of Grand Prix that gives the midfield teams a chance to score big points – a chance Magnussen was gutted not to have himself, espically given his speed before the failure.
"I got in the middle of a three-wide moment so I got sandwiched and had my front wing damaged so had to pit," Magnussen explained. "Then I came out with a new front wing and had really, really good pace. We didn't [often] have that good pace so it makes it even harder.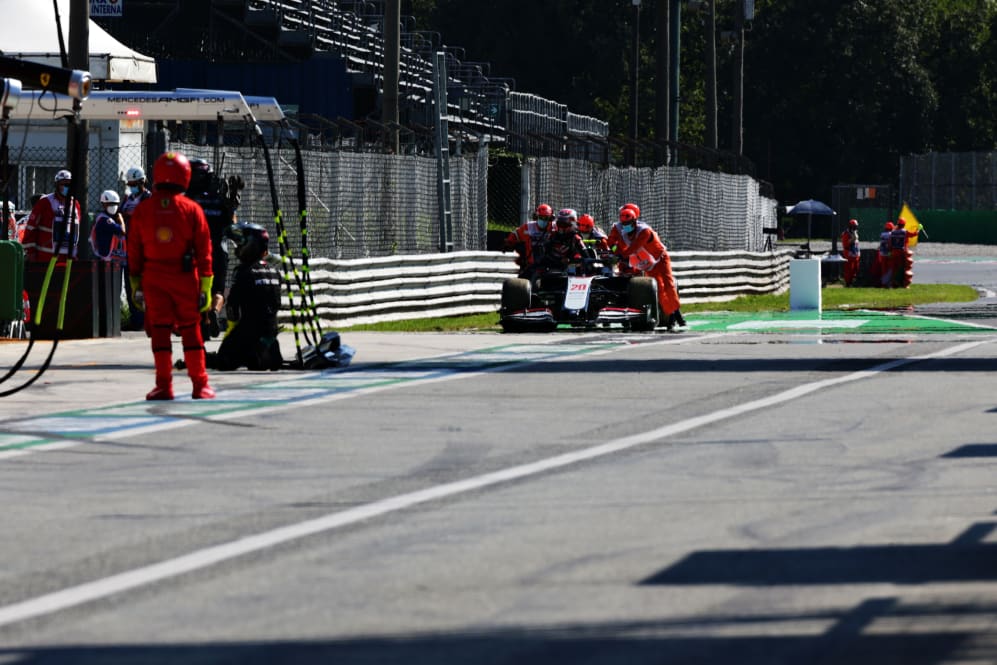 "It's not great of course, and especially as we saw how good the pace was. We were matching the McLarens on pace so I would like to have seen what we could have done in the race. Of course including me there were a few guys retiring and it was a pretty eventful race so just the kind of race I would have like to have been part of."
READ MORE: The Winners and Losers of the 2020 Italian Grand Prix
The lack of points at the end of such a frantic race was not of massive concern to team principal Guether Steiner though, who feels Haas can't count themselves unlucky when the car doesn't have the ability to fight for higher positions.
"In general, I'd say it was quite an exciting race, and for us – well, we did the best that we could," Steiner said. "Unfortunately, we had a power unit issue with Kevin meaning he couldn't get to the end. He had damage on his front wing on the first lap, so anyway he was already behind. We fought for what we were able to fight for and we leave with what we deserve at the moment."
Magnussen's team mate Romain Grosjean finished 12th in the race, but was left delighted by fellow Frenchman Gasly's win - the first by a French driver in Formula 1 since Olivier Panis won an epic in Monaco in 1996.
"We are eight places from the bottom so took as much opportunities as we could but sadly that's our pace," Grosjean said.
"I think the most important thing is Pierre, a fantastic win for France and for him after a tough year last year. 24 years that we haven't had a French winner since Olivier Panis in Monaco so this is beautiful! So I'm just happy for that. Yes, it was a tough race, I drove my heart out as always, but what matters is Pierre."
DATA ANALYSIS: The set-up decision that allowed Gasly to hold off Sainz