Magnussen left 'gutted' by race-ending Lap 1 crash after strong start to British GP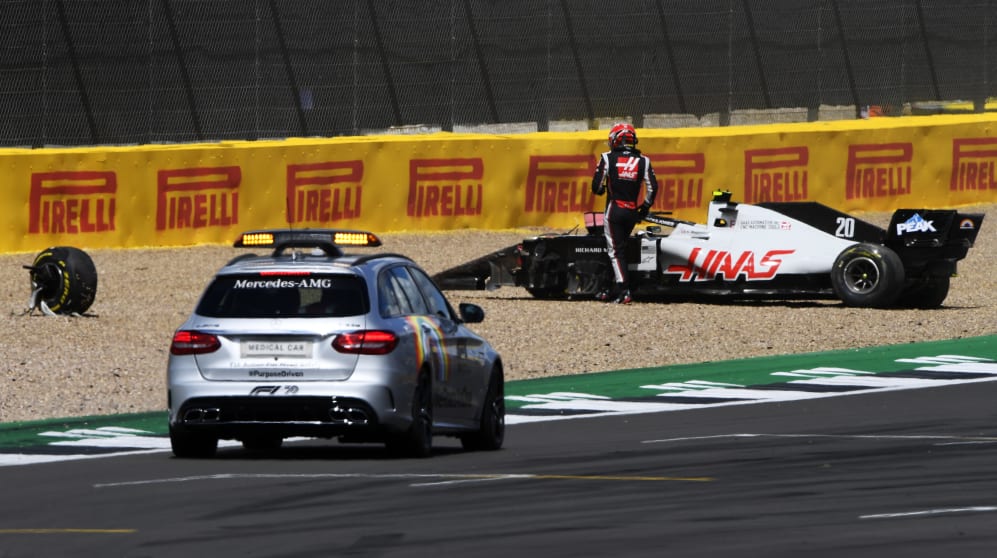 Kevin Magnussen's British Grand Prix lasted a grand total of 18 corners, before contact with Alex Albon took him out of the race. And the Haas driver was left "frustrated" by the accident, which meant he was unable to attempt a repeat of his Hungarian heroics from two weeks before.
Starting from P14 on the grid, Magnussen had made a strong start to move past Albon's Red Bull into P12. But after clouting the kerb at the Vale chicane later in the lap, Magnussen drifted wide, before coming back onto the circuit into the path of Albon, who'd tried to dart through the gap left by the Haas driver.
The Dane's rear-right tyre then connected with Albon's front-left, with Magnussen coming off worse from the contact, slewing into the barriers and ripping the front-left wheel off his VF-20 – while Albon was handed a five-second penalty for the incident.
READ MORE: Albon calls Magnussen clash '50/50' as Horner praises 'really exciting' P8 recovery drive
"I'm all good after the accident, just very frustrated," said Magnussen. "I had made a great start again, gained a couple of positions. I'd felt that the car was good on the way to the grid and I said to my engineers that the car was working really well."
At least Magnussen's team boss Guenther Steiner hadn't had to watch his drivers take each other out on the first lap, as they did at Silverstone last year – and the Haas Team Principal was left looking for the positives from the race weekend, despite bemoaning his team's bad luck.
"I would say it was an interesting day," said Steiner. "As much as the disappointment is high, the positives we take out of it is that the drivers like the car, they like how it drives – we just need to get faster with it.
READ MORE: Hamilton limps to seventh British Grand Prix victory after late tyre drama
"Kevin was taken out on Lap 1, so there's not much more to say on that one. It's our destiny at the moment that we don't have any luck. The good we take away from here is that when we are in the mix in the race, we can be there."
Magnussen's 10th place in Hungary remains the Haas team's only point of the year, as they sit ninth in the constructors' standings, just ahead of Williams, the only team yet to score this year.