Albon calls Magnussen clash '50/50' as Horner praises 'really exciting' P8 recovery drive
Alex Albon's British Grand Prix got off to a horrible start, when the stewards deemed that the Thai driver had been at fault for a Lap 1 collision with Haas' Kevin Magnussen and slapped him with a five-second penalty. But Albon, who recovered to P8 by the flag, felt the decision had been a harsh one, as he called blame for the incident "50/50".
Albon had already endured a difficult weekend up to that point, with a crash in Free Practice 2, an electrical issue in FP3 and a failure to progress out of Q2 in qualifying all contributing to his woes.
READ MORE: Hamilton limps to seventh British Grand Prix victory after late tyre drama
Starting the race P12, Albon was then jumped by the Haas of Kevin Magnussen off the start line. But as Albon followed Magnussen through the Vale chicane on the first tour, the Dane clobbered the inside kerb and ran off the track. As Albon tried to slip through on the inside of the recovering Magnussen, he then collected the Haas, sending it slewing into the gravel and out of the race.
The stewards reviewed the incident and handed Albon a five-second penalty, with Albon serving it in his first pit stop before a recovery drive – aided by some dramatic late race punctures – helped him to eighth place at the race end.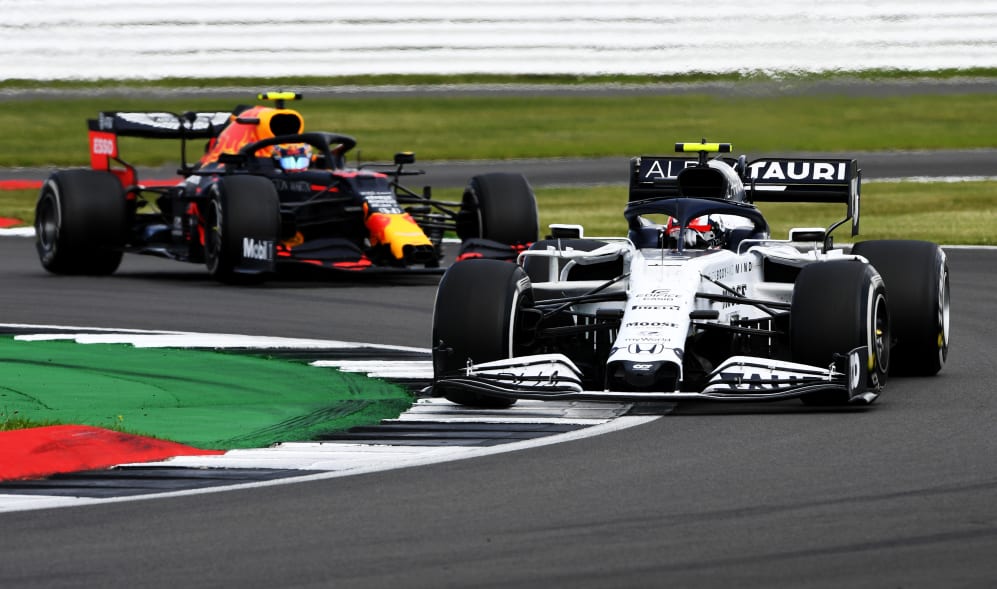 "Obviously we had to do a lot this weekend, so P8, I mean it's not what I want but it's damage limitation," said Albon. "We were a little fortunate with the punctures to get there. It was an okay race.
"I think the penalty, it was 50/50 to me," he added. "Kevin went off the track and the way he came back on, there was the space there initially and then I realised, 'Okay, he doesn't see me.' The gap was closing really quickly and I tried to get away from it but at that closing speed it was just too much."
READ MORE: Hamilton says his 'heart nearly stopped' when tyre let go on last lap
Albon ended up with the second fastest lap of the race, behind his team mate Max Verstappen's effort, having climbed from P14 to P8 in the final 10 laps. And Team Principal Christian Horner – who earlier in the weekend had spoken out in defence of his driver's current performance – praised a "great race" from Albon, while calling the Lap 1 collision a "racing incident".
READ MORE: Red Bull boss Horner defends Albon after 'unwarranted and unfair' criticism
"Kevin's made a mistake, he's got out wide on the kerb there, and Alex has sort of committed then he's backed out of it," said Horner. "For me, it was a racing incident; the five-second time penalty was probably fair at the end of the day so that's what we got. But then his recovery after that, he drove a great race today to recover right from the back of the field, to come back through for P8 with some great passing again. The last couple of laps were really exciting."
Horner was also buoyed by a second place for Verstappen, who benefitted from a late-puncture for Mercedes' Valtteri Bottas to take the position – and finished just six seconds behind eventual winner Lewis Hamilton, who crossed the line first despite suffering his own puncture on the final lap.