Magnussen says Haas 'tried everything' in Monaco as Hulkenberg hopes struggles were track-specific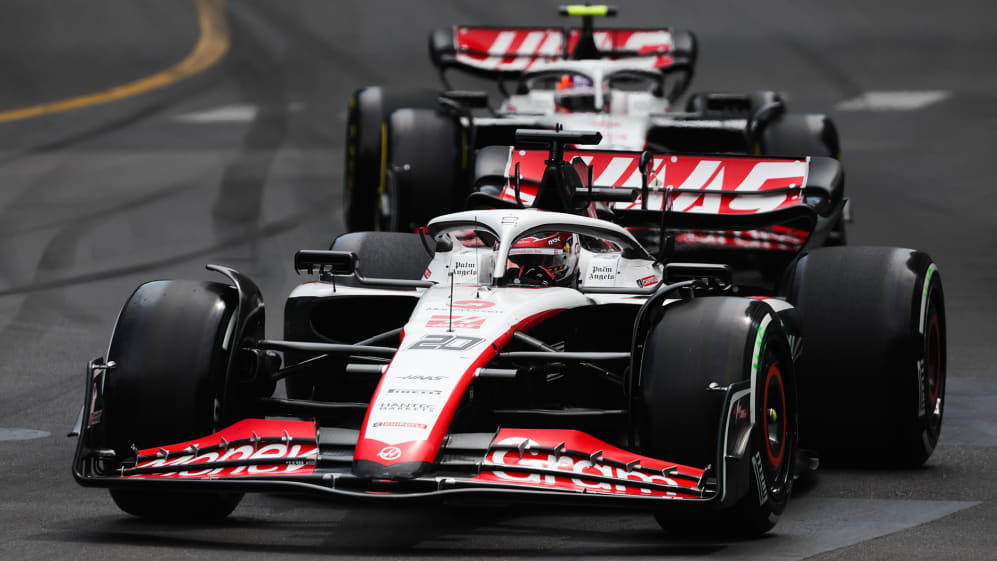 Haas were in high spirits as they entered their 150th Grand Prix weekend in Monaco, but a host of dramas for Kevin Magnussen and Nico Hulkenberg on race day left them with little to celebrate.
For Magnussen, his early progress in the dry was undone when a gamble to make it into the points as rainfall arrived saw him stay out on slick tyres longer than anyone else, resulting in several slides and ultimately a trip to the barriers.
READ MORE: 5 Winners and 5 Losers from the Monaco GP – Who mastered the streets of Monte Carlo?
Following another off-track excursion, Magnussen returned to the pits to join Aston Martin's Lance Stroll as one of two retirements, with the Dane keen to explain his thinking in the cockpit while the weather conditions changed.
"We tried… We tried everything," said Magnussen. "We tried to do the opposite to everyone and it didn't work out. I think initially in the dry it was looking interesting, but then when the wet [weather] came, I stayed out.
"[I was] hoping for a red flag, hoping for someone to crash, either a Safety Car or a red flag. That, in my opinion, at the time at least, was a good chance of getting forward, but that didn't happen of course.
"We ended up last, put the full wets on, just couldn't get them started at all, so the race was over by then. Next week is a new race [at the Spanish Grand Prix] and we'll try again."
READ MORE: 'It means a lot' – Steiner singles out favourite moment as Haas prepare for 150th race start in Monaco
Asked if it was worth taking the risk, he added: "Once you're out of the top 10, there's no reward. There's a lot of incentive to take a lot of risk when you're outside of the top 10, to try and get in there. That's what we did today and it didn't work out."
Hulkenberg, meanwhile, was the penultimate finisher in 17th position, having picked up a five-second time penalty for clashing with Logan Sargeant on the first lap, then another 10-second sanction due to the first not being served correctly.
"Obviously the weekend was not good," said Hulkenberg. "But still, somehow, the race was fun, going through different stages, all the different tyres and conditions. I'm happy to have survived it, I think I came through quite well.
"I feel the pace was actually pretty decent whenever I had some clear track, but for most of the race I was stuck in traffic like you are in Monaco, as we knew. But it is what it is. I think we need to reset, regroup, and go again in a few days luckily."
READ MORE: 'I need to think about where I hang out!' – Steiner explains how he is dealing with 'Drive to Survive' fame
Pressed on how much homework Haas have to do, he commented: "I think to some extent I feel it's Monaco-specific, the problems we had here this weekend, so I'm quite hopeful in Barcelona it should be better. We should be in a better position with the car and with our performance, so I look forward to that."
Despite their Monaco no-score, Haas remain seventh in the constructors' standings heading to Spain, sitting ahead of Alfa Romeo, AlphaTauri and Williams.