Maiden F1 podium was reward for qualifying performance, says Russell after red-flagged Belgian GP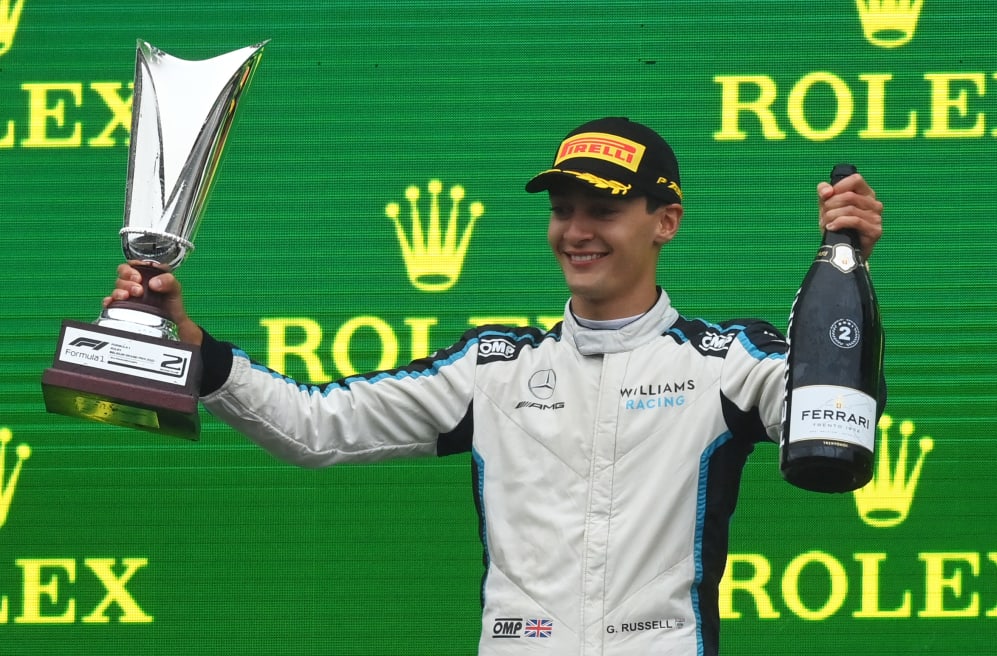 George Russell took his first Formula 1 podium in unexpected fashion for Williams on Sunday, as the Belgian Grand Prix was red-flagged under heavy rain after just a handful of laps – and he said that despite the unusual circumstances, the result was a just reward for his team.
Russell pulled out a sensational P2 qualifying lap in the rain on Saturday and, with conditions soaking the track on Sunday, he stayed in that position behind the Safety Car for a first F1 podium when the race was called off in the early evening – after hours of delays.
READ MORE: Verstappen takes win and Russell first podium in shortest ever Grand Prix as heavy rain hits Spa
"I mean, I'll take it," he said after the Grand Prix had officially ended with just three laps on the board. "In our position we've got to take it how it comes. We're not often rewarded for a good qualifying and today, I guess, we were. And it would have been incredibly hard to keep hold of that P2.
"Really sorry for all the supporters who are out there, watching at home on the television, but the safety's got to go first and it was, I mean, it was incredibly tricky out there. I was in second and I couldn't see a single thing whenever we got over about 140 miles an hour with the spray, so I can't imagine how it was for the guys at the back."
With Russell having taken consecutive points finishes in F1 for the first time thanks to top 10s in Hungary and Belgium, he added: "Nevertheless, it's been a good last two races, for sure."
The Williams driver, hopeful of a promotion to Mercedes in the near future, conceded that it would have been a tough ask for him to hold on to P2 in normal race conditions. He explained that his strategist said that he had the "17th-quickest car" for the Belgian Grand Prix.
"I mean obviously we qualified second in the wet, so I was sort of happy that the rain was there because I knew if it was bone dry, there's no way I would have been able to keep that position," said Russell.
Belgian GP Qualifying Facts & Stats: Williams secure first front row start at Spa in 20 years
"I mean statistically… our strategist believed we were the 17th-fastest car on the track so trying to keep the 17th-quickest car on track in second position would have been not easy. But you know, we've got to take it how it comes," he concluded.
Half points were avoided for the Belgian Grand Prix as under 75% of the race distance had been completed, with Russell and team mate Nicholas Latifi having doubled Williams' 2021 points tally at Spa.