'Max was in a league of his own' – Verstappen's Spa win 'up there with the best we achieved in 2010' says Horner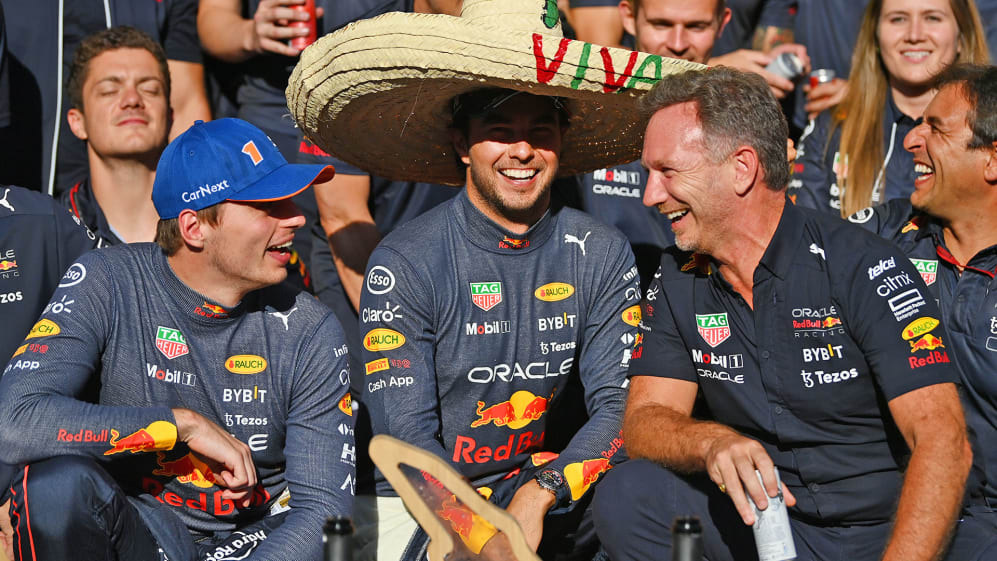 Championship leader Max Verstappen was in "a league of his own" as he crushed the Belgian Grand Prix field to win from 14th on the grid, in what was one of Red Bull's "biggest ever team performances", according to the team's chief Christian Horner.
Verstappen was more than 0.6s quicker than anyone else in qualifying, but started towards the back because of a slew of engine penalties. But he was up to ninth before the end of the first lap and in the lead by Lap 12.
READ MORE: Verstappen cruises to Belgian Grand Prix victory from P14 as Perez completes Red Bull 1-2
He crossed the line 17s clear of team mate Sergio Perez, who had started the race second, and 26s ahead of Ferrari's pole-sitting Carlos Sainz to secure his ninth victory in 14 races this season.
"Max was quite simply in a league of his own," said Horner. "Not just [on Sunday], but all weekend. He's excelled here in the past and [on Sunday] he's basically smashed it out the park with a lap on the mediums that still stood as the fastest lap despite Charles having a go at the end on a set of softs.
"He qualified on pole on two sets of soft tyres throughout the whole of qualifying and didn't even do the last run, so it's been a huge performance for him this weekend."
READ MORE: Red Bull 'were on another planet' in Spa says Sainz, as he implores Ferrari to improve for remaining Grands Prix
Verstappen has won successive races from 10th or lower, and that has helped him open up a huge 93-point lead over Perez in the drivers' championship, with Charles Leclerc a further five adrift.
"That's one of our biggest ever team performances," added Horner. "I never expected Max to win that race and particularly get to the front so quickly. With Checo right there as well – fastest lap and one-two finish, it could not have been better for us. An amazing performance, right up there with the very best that we achieved back in 2010."
READ MORE: Russell left to ponder 'what could have been' after settling for P4 finish in Belgium
This was only the third time in Red Bull's history that they have won a race from outside the top-six, with the one-two the fourth they've managed this season, putting them 118 points clear of Ferrari. But Horner wasn't getting carried away.
"It's encouraging, but you can never allow yourself to think too far ahead," he said. "It's about the next race in Zandvoort and then the next race the weekend after in Monza.
"The whole team, the trackside team back in the factory, every single department is doing their bit. It's what enables us to have a car and the kind of performance we had."