McLaren's Carlos Sainz predicts tyre choice 'headache' in qualifying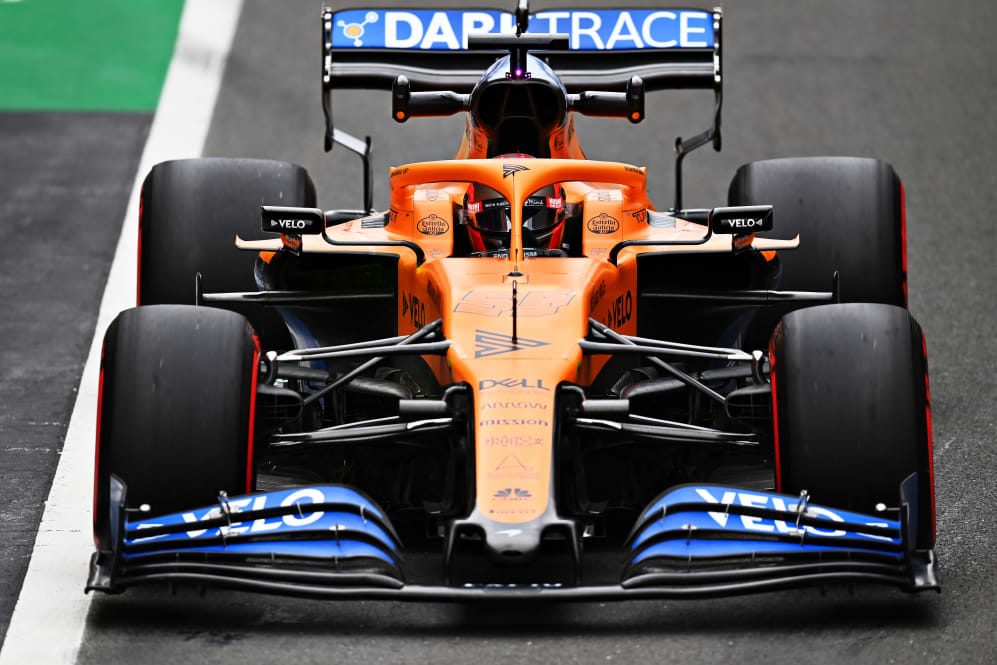 Pirelli's tyre allocation for the 70th Anniversary Grand Prix is one step softer than that used in last week's British GP at Silverstone, and McLaren's Carlos Sainz reckons that change will cause the drivers a "headache" when it comes to picking their compound for qualifying on Saturday.
As F1's rules dictate that any driver who makes it through to the final part of qualifying must then start the race on the tyres they used to set their fastest Q2 time, Sainz is predicting some tough choices for the drivers on Saturday afternoon.
READ MORE: FP2: Hamilton leads Mercedes 1-2 ahead of Ricciardo as Vettel suffers engine failure
"I think it's going to be definitely a bit of a headache for everyone especially coming to Q2, deciding what you're going to do," said Sainz after finishing 14th in FP1 then ninth in FP2 on Friday.
"It's not so much if you can go to Q3 in the soft or the medium, it's just what you prefer to start the race on, independently from if you go through or not."
There's a lot of blistering a lot of graining in all four tyres and we're just out there surviving
Sainz continued: "It's going to be a bit of a challenge, a lot of thinking tonight and tomorrow. I like it, honestly, I do enjoy having a different tyre choice to last week because… the engineers, the drivers, the mechanics the set-ups, it challenges everyone. So let's embrace it and take the right choices from now on until the weekend."
However, the Spaniard added that McLaren have a problem in managing the softest tyre to make it last enough laps.
READ MORE: Renault and rivals considering appeal against severity of Racing Point brake duct penalty
"[It's] very, very tough, there's a lot of blistering a lot of graining in all four tyres and we're just out there surviving," he said. "We know it's a weakness of our car and our team to handle the softest ranges so we want to make sure we had enough track time today and also because later in the weekend we're probably going to need the harder compounds," he added.
Sainz added that he had a bit of a race on Friday with AlphaTauri's Daniil Kvyat in an FP2 session punctuated by engine issues for Ferrari's Sebastian Vettel and Alfa Romeo's Antonio Giovinazzi.
"He [Kvyat] was actually on a medium tyre and I was on the soft and I was struggling with degradation but I decided to have a bit of fun with him, defending, and he's a good mate of [mine] and I enjoy racing. I lost out, left enough space and went into the marbles and nearly lost it. But I was laughing inside the car," he said.
After team mate Lando Norris finished fifth at the British Grand Prix, McLaren will be looking for another healthy points haul to keep third place in the constructors' with Ferrari just eight points behind in the standings.