Mekies says Ferrari left with 'mixed feelings' from USA after Red Bull take eighth-straight win and constructors' title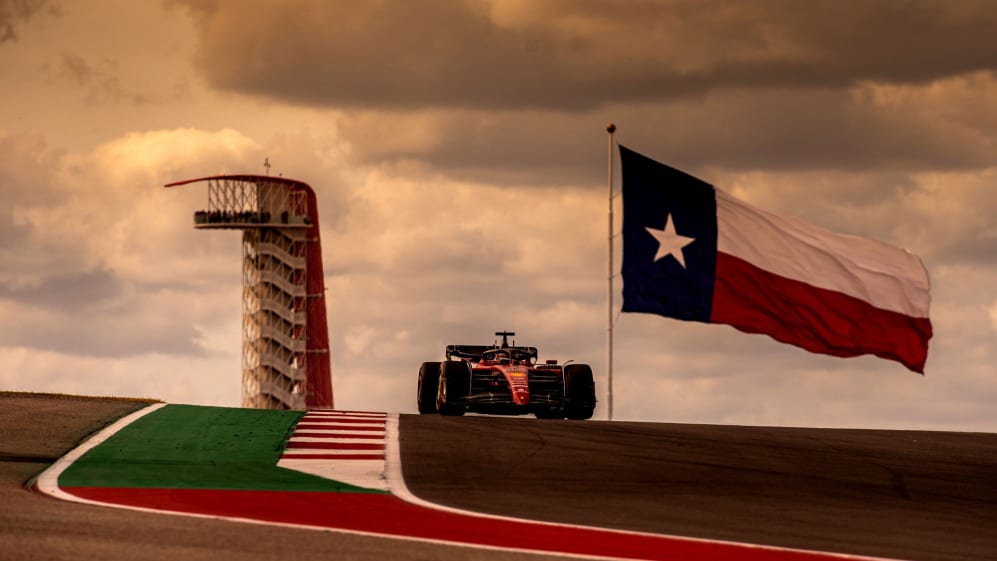 Ferrari's Racing Director Laurent Mekies said Carlos Sainz's Lap 1 retirement from the United States Grand Prix was a "shock", but that Charles Leclerc was "brilliant" in recovering from P12 to P3.
With 15 points, Ferrari were outscored not only by constructors' champions Red Bull – for whom Max Verstappen took victory – but rivals Mercedes too, after pole-sitter Sainz was tapped out of the race on Lap 1 by George Russell, and Lewis Hamilton finished second ahead of Leclerc.
READ MORE: Russell apologises for first lap incident with Sainz after 'miserable afternoon' at COTA
"It was very, very mixed feelings," said Mekies after the race. "It was a bit of a shock losing Carlos like that after 300 metres, it's quite rare to see these sorts of things happening nowadays. It's part of the game but certainly it's a shame. It was a great opportunity and I think from where Red Bull were, it would have been great to be in the fight with Carlos.
"On the other side, starting P12 with Charles and at some point being in P2 was a brilliant way to come through the field, so very well done to Charles for that and to the team. I think at some stage he had a good fight with Max, he tried very hard. I think he still lacked a little bit compared to Max in these kind of race conditions but he still gave it a good go," he said.
Mekies pointed out that Red Bull, who on Sunday took their eighth-straight win of the season to close out the 2022 constructors' title, continue to enjoy a pace advantage over the Scuderia.
"It's not the first race they are racing with an advantage on the straight compared to all the other competitors," he reasoned. "They managed to deal with that and certainly when there are some fights such as today, it gives them an advantage; it's something we always need to balance between lap time and speed and I think they had a bit of a pace advantage... as they have had at most of the Sundays this year."
READ MORE: 6 Winners and 5 Losers from the United States Grand Prix - Who got the crowd on their feet in Austin?
But the Racing Director and Head of Track Operations added that Red Bull's fifth-ever constructors' title was a fitting tribute to the late Dietrich Mateschitz.
"It is certainly the right place to play tribute to Dietrich Mateschitz, we all have him in our thoughts. He was living for the sport and certainly our thoughts are with him today," concluded Mekies.