Mercedes drivers say their 'weakness was truly exposed' in Suzuka qualifying after taking P6 and P8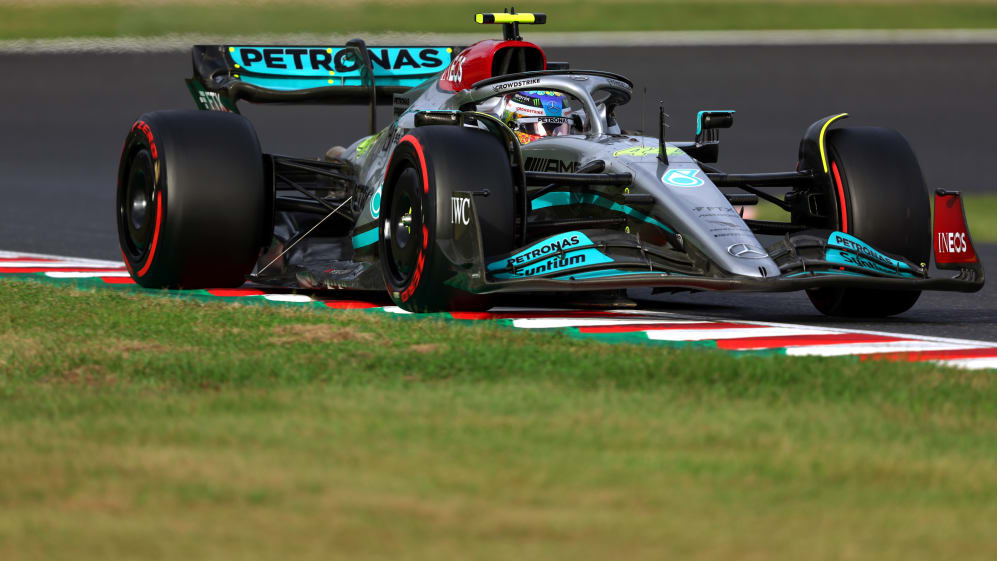 Mercedes couldn't match the pace of Red Bull, Ferrari and even Alpine in qualifying for the Japanese Grand Prix, with Lewis Hamilton and George Russell taking P6 and P8 on the grid respectively in a dry qualifying session.
Mercedes flexed their muscles in Friday's wet Free Practice 2, Russell leading a one-two and lapping over eight-tenths faster than Max Verstappen in P3.
But in the dry in qualifying, both drivers felt the limitations of their draggy W13, as Hamilton claimed sixth, nearly a second off Verstappen's pole time, with Russell two places and just over a tenth further back.
READ MORE: Verstappen enjoys 'incredible' run to pole at Suzuka as he explains near-miss with Norris
"The car felt really good today, I was really happy with the balance and with the set-up we had, it was just slow on the straights," said Hamilton. "We've had a very draggy car all year. I'm pushing the pedal as hard as I can, but we can't go any faster.
"We are losing at least six-tenths or something on the straights compared to the other guys but through the corners, through the lap, it was still a fun lap to drive."
Russell echoed his four-time Suzuka-winning team mate's sentiments, saying: "The car was feeling okay in all honesty. Not perfect but not as far off as the lap time showed. It was a feeling within. We are losing a huge amount of lap time down the straights compared to our rivals.
"That's kind of been the case all season but I think this is the first circuit that has long straight which you also have high downforce. Normally when you look at the circuits with the long straights – Spa, Monza, even Silverstone – where you're running low downforce and the high downforce circuits – Monaco, Budapest, Zandvoort, Singapore – they have short straights. You don't really see that deficit in the straight-line speed but here that weakness has truly been exposed."
READ MORE: Verstappen beats Leclerc and Sainz to pole position in ultra-close Japanese GP qualifying
Asked, meanwhile, what he expected in Sunday's Japanese Grand Prix – with an unsettled forecast on the horizon – Hamilton said: "We didn't look too bad in the wet conditions, so I think either way, we should be a little closer than we were today, and just hoping for a better race result.
"You've got to expect the Red Bulls and the Ferraris are going to dash off on their own, potentially have their own race. Hopefully we will be a little bit faster than we are today as we often are in the race. Just have fun, I hope."