Report
Verstappen beats Leclerc and Sainz to pole position in ultra-close Japanese GP qualifying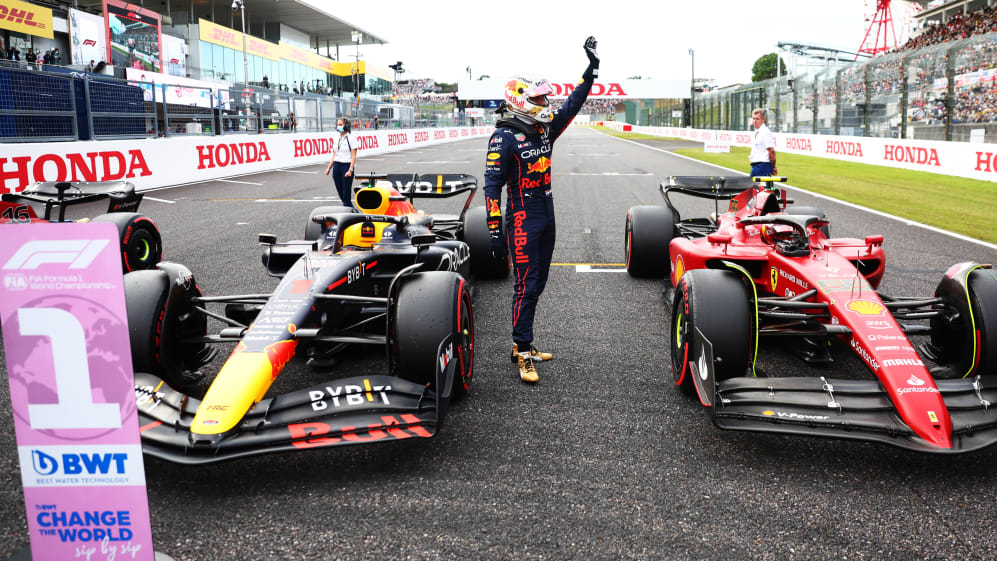 Red Bull driver Max Verstappen grabbed pole position for the Japanese Grand Prix, increasing his chances of wrapping up the 2022 world title this weekend, as he edged out Ferrari pair Charles Leclerc and Carlos Sainz in qualifying.
Verstappen led after the opening Q3 runs and his initial time of 1m 29.304s was just quick enough to seal top spot, the Dutchman finishing 0.010s clear of Leclerc and 0.057s up on Sainz, as team mate Sergio Perez completed the top four.
READ MORE: Gasly to race for Alpine alongside Ocon in 2023
However, the stewards will be taking a look at an incident involving Verstappen and Lando Norris in the early stages of Q3, after Verstappen darted left at the exit of 130R on a slow lap, forcing Norris to take avoiding action as the McLaren built up speed.
Alpine converted their encouraging practice pace as Esteban Ocon and Fernando Alonso took fifth and seventh respectively, Alonso splitting Mercedes pair Lewis Hamilton and George Russell.
Sebastian Vettel made it through to Q3 for the first time since June's Azerbaijan Grand Prix en route to P9, with Norris completing the top 10 positions on the grid after his close call with Verstappen.
FORMULA 1 HONDA JAPANESE GRAND PRIX 2022
Japan
2022
Qualifying results
POSITION
TIME

1

Max

Verstappen VER

Red Bull Racing

1:29.304

2

Charles

Leclerc LEC

Ferrari

1:29.314

3

Carlos

Sainz SAI

Ferrari

1:29.361

4

Sergio

Perez PER

Red Bull Racing

1:29.709

5

Esteban

Ocon OCO

Alpine

1:30.165
Daniel Ricciardo was pushed down to 11th – and a Q2 exit – after Vettel's improvement, with the Alfa Romeos of Valtteri Bottas and Zhou Guanyu surrounding home favourite Yuki Tsunoda in 12th and 14th respectively.
Mick Schumacher bounced back from a tough start to the weekend, which saw him miss the 90-minute FP2 session after crashing out of FP1, to take 15th place, usurping Kevin Magnussen as the leading Haas driver.
READ MORE: AlphaTauri announce De Vries for 2023 alongside Tsunoda
Alex Albon was the quickest Williams driver in 16th position, narrowly missing out on a spot in Q2, while Pierre Gasly suffered a disappointing Q1 exit in the other AlphaTauri after encountering brake issues throughout the opening phase, taking 17th.
Having starred in the wet on Friday, Magnussen struggled for pace in the dry en route to 18th, with Lance Stroll (Aston Martin) and Nicholas Latifi (Williams) bringing up the rear – the latter's five-place grid penalty for clashing with Zhou in Singapore not resulting in a change to the order.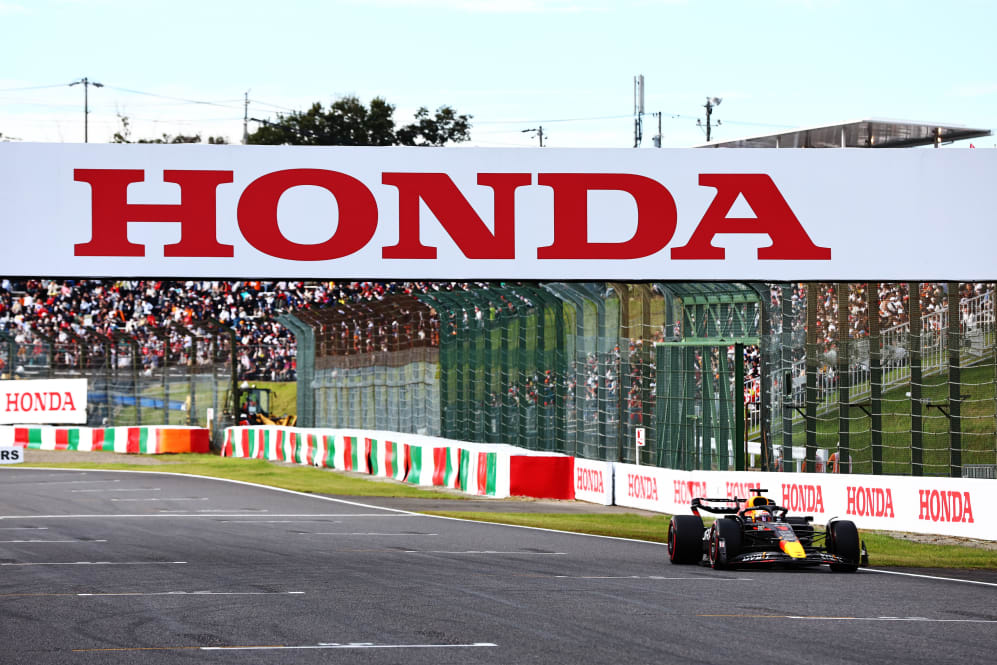 AS IT HAPPENED
Q1 – An element of the unknown
With F1 returning to Suzuka after a three-year break due to the Covid-19 pandemic, and final practice marking the first dry running of the weekend after a wet Friday, drivers and teams entered qualifying with limited relevant information at their disposal.
As the pit lane opened for the first set of runs, it was FP3 pace-setter Verstappen who continued to lead the way with a time of 1m 30.244s on softs – immediately smashing his benchmark from final practice.
EXCLUSIVE: Gasly on joining Alpine, leaving the Red Bull family and his relationship with Ocon
It was a time that would stay unbeaten for the remainder of Q1, with Ferrari pair Sainz (0.112s back) and Leclerc (0.178s back) taking P2 and P3, while Alpine duo Alonso and Ocon sandwiched Perez's Red Bull.
Mercedes initially sent Russell and Hamilton out on medium tyres, but swapped to softs after the initial runs to move both drivers out of danger and into the Q2 phase – Russell taking P6 and Hamilton P11.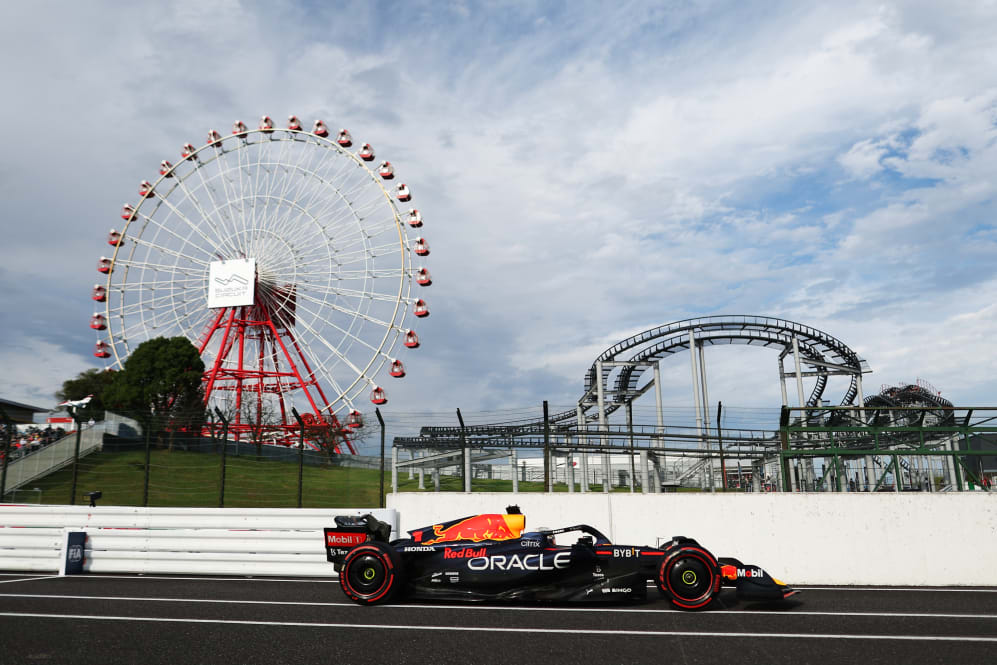 McLaren team mates Ricciardo and Norris placed seventh and eighth respectively, as Zhou completed the top 10. Tsunoda made a strong start to qualifying on home soil as he progressed to Q2 in 12th, with Schumacher, Bottas and Vettel the final drivers to make the cut.
Albon fell at the first hurdle by half a tenth of a second after a valiant effort, while Gasly – recently announced as an Alpine driver for the 2023 season – could not follow team mate Tsunoda through to Q2 after complaining of brake issues that led to a heavy lock-up at Turn 11 on his final effort.
ANALYSIS: How and why Alpine signed Gasly to replace Alonso
Magnussen had impressed on Friday with runs to P5 in the wet in both FP1 and FP2, but dropped back to 15th in a dry FP3 and could manage no more than 18th in qualifying, ahead of only Stroll and Latifi.
While Latifi was given a grid drop of five places by the stewards for his collision with Zhou last time out at Marina Bay, he will remain 20th and last for the start of Sunday's race.
Knocked out: Albon, Gasly, Magnussen, Stroll, Latifi
Q2 – Ricciardo agonisingly close to Q3
Sainz and Leclerc were quick to head out when the clock started ticking in Q2, with the Spaniard promptly reporting that the sun had broken through the clouds and could lead to a "slower track".
After initial pace-setting efforts from the Ferraris, Verstappen resumed his position at the front of the field by clocking a 1m 30.346s – and, as predicted by Sainz, marginally slower than what he managed in Q1.
READ MORE: Tost expecting De Vries to be up to speed in F1 after 'a couple of tests' as he opens up on decision to sign Dutchman
As the sun withdrew again – and Verstappen, Sainz and Leclerc remained in the pits – Perez stormed to P1 with another run and a time of 1m 29.925s, putting him almost half a second clear up front.
Late gains from Alonso and Ocon saw the Alpines rise to P2 and P4, sandwiching leader Verstappen. A host of other improvements knocked Sainz and Leclerc down the order, but they made it through to Q3 in P6 and P9 respectively.
Hamilton and Russell wound up fifth and seventh, while Norris and Vettel were the other drivers to reach Q3 – Vettel declaring that he was "ecstatic with this one". Ricciardo got knocked out as a result by 0.003s, with both Alfa Romeos, Tsunoda and Schumacher also eliminated.
Knocked out: Ricciardo, Bottas, Tsunoda, Zhou, Schumacher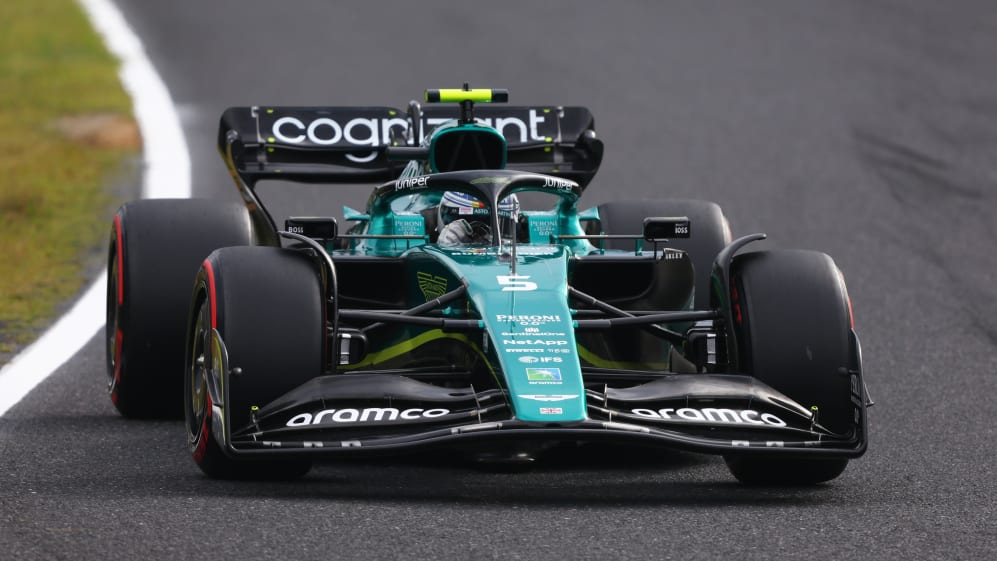 Q3 – Verstappen fends off the Ferraris
Verstappen showed no signs of slowing down during the first Q3 runs as he pumped in a 1m 29.304s to see off Leclerc and Sainz's initial times, but there would be drama on a slow lap when he almost collided with Norris.
As Norris rounded 130R to begin a push lap, he encountered a slow-moving Verstappen just after the apex, with the Red Bull darting to the left under acceleration, before being pulled back to the right. With Norris taking to the grass to avoid contact, both drivers have been summoned to the stewards for a review of the incident.
GALLERY: Check out the Japanese GP special helmets – including home favourite Tsunoda's design
Leclerc and Sainz threatened to usurp Verstappen with their final laps but fell 0.010s and 0.057s short respectively as they crossed the line, meaning pole went to the reigning world champion, despite him failing to improve as he kicked up some dirt and shed a piece of bodywork.
Perez took fourth, almost half a second down on Verstappen, as the Alpine and Mercedes machines of Ocon, Hamilton, Alonso and Russell squabbled over positions five to eight. Vettel starred in ninth, with Norris 10th and the slowest Q3 runner after his compromised session.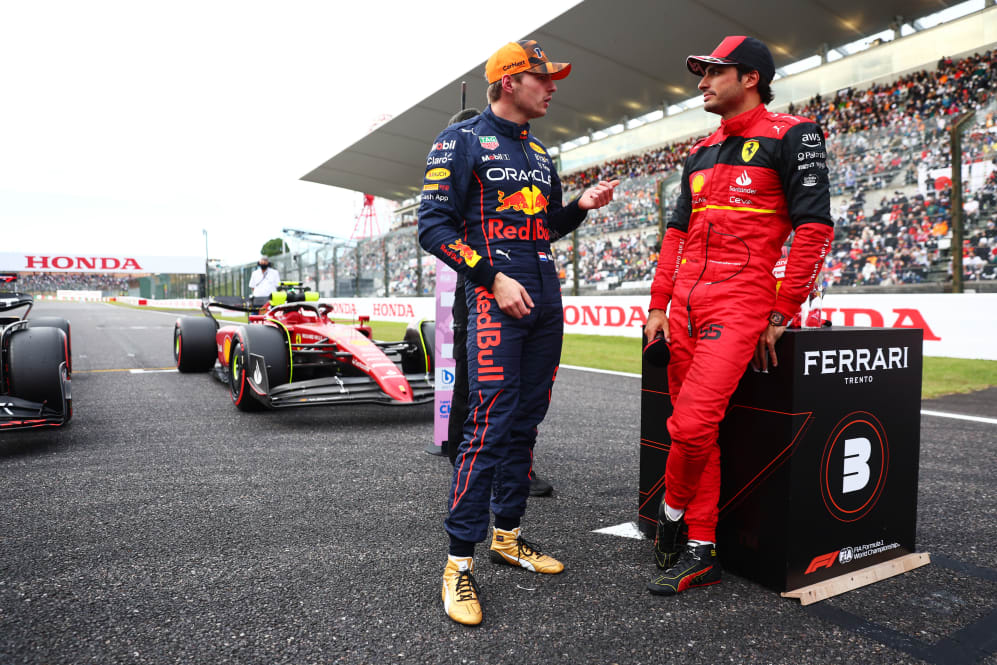 Key quote
"It was pretty incredible to drive here again, especially in qualifying when you are on low fuel – these cars really come alive through the first sector. Of course, [I'm] very happy to be on pole, but also in general just super-happy to be back here," said pole-sitter Verstappen.
"It will be interesting first of all to see [what happens with] the weather [on race day]. Some say it will be dry, some say it will be raining at some point during the race. I'm quite confident we have a good car, so [I'm] excited for tomorrow."
What's next?
The 2022 Japanese Grand Prix is set to begin at 1400 local time on Sunday. Head to the RACE HUB for more information.