Mercedes garage 'looked like someone dropped a Lego car' after qualifying shunts says Wolff – but refuses to blame drivers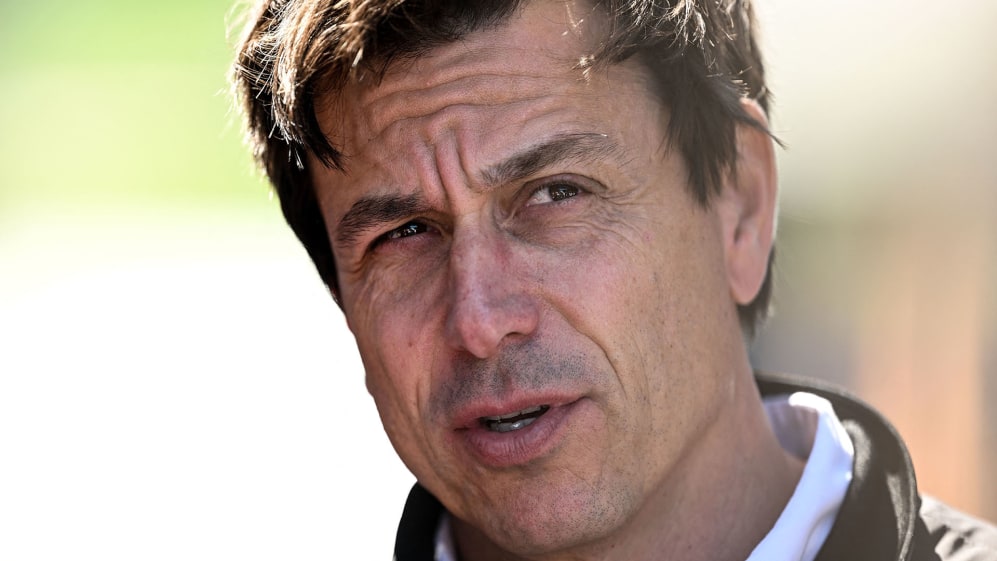 Mercedes Team Principal Toto Wolff has praised his team for the repairs they carried out on the cars after both Lewis Hamilton and George Russell crashed out of Q3 on Friday evening – Wolff adding that the incidents were "absolutely okay" given the renewed pace of the Silver Arrows.
Hamilton finished third in Q2 and seemed to be in with a shot at challenging the Ferraris and Red Bulls in qualifying on Friday that set the grid for the Sprint. But a snap of oversteer saw Hamilton crash into the Turn 7 barriers. After the resulting red flag had been lifted, Russell then crashed out at the final corner – both drivers walking away unharmed.
READ MORE: 'I'm incredibly disappointed in myself' says Hamilton, as Mercedes drivers explain sensational pair of Q3 crashes
"A lot of damage," said team boss Wolff on Saturday morning. "I think we have two floors, two [gear]boxes that we need to check, rear wing – lots of bits and pieces yesterday in the garage and in the early evening it really looked like somebody dropped a Lego car on the floor. And yes, the mechanics are doing great work.
"On the damage, yes, the car is pretty injured, both cars are pretty injured – floors, we have precautionary checks, changes for the gearboxes, a rear wing for George, plenty of parts – that has cost-cap implications, but the biggest is the mechanics have to work around the clock. So, we hope to have a good car for the Sprint race to put us in a good position for tomorrow."
Mercedes later confirmed that they had swapped Hamilton to the team's spare chassis, while fitting different gearboxes to both cars from within their permitted pool – with they also carried out repairs and swaps to floors and wings.
Wolff, however, said he wasn't upset that both of his drivers had crashed out of Q3. Rather, he was pleased that the cars and drivers were showing improved pace after Mercedes brought a suite of upgrades to last weekend's British Grand Prix.
"I think the car is still tricky to drive and now we can actually fight for front positions, I'm really happy to see that they [can] attack. And both have been carrying [extra speed]; Lewis the corner before was carrying 10[km/h] more speed and made Turn 6 and then he's carrying 10[km/h] more speed into 7 and didn't make the corner! And the same a little bit for George; you see he was up on his delta time and that was a particular strength of his run and it went too far," explained the Team Principal.
READ MORE: Perez to start Austrian GP Sprint from P13 after Q3 lap times deleted
"Whether it was wind, or any other conditions, I think the summary is that the car is trickier to drive and it's faster now – so for me that's absolutely okay. The car is still tricky, and Austria – these corners are on a knife's edge to carry a lot of speed – so as I said before I'd rather have a quick car and end up in the wall and more learning."
Hamilton lines up ninth, Russell fourth, for the upcoming Sprint at the Red Bull Ring – FP2 up first on Saturday at 1230 local time.