'Mercedes got a bit lucky with strategy' says Vettel after Ferrari lose out in Mexico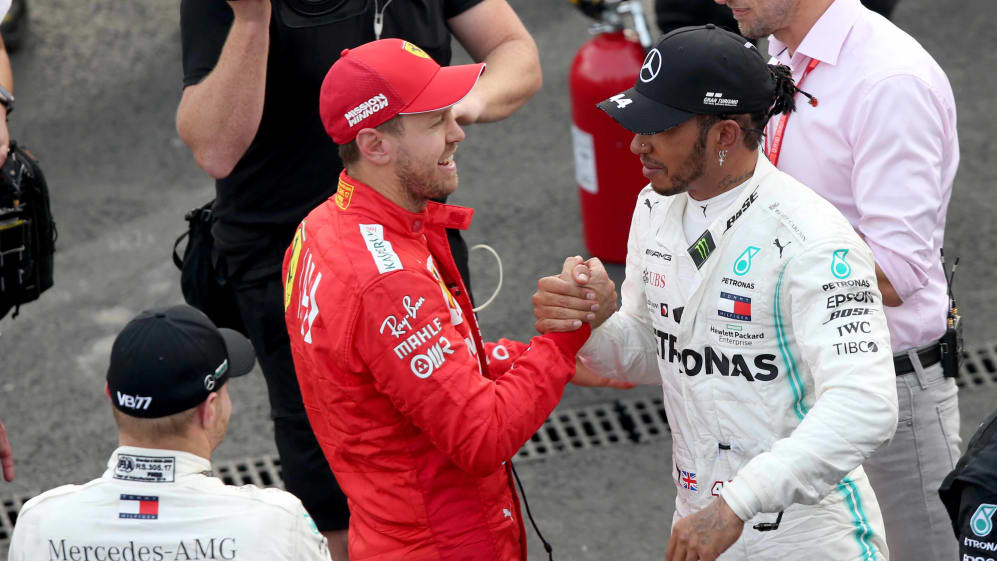 Ferrari took a record 65th Formula 1 front-row lockout on Saturday in Mexico, but rivals Mercedes turned the tide on Sunday thanks to a combination of strategy and Lewis Hamilton tyre management. But Sebastian Vettel says the Silver Arrows also "got a bit lucky"...
Like Vettel, both Hamilton and Mercedes team mate Valtteri Bottas were on one-stop strategies. But while Hamilton stopped on lap 23 to swap from mediums to hards, Vettel - who ran second early on, and then led once two-stopping team mate Charles Leclerc stopped on lap 15 - waited until lap 37 (one lap after Bottas) in a move that should have given him a tyre advantage over the Mercedes driver later in the race.
But with tyre degradation much better than feared, Hamilton - who'd started third - was able to make his tyres last until the flag as Vettel failed to mount a serious attack.
READ MORE: Hamilton closes in on title with supreme Mexico victory
"Ultimately if you're fair we didn't have the speed really to force the victory despite the strategy," admitted Vettel. "I think in hindsight you're smarter, I think obviously Lewis had nothing to lose so he might as well try and it worked for him.
"We expected the tyres to hit the cliff, but for him it was fine, he had significantly more laps on it. Seeing that Valtteri stayed out so long is confirmation that for [Mercedes] it was a huge risk.
"There are these days that it pays off, so it was certainly not all knowledge – so we didn't get beat on strategy terms – they won, got a bit lucky, and second, I think they just had a bit more speed."
We are taking risks but there's no point being stupid
READ MORE: Leclerc blames lack of 'decisiveness' for drop from pole to P4
Vettel may have finished second, but the glaring statistic after Mexico is that Ferrari have taken all six pole positions since the summer break ended, but Mercedes have won the last three races. So is it the case that the Scuderia aren't taking enough risks?
"We are taking risks but there's no point being stupid," said Vettel.
"Fitting the hard without stopping again I think was a great move but it could've been either way. Speaking to [Mercedes] after the race quickly, they had the two stops as their preferred strategy, so as I said, obviously, if you are in that position you might as well try – finishing third or fifth in the end is not a big difference – but if it allows you to jump to first you are the winners, you give it a go."
Team Principal Mattia Binotto concurred with Vettel, defending Ferrari's strategy.
"I think what we did was right – but obviously looking now at the race from the end our mistake was not to consider the one-stop possible, or such an early one-stop even more difficult. But that's the type of gamble you can do when you are behind, not the kind of gamble you will do when you're ahead.
"I think they did the right choice, it's difficult for us to defend and then [when you have degrading] tyres when you're trying to follow and attack make it even more difficult."