Mercedes have been taken 'back to reality' says Russell after P7 finish in Bahrain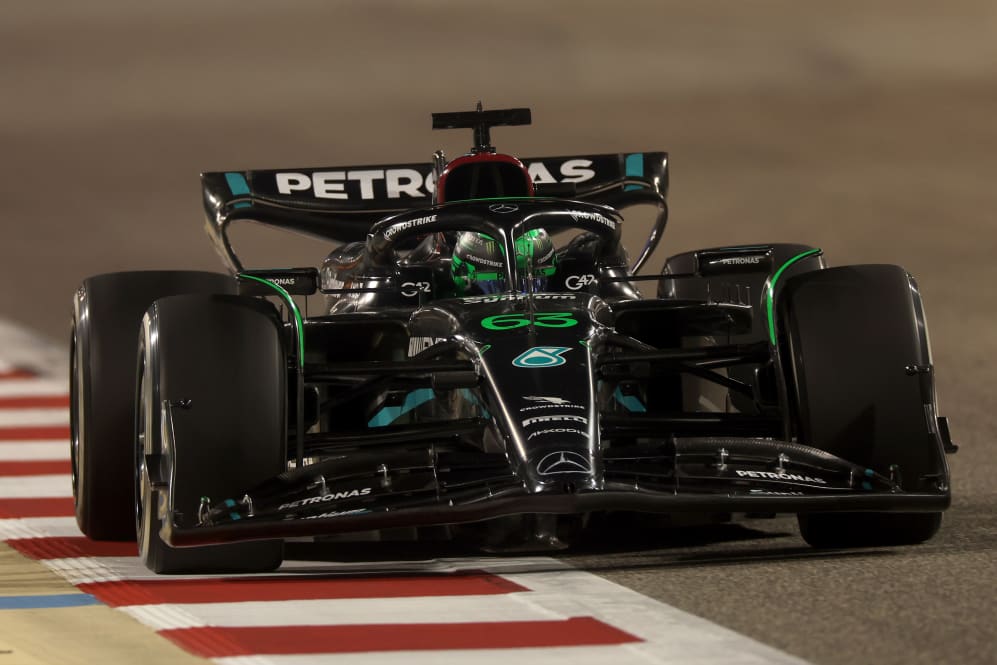 George Russell insists Mercedes must go "back to the drawing board" after he finished in P7 at the season opener in Bahrain – with the British driver questioning whether the team have been "too conservative" with their 2023 car, the W14.
Russell lined up P6 on the grid, but lost a place to team mate Lewis Hamilton – who finished fifth on Sunday – at the start, although he was able to overtake the Aston Martin of Fernando Alonso on the entry to Turn five, putting him back up to sixth.
READ MORE: 'We're the fourth fastest team now' – Hamilton offers honest Mercedes assessment as he admits the team are 'going backwards'
However, Alonso made his way past Russell on Lap 13, as the Mercedes driver's soft tyres began to degrade, before he also lost out to the other Aston Martin of Lance Stroll at the pit exit after the second round of pit stops, leaving him down in eighth.
Speaking after taking the chequered flag in seventh – having gained a position thanks to Charles Leclerc's retirement – Russell said: "I think after yesterday we thought we had a chance of fighting the Ferraris and the Aston Martins and clearly that wasn't the case.
"The fact is we didn't have enough performance on the car, I think yesterday exceeded our expectations, today's probably back to the reality and we just need to get back to the drawing board and keep on working."
He added: "When you have a fast race car everything becomes easier, the strategy is better, the tyre management is better, race starts are a bit better because you have more grip and downforce. And today everything just wasn't where we needed it to be, so yeah, work to do."
READ MORE: 'Everything went wrong today' says frustrated Ocon after being penalised three times and retiring early in Bahrain
With the Saudi Arabian GP under two weeks away, Russell was asked where he and his team go from here, to which he responded: "I'm not too sure to be honest. It's definitely too early to say you know, [but] we've learned a lot in these two weeks.
"Perhaps we've been a little bit too conservative with the design and we're missing a little bit too much performance downforce wise. With all these changes we've made to try and improve the porpoising... we probably seem to be the team that [now] has the least amount of bouncing."
READ MORE: Alonso says Bahrain podium 'a perfect start' to Aston Martin project as he recounts breathtaking moves on Hamilton and Sainz
He concluded: "We've gone from the team that has the most to the team that has the least. And perhaps with the changes the FIA made over the winter, that solved a lot of the problems and we've gone maybe one step too far.
"But I'm not an engineer, I'm not an aerodynamicist so I don't really know, I don't know, we'll reconvene [on Monday]."