Mercedes predict Hamilton would have finished P8 without late tyre stop in Turkish GP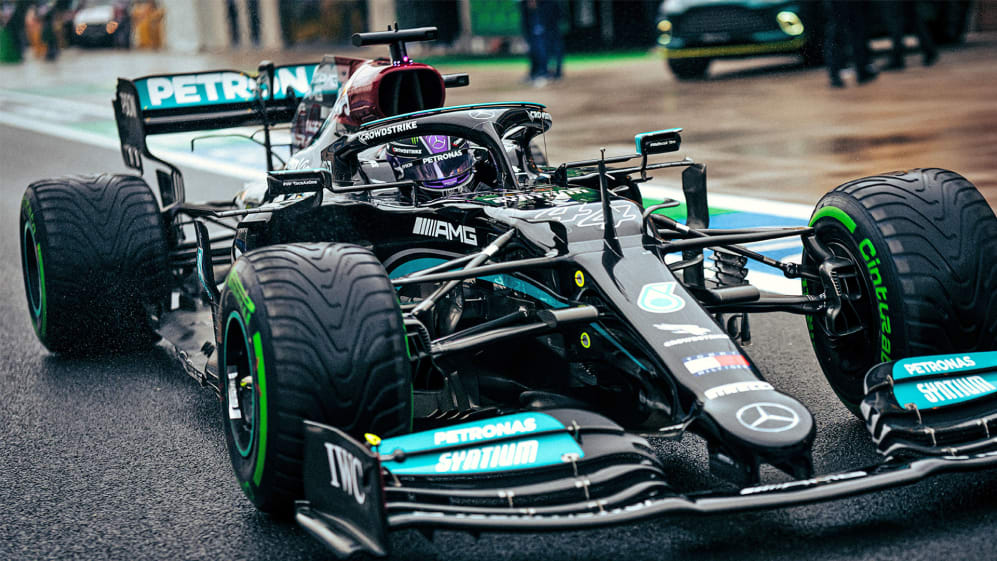 Finishing P5 and losing the lead of the championship to Max Verstappen – the Turkish Grand Prix could have gone better for Lewis Hamilton. But according to Mercedes, it could have gone a lot worse, with the team reckoning Hamilton could have finished as low as P8 had he run to the end without pitting.
Hamilton took on a new Mercedes internal combustion engine in Istanbul, meaning he started the race in P11. But Hamilton and Mercedes were then at loggerheads mid-race about the best strategy to follow, Hamilton keen to stay out on his starting set of intermediate tyres until the end – as Alpine's Esteban Ocon did – while Mercedes wanted him to stop at a similar time to his rivals around Lap 40.
TECH TUESDAY: How bad weather foiled Hamilton and Mercedes' smart rear wing choice for Istanbul
Hamilton was eventually brought in on Lap 50 of 58, before finishing fifth. But according to Mercedes' Chief Technical Officer James Allison, Hamilton's pit stop was definitely a case of better late than never.
"As ever with strategy, at the end of the race it's always obvious… what would have been the perfect lap [to pit on]," explained Allison, speaking in Mercedes' Race Debrief video on their YouTube channel.
"However, if we look at it overall, the best time to have stopped would have been around the [Lap] 36, 37 mark, that was when Valtteri [Bottas, who eventually won the race] and Verstappen stopped. Had Lewis done the same and then treated his tyres nice and gently, then in all likelihood he would have come in a strong fourth, maybe be able to pressurise [Sergio] Perez for third and perhaps overtake him. That would have been optimum.
"We didn't do that," added Allison. "We stayed out for longer than that hoping that the track would go dry, hoping for a little while that the tyres would last… and we would get the easiest third place on offer at the time simply by inheriting it from those that did do a pit stop.
"By the time we realised that we should have made that stop then and we were looking to cut our losses, it was round about Lap 41 –and that too would have been okay, that would have been a fourth-place type of stop. In the end we pushed on a bit longer than that, another nine laps with the tyres degrading all the while.
"When we eventually did call Lewis in, it was because the lap time chart that we use to make our predictions was telling us that it was not looking good for hanging on to the end of the race – that the car's pace by then would be sufficiently poor that… we were looking at something that was somewhere in the region of seventh, eighth place, based on the way in which the tyres were progressively degrading."
READ MORE: Wolff admits hopes of Hamilton win cost Mercedes in Turkish GP – but seven-time champ says 'any angst is forgotten'
Even following his Lap 50 pit stop, Hamilton remained frustrated by the decision to stop, telling engineer Pete Bonnington over team radio: "We shouldn't have pitted… I told you!" But while Allison did believe the seven-time champion's original starting set of tyres could have made it to the end of the race, he added that Hamilton's pace would have been "dismal" by that point…
"Yes, in all likelihood, we would have got to the end of the race on one set of tyres, able to circulate without difficulty," said Allison.
"Ocon did that for example, and our car typically runs its rubber better than many of our competitors. So yes, we would have got to the end of the race. The question is, how quick would we have been? And the evidence there is pretty clear: We would have been very slow.
READ MORE: Ocon admits it was a 'risky bet' not to pit in Turkey as Alpine boss says 'we didn't know if he'd make it'
"The tyre was using its rubber throughout the entire race and towards the end, as the track approached dry but never quite got there, that wear accelerated. And Lewis' lap times were starting to get worse lap by lap by lap. And while he would have made it to the end of the race, the pace would have been quite dismal by the time he got there."
Hamilton now sits six points behind Verstappen in the drivers' standings with six races to go – while had Hamilton finished in the P8 predicted by Allison if he hadn't pitted, that gap would have been 12 points.