Wolff admits hopes of Hamilton win cost Mercedes in Turkish GP – but seven-time champ says 'any angst is forgotten'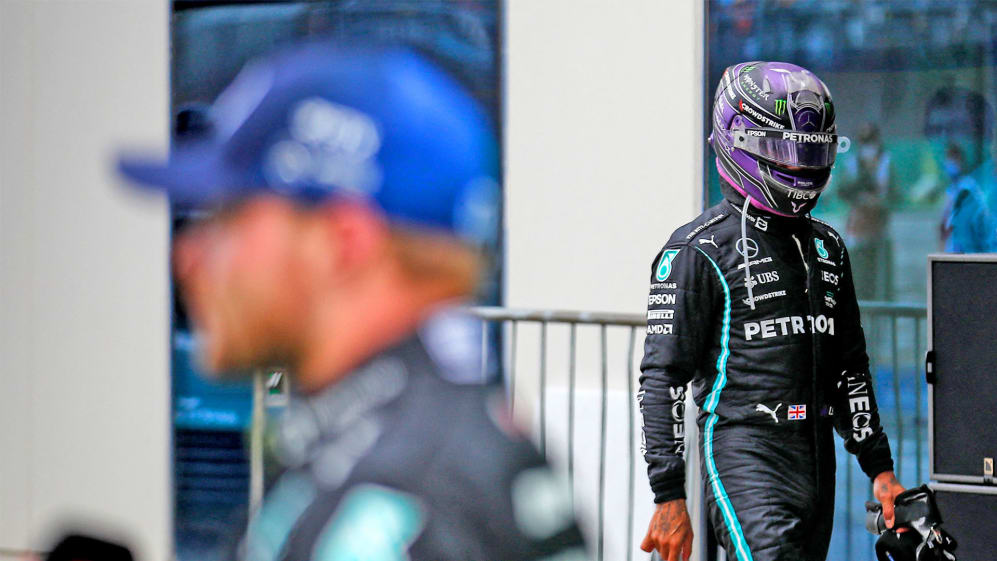 Lewis Hamilton may have finished the damp Turkish Grand Prix in P5, but Mercedes Team Principal Toto Wolff has admitted that holding onto a slim hope of Hamilton winning the race – instead of his team mate Valtteri Bottas – might have cost the seven-time champion a chance of a podium finish in Istanbul.
With several drivers around Hamilton having pitted for new intermediate tyres with around 20 laps of the Turkish Grand Prix to go, Hamilton gruffly countered Mercedes' instruction for him to pit on Lap 41 of 58, feeling that there was a chance he could make it to the end on his current set of intermediate tyres.
READ MORE: Hamilton was frustrated with Mercedes' late pitstop call in Turkey – but what would have happened if he'd stayed out?
But having made it up to P3, Hamilton eventually acquiesced to Mercedes' call and pitted for new intermediates, before racing to a P5 finish ahead of the AlphaTauri of Pierre Gasly – with Wolff explaining Mercedes' logic after the race.
"The intermediate obviously looked really scary," said Wolff of Hamilton's starting set of intermediate tyres, "but we thought that we could maybe hang out there and finish third with not stopping. Or if a dry line appears even going onto a soft tyre until the end.
"So we balanced between pitting, playing it very conservative, fighting with [Charles] Leclerc and [Sergio] Perez on the track for P3," added Wolff, referring to the drivers who finished the race in P4 and P3 respectively, "or taking a little bit of a gamble and either winning or finishing third. And then we saw Leclerc dropping off and saw Lewis dropping off, and then it was clear that we wouldn't make it to the end."
Asked what the correct pit call would have been, meanwhile, Wolff – speaking to Sky Sports F1 - replied: "The correct call would have probably been taking it very conservative and pitting when everybody pitted for the intermediate, coming out behind Perez, probably behind Leclerc, and then fighting with them on track for P3.
READ MORE: Bottas relieved to win with 'one of the best races I've ever had' after dominant display in Turkey
"It would have been better than how it ended up at the end," added Wolff. "But I think again it was measured and obviously in the car, [Lewis] didn't see how much he was dropping off in lap time and he didn't see Leclerc dropping off, and it was clear that if he'd stayed out, he would have lost against Gasly in any case."
As for Hamilton, although the seven-time champion had appeared frustrated with the situation both during and after the race – Hamilton telling engineer Pete Bonnington on team radio at one point, "We shouldn't have come in… I told you" – Hamilton took to Instagram on Monday morning to quell any talks of a rift between him and Mercedes.
"As a team we work hard to build the best strategy possible but as the race progresses you have to make split [second] decisions [and] there are so many factors constantly changing," wrote Hamilton, who now sits six points behind title rival Max Verstappen in the drivers' standings, after Verstappen finished P2 in Istanbul.
READ MORE: 'I should have trusted my gut' – Hamilton reveals why he was left frustrated by Mercedes strategy in Turkish GP
"Yesterday we took the risk to stay out hoping it would dry, it didn't. I wanted to risk it and try and go to the end, but it was my call to stay out and it didn't work. In the end we did pit and it was the safest thing to do.
"We live and we learn. We win and we lose as a team. Don't ever expect me to be all polite and calm on the radio when I'm racing, we are all very passionate and in the heat of the moment that passion can come out, as it does for all drivers.
"My heart and spirit are out there on the track, it's the fire in me that's got me this far but any angst is quickly forgotten and we talked it through, already looking ahead to the next race."