Mercedes predict where they'll sit in the F1 pecking order in Canada after Spanish GP gains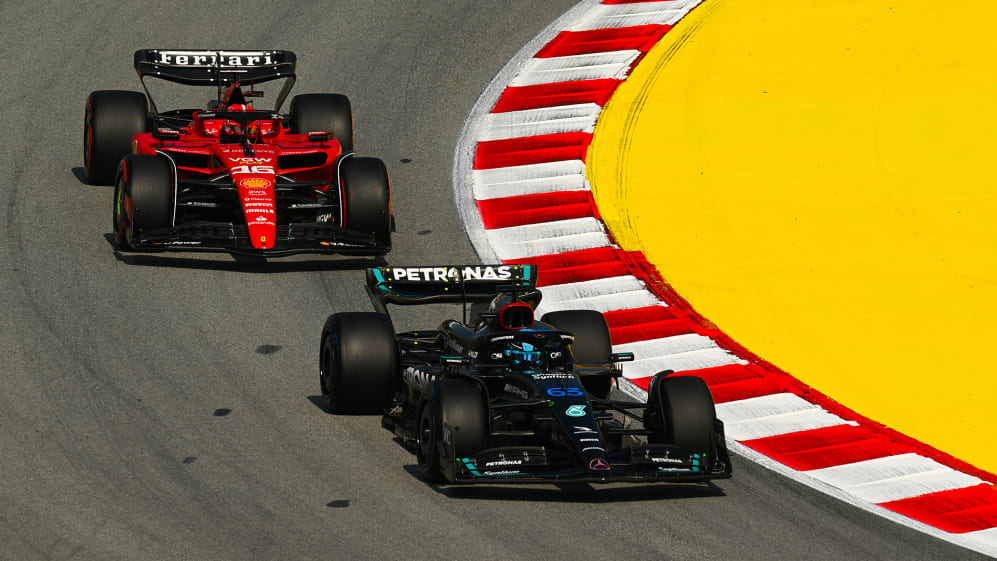 Mercedes have played down their expectations heading to this weekend's Canadian Grand Prix, with the team refusing to get carried away by their double podium finish last time out in Spain.
Lewis Hamilton and George Russell used their freshly updated W14s to take second and third place at the Circuit de Barcelona-Catalunya, marking the first time they have stood on the rostrum together this season.
IT'S RACE WEEK: 5 storylines we're excited about ahead of the 2023 Canadian Grand Prix
But despite the apparent step forward, Trackside Engineering Director Andrew Shovlin has said that Mercedes will be looking over their shoulders at the likes of Ferrari, Aston Martin and Alpine in Montreal, rather than ahead at Red Bull.
Asked during their post-Spanish Grand Prix debrief video if the double podium was a result of track characteristics or Mercedes' upgrade package, Shovlin said: "Well, probably both are true. The fact is that the update kit works very well around circuits like Barcelona with a lot of high-speed performance.
"The car itself would have still been okay there because we've been better at the fast circuits and the front-limited tracks. We ended up with a really good balance and really good race pace.
"Now, where we are going to go next, Montreal, it's a very different circuit. There are more low-speed corners, quite a lot of straight-line full throttle and we would expect more of a challenge there.
READ MORE: Hamilton points to 'something in the pipeline' for Mercedes as he eyes Red Bull fight by end of season
"We are not thinking that we are going in nipping at the heels of Red Bull. We are going in there prepared for a battle with Ferrari, Aston Martin, and maybe even Alpine."
Shovlin went on to highlight the fine margins in the battle to be 'best of the rest' behind current pace-setters Red Bull and how a sub-optimal set-up direction or small mistake can have major consequences.