Mercedes say build-up of 'electrical noise' to blame for Austria issues as they search for a fix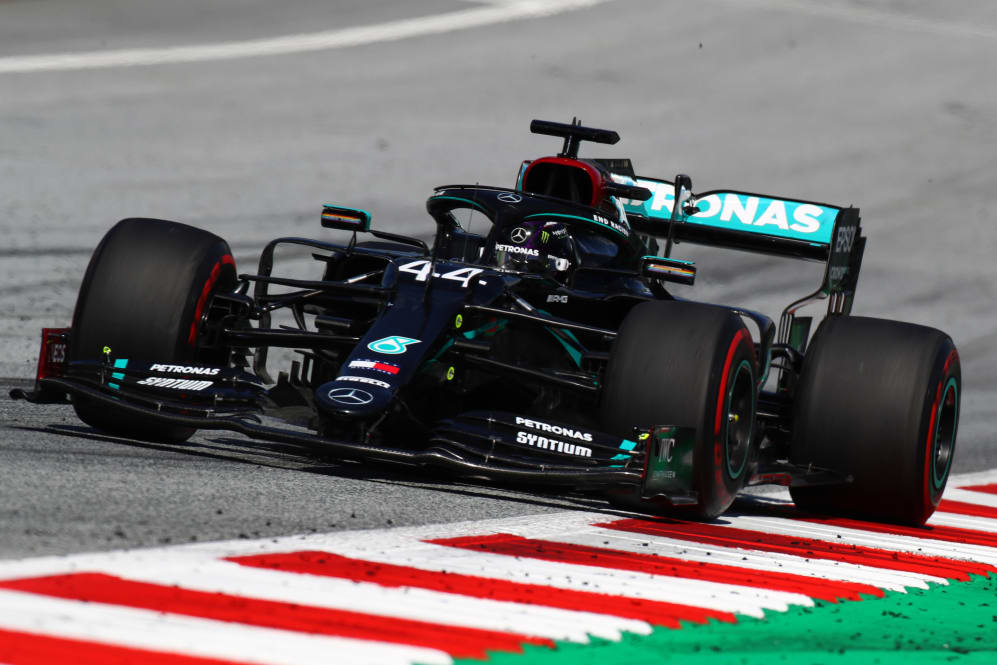 It was all looking rosy for Mercedes as they ran comfortably one-two in the season-opening Austrian GP, that is until they encountered gearbox problems which forced them to tell both Valtteri Bottas and Lewis Hamilton to steer well clear of the Red Bull Ring's tricky kerbs. It has emerged those issues were the result of a build-up of what the team describe as 'electrical noise'...
Bottas was leading the race comfortably from pole when he and Hamilton were told that it was "critical" they avoided the kerbs, including the red and white rumble strips, as Mercedes managed gearboxes. They managed to get the cars to the end, with Bottas winning and Hamilton taking second, but being classified as fourth following a five-second time penalty for his collision with Alexander Albon.
READ MORE: The Winners and Losers of the 2020 Austrian Grand Prix
Speaking on Tuesday's F1 Nation podcast, the Silver Arrows' Trackside Engineering Director Andrew Shovlin revealed they weren't surprised by the issues because they were anticipating them ahead of the race.
"On Friday you saw that Valtteri had an issue at the end of one of the sessions so that was first a sign that we had a problem, we've had recurrence issues over the course of Saturday and going into the race we were expecting it because it seems to be a feature of the model," he said. "So, at the moment if we build the car and run it this problem will appear at some point – it's just a question of how soon.
"It's not manifesting itself as one thing, no they are related it's basically a build-up of electrical noise that starts to interfere with the various systems so with Valtteri we saw that halfway through the race, got progressively worse, with Lewis it appeared later. But it's electrical noise that's then affecting a lot of different things.
READ MORE: The Ross Brawn column - Great to see Norris come of age as F1 returns with a thriller in Austria
Shovlin added that the characteristics of the Red Bull Ring, such as the chunky kerbs, high altitude and warm weather, exacerbate the problem.
"Austria's just a really horrible circuit for the cars," he added. "Normally you start the season somewhere like Melbourne, and Melbourne's a track where it's very difficult to overtake, and when it's difficult to overtake you can then afford to look after your car and people aren't going to get by.
"This is a circuit where it's quite easy to overtake and as a result if you don't use the kerbs, if you don't push hard, you're at risk. That's one of the factors, but it's the kerbs themselves that are very, very violent and you spend a lot of the lap running on them. For us, that was that issue and it probably doesn't help that it's nearly 30 degrees here, the air's a bit thin so it's hot, there isn't as much cooling as you normally get, and all the temperatures inside the car are high.
"But every year this is a race of attrition and having it as the first race and then having two of them, one after the other because we think we can make some strides to improve some of our problems but others aren't going to get better on the same track. So a lot of people you've got another dose of it coming up, so it's a race against time to try and make a bit of headway into those complications."
We have a great group around [trackside engineer] Simon Cole on trackside reliability and he and his team are going to solve that problem
Mercedes Team Principal Toto Wolff said he was confident his engineering team would find a way to manage the problem ahead of F1's second race in Austria this weekend.
"We have a great group around [trackside engineer] Simon Cole on trackside reliability and he and his team are going to solve that problem for [this] week," said Wolff.
"What I understand is that there are solutions that we can at least improve the situation. Austria is for sure stressing these parts on the car most in all of the season. So if we find a way around of protecting the car next weekend, we should be fine. I think we have ideas."