Mercedes say DAS 'came into its own' in cold Eifel GP where it was used 'more than ever'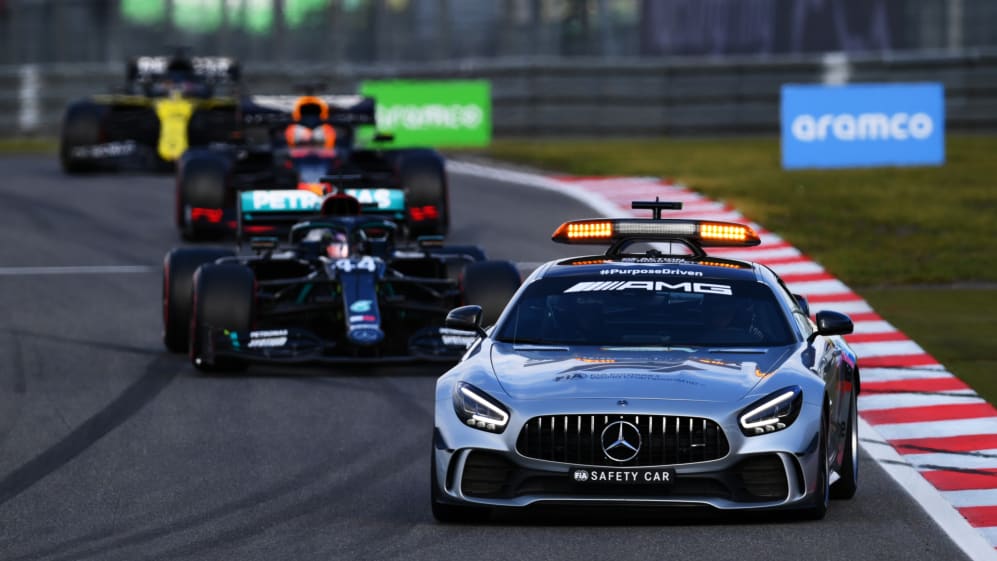 When Mercedes unveiled their innovative Dual Axis Steering system in Barcelona testing, there were question marks over both what it did and how much of an impact it could have. In Sunday's Eifel Grand Prix, both questions were answered emphatically…
With temperatures for the race the lowest of the season, drivers were rightly concerned about what would happen if the Safety Car was deployed, causing them to circulate at speeds that would see tyre temperatures plummet.
But unlike the rest of the field, race leader Lewis Hamilton had just the tool to help with the issue and ensure he made the perfect re-start to keep a lasting advantage over Red Bull's Max Verstappen. DAS, according to Mercedes chief strategist James Vowles, had 'come into its own' – and not for the first time at the Nurburgring.
"It is fair to say we used DAS more than ever this weekend," explained Vowles in the team's race debrief video. "In free practice, on single lap work, in qualifying but also during the race. In terms of where we used it in the race it was on the formation lap, but also when we were behind the Safety Car.
"Where we had a number of laps circulating on tyres that were just getting colder and colder. I think it is fair to say DAS was a contributing factor to why our restart was so good and really came into its own this weekend."
I think it is fair to say DAS was a contributing factor to why our restart was so good
DAS works by the drivers pushing and pulling on the steering wheel, the action effecting a change on the car's front wheel toe angle. But ahead of the race, it was steering motion of a different kind that Hamilton could be heard complaining about over team radio.
The Briton had enquired as to why movement he'd identified in the system on Saturday hadn't been fixed ahead of the race, with the team replying that they'd been unable to change it under parc ferme conditions because of the regulations.
"He had play within the steering column and the whole steering system was moving backwards and forwards just a small amount," explained Vowles.
READ MORE: 'I can't respect his efforts enough' – Vettel, Verstappen and more praise Hamilton as he matches Schumacher's 91 wins
"This is a performance factor, as you are cornering you are trying to feel the limit of tyres, having any movement in the steering column whatsoever will cause you to not be sure whether it's the car moving, the tyres moving or something else.
"However, it wasn't a safety concern; at no time did we have any concern whatsoever for the system.
"It's something we noticed on Saturday but the parc ferme regulations state that unless the component is broken you can't replace it, which is why Lewis had to race with it, and he did a great job considering the amount of difficult conditions we had in that race."