'I can't respect his efforts enough' – Vettel, Verstappen and more praise Hamilton as he matches Schumacher's 91 wins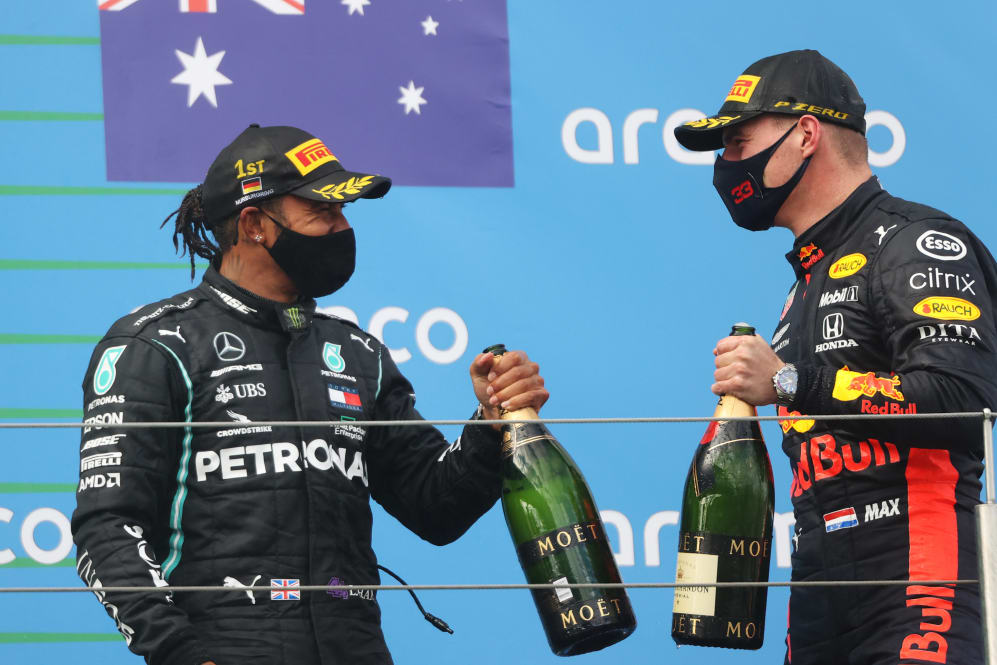 Lewis Hamilton's 91st victory at the Eifel Grand Prix means that he now stands alongside Michael Schumacher as the most successful driver in the history of the sport in terms of wins. And the F1 paddock couldn't hide its admiration at Hamilton breaking a record that had previously been thought to be unassailable.
Hamilton had been helped on his way to that 91st victory at the Nurburgring after the retirement of his Mercedes team mate Valtteri Bottas, leaving Red Bull's Max Verstappen to chase Hamilton down for all 60 laps of the Eifel Grand Prix. But after coming up just short, Verstappen – whose father Jos was team mates with Schumacher at Benetton during the 1994 season – hailed Hamilton's 91st victory as "very impressive".
READ MORE: 'Michael is, and always will be, a legend' – Hamilton 'humbled' to equal Schumacher's win record
"It's an incredible achievement," said Verstappen. "Ninety-one wins, everyone thought that was almost impossible to reach, right? To be there now, himself, it's incredible and very impressive. And I'm pretty sure there will be some more victories coming his way – and probably also championships. So, yep, just very impressive. And hard to beat."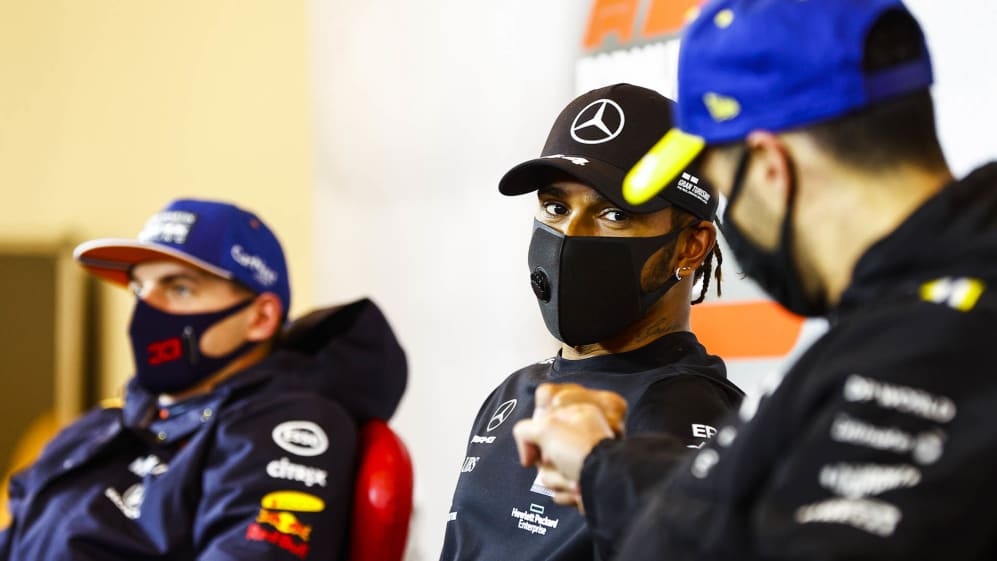 Verstappen was speaking in the post-race press conference alongside Hamilton and third-placed finisher Daniel Ricciardo. And Ricciardo echoed Verstappen's thoughts, praising the consistent winning mentality of Hamilton – while he admitted to enjoying the moment where Schumacher's son Mick had presented Hamilton with one of his father's race helmets.
MUST-SEE: Mick Schumacher presents Hamilton with one of his father's helmets as Brit equals Michael's win tally
"Tip of the hat at the very least!" said Ricciardo when asked to comment on Hamilton's record. "With how much success Lewis has now had, obviously Michael as well… his career now has been well over a decade in the sport and to keep coming back and to show that level of consistency at the front, that's also not easy. I think us up here I think we understand that.
"You can have a package and a car to do it, but it's doing it every weekend when the lights go out. It's easier said than done. Certainly big respect. I think also the gift that he received, one of Michael's helmets, that's one of the coolest gifts I've ever seen in the sport, so it's really nice to see that today."
The driver who sits third on the all-time wins list, Sebastian Vettel, also doffed his cap to Hamilton's achievement, admitting that he'd never thought he'd see the day when someone matched Schumacher's 91 victories – although he added that Schumacher would remain his hero…
"I can't respect his efforts enough," said Vettel. "I think it's been a number in my head that I'd always thought would never be beaten, or equalled. I think we're generally quite certain that he will exceed this number!
READ MORE: Ross Brawn on Hamilton's 'remarkable' achievement, Hulkenback 2.0 and why he hopes Honda won't be gone for long
"Nevertheless, I have to say that Michael will always be my hero, and I think Michael had something about him that I haven't seen in other drivers so far. It's probably the fact that I looked up to him when I was a child, and Lewis I didn't look up to when I was a child because I was racing him, so it's a different situation going in.
"But probably in another 10, 15, 20 years' time, there will be more admiration for that, but obviously when you're still active, you've looking at yourself and not so much at others. But as I said, you can't cherish him enough for what he has achieved."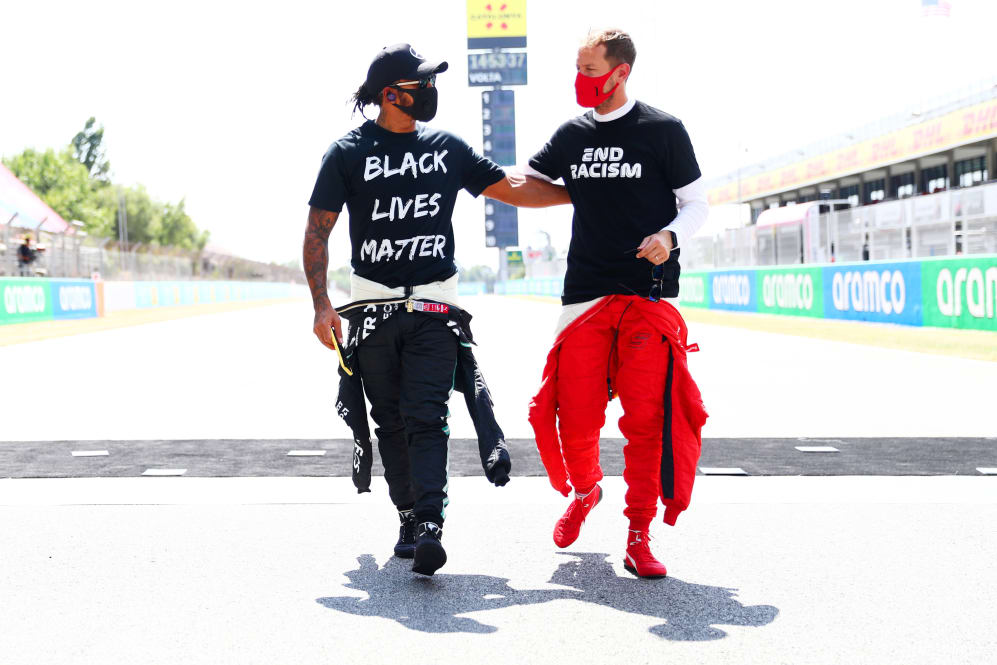 Hamilton was a 'mere' 21-time race winner when he joined Mercedes in 2013. But his 70th victory for the Silver Arrows – two short of the record Schumacher achieved with a single constructor, Ferrari – drew the respect of his team boss Toto Wolff, who described Hamilton matching Schumacher's record as "surreal", while adding that he expected Hamilton's final win tally when he eventually bows out of F1 to be broken one day, too.
READ MORE: Hamilton takes record-equalling 91st victory as Ricciardo claims first Renault podium at Eifel GP
"It's unbelievable that Lewis has reached those 91 wins," said Wolff. "For me, Michael stands above all, he's an icon, and personally, equalling that record, and us equalling the Ferrari record last year [of six consecutive constructors' titles], is almost surreal. But records are here to be broken, and I think that's what Michael said as well. Lewis is still on his journey, but maybe there is somebody in nursery, or school that will one day go for the Lewis record and that's how it should be."