Mercedes tech boss details 'amazing achievement' by crew after they fixed Hamilton's qualifying crash damage in 3.5 hours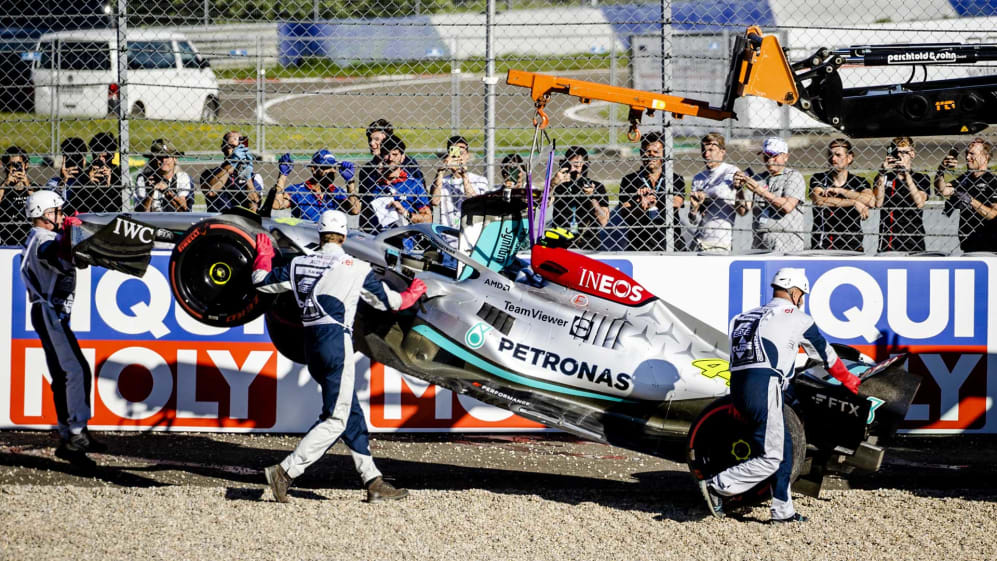 Mercedes' Technical Director Mike Elliott has revealed that the team took just three and a half hours to fix Lewis Hamilton's car after he crashed in qualifying at last weekend's Austrian Grand Prix – an effort that enabled him to put on an encouraging show of pace in Sunday's race.
In the latest Mercedes Race Debrief video, Elliott unpacked the team's Austrian weekend, which saw both Hamilton and team mate George Russell crash in the final qualifying segment, but bounce back to third and fourth respectively in Sunday's Grand Prix.
"There is a huge amount of work that went into getting those cars ready and in Lewis's case he had done so much damage to the chassis, actually only cosmetic damage, but damage that we couldn't fix in the field. We had to sort of build his car from scratch on Saturday morning," said Elliott.
PALMER: Why Mercedes are dark horses for victory at super-smooth Paul Ricard after impressive Red Bull Ring pace
"So, that car had to be built from nothing, fitting the engine, the gearbox, all the suspension, all of the sort of car systems that bolt around the chassis, all had to be put in place and the mechanics managed to do that in three and a half hours on Saturday morning, which is an amazing achievement, and all credit to them for actually getting us back out and into FP2.
"And the advantage of getting out into FP2 is that you can actually make sure that the set-up on Lewis's car was right, that the balance was right and that he was happy with the car in time for [the] Sprint."
The technical boss added a possible reason as to why both drivers crashed in Q3, adding that a podium and P4 in the Grand Prix showed that Mercedes are "starting to make a step forward" to the front.
"I think if you saw on Friday, we were encouraged by the pace we had. I think in qualifying we were going through the various qualifying sessions thinking, you know, that we had a strong chance to getting ourselves on the front row of the grid, a position we haven't found ourselves in in recent races, and [that is] possibly why we ended up with two accidents with both cars: the drivers were just trying to find that extra little bit in the car, trying to get ourselves onto that front row of the grid, the potential pace we believe we had in that car.
READ MORE: Wolff estimates Mercedes have 'halved the gap' to Red Bull and Ferrari following spate of W13 upgrades
"While… we want to be fighting at the front, we want to be the quickest car we possibly can be… in circuits like this I think that's a good result for us and it shows that the bits we are bringing to the car are starting to make the step forward we want to make, and hopefully we can keep making those steps forward and get ourselves into a position where we can compete at the front in every race."
Mercedes head to France with a chance to challenge the top two teams, with the smooth surface and long straights of Circuit Paul Ricard expected to suit the W13.