'Mind blowing' – Mercedes boss Wolff reflects on Hamilton hitting 100 Grand Prix wins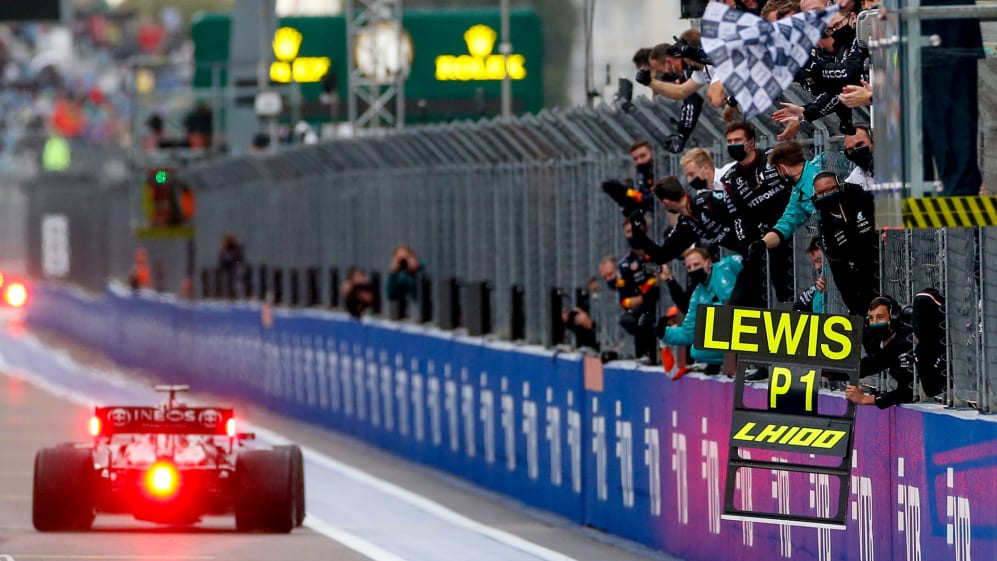 Mercedes Team Principal Toto Wolff says the scale of Lewis Hamilton's achievement – the seven-time champion having become a 100-time Grand Prix winner with his Russian GP victory – won't be truly appreciated for decades, as he looked back at a "special" journey with his driver.
Hamilton won the Russian GP amid heartbreak for McLaren's Lando Norris, the 21-year-old missing out on a maiden win when rain struck and he stayed out on slick tyres, spinning off before Hamilton cruised by on intermediate compounds. With that, he became the first-ever Formula 1 driver to hit a century of Grand Prix wins.
READ MORE: 100-time GP winner Hamilton insists Norris has 'many wins ahead' after McLaren man is denied maiden victory in Russia
"Yes, I think we are witnesses of a career that is just amazing," Wolff said. "That 100th race victory is just mind-blowing. Today we talk about it – it's going to be in the news for 24 hours – but only 20 years down the line we are going to realise that we've been part of that.
"But we realise that you are being part of a journey that no other sportsman in Formula 1 has done so far and that is beyond the races that we've won, the championships – that is from the humanist aspect – to be part of this is special," he added.
The Mercedes boss said it was a difficult choice to pit Hamilton from P2 for intermediates, given he was chasing Norris for victory at that point – though pointed out his driver's real race was with championship rival Max Verstappen.
"Rich, who runs the weather… was adamant the weather was coming in, and it started to drizzle but only half the circuit was humid. This is when we made the call, 'you have to pit', and that's what we did," explained Wolff.
RACE HIGHLIGHTS: Catch up on all the action from a dramatic Russian Grand Prix at Sochi
"But… of course we are racing Verstappen – and he went for the inters as well – and you want to protect the position against him. It maybe made our call a little bit easier. When you are leading the race, it's always tough to make the right decision," he concluded.
With win number 100, Hamilton ensured Mercedes are unbeaten in Russia and became the first driver to win having started outside the top three on the grid at Sochi. And the result means Mercedes are again in the lead of both drivers' and constructors' championships.
Russian GP Facts & Stats: Mercedes remain unbeaten in Russia, as Hamilton hits F1 century