Feature
MONDAY MORNING DEBRIEF: How Leclerc's crash caused a domino effect that shaped Sainz's charge in France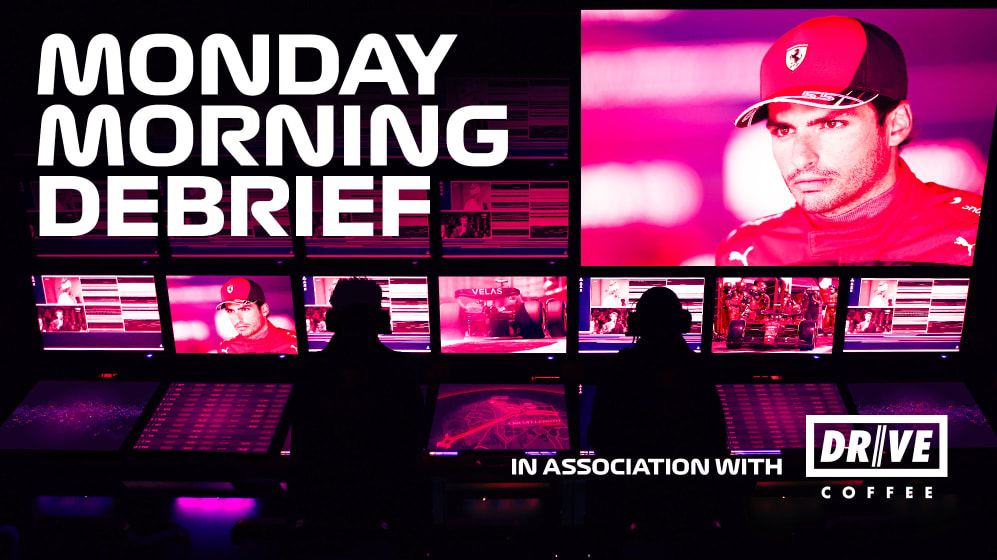 Carlos Sainz's fifth place and his additional point for fastest lap was a poor French Grand Prix haul for Ferrari given the searing speed of their car around Paul Ricard. Charles Leclerc's crashing out of the lead on the 18th lap opened the way for Max Verstappen's seventh victory of the season. But ironically the Safety Car for Leclerc's accident also created opportunity for Sainz.
Starting from the back as penalty for taking his fourth power unit of the season following his fiery exit from Austria, Sainz was nonetheless confident of rescuing his weekend, such was the Ferrari's pace here and his own ease with the traits of the car. He'd actually set the fastest qualifying lap of all in Q2. In Q3 he was there only to provide a tow for Leclerc and didn't actually complete a lap.
WATCH: Ride onboard for Charles Leclerc's pole-winning lap at Circuit Paul Ricard
But the fast, long-duration turns seemed to suit Sainz, as Leclerc acknowledged after qualifying. "I like an oversteer car," said the Monegasque, "but you can't do that here because it kills the rear tyres, so it's been a difficult weekend for me. Whenever you get a snap here you get a big snap because there's so much downforce. Carlos was quicker here. It's just the way I drive the car."
The medium tyre was the almost universal choice of starting tyre and Sainz was one of just three drivers to start on the hard, as this would give him the opportunity to be out long enough to take advantage of a clear track as slower cars on mediums pitted. He would be on the faster medium by the time he was among hard-tyred quicker cars, in his second stint of what was set to be a one-stop race.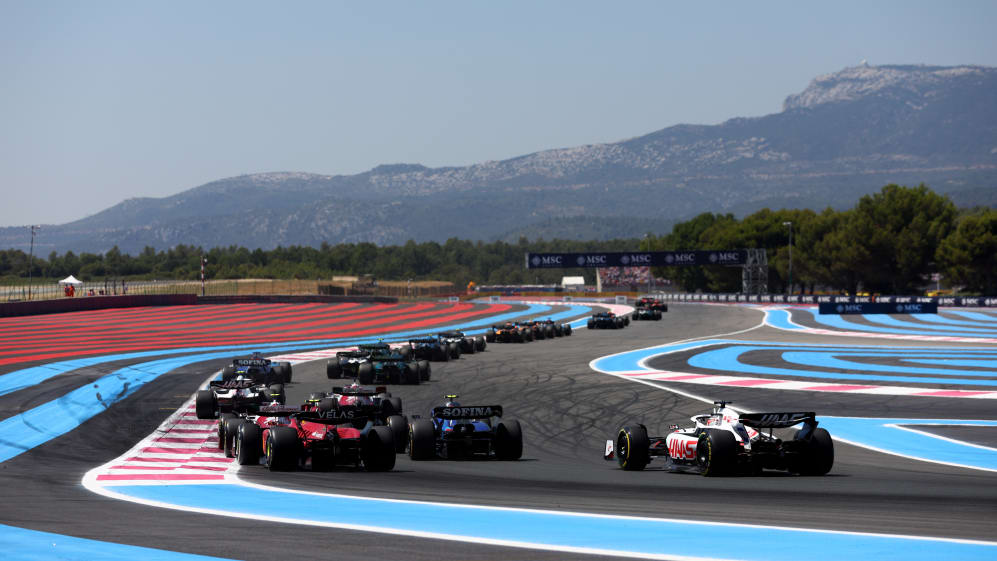 The reason why it was a one-stop, despite the expected high tyre degradation, was that the extension of the pit lane speed limit area had added around 3.5s to the time lost in pitting. But starting on the hards made your strategy a little vulnerable to an early Safety Car. It would potentially mean that in order to take advantage of the 10 seconds saved by pitting under the Safety Car, the switch to mediums may have been too early for the range of that tyre, which was estimated at around 30 laps.
To really be sure of his offset tyre strategy working, Sainz ideally needed any Safety Car to be later than Lap 23. That way, he would have a realistic chance of the mediums making it to the chequered flag on Lap 53. Ultimately, the Safety Car caused by his team mate was just too early.
READ MORE: Sainz defends Ferrari strategy after late pit stop sees him finish fifth in French GP recovery drive
Sainz had climbed up to ninth place in between Esteban Ocon's Alpine and Daniel Ricciardo's McLaren when Leclerc crashed out on Lap 18 and triggered the Safety Car. Ferrari were obliged to bring Sainz in, as the 10-second saving was too valuable to ignore. With the compression of the field spread caused by the Safety Car, has he stayed out, he would have lost many places when he did eventually pit.
A delay on the right-front wheel at the stop further complicated his race. Although it allowed Ricciardo to get back ahead that wasn't too costly because Ocon, in having to be stacked behind team mate Fernando Alonso at the Alpine garage, dropped behind so there was no net place loss for Sainz. Rather, the problem was that by the time Ferrari released him, Alex Albon was just arriving and the Williams driver was forced to brake heavily, almost collecting a McLaren mechanic as he locked up.
This was deemed an unsafe release by Ferrari and Sainz was awarded a five-second penalty. This penalty would have a profound effect on Ferrari's subsequent tactical choices.
Although the Safety Car came earlier than ideal for Sainz, it had helped his immediate chances, because as he sat behind the two McLarens in the queue, the faster cars of George Russell and Sergio Perez were now within reach whereas before, they had been over 20 seconds ahead of him. He'd taken five-seconds of penalty but he'd obliterated much of that 20-second deficit. He picked off the McLarens and Alonso within two laps of the restart and now on his medium tyres to the hard C2 compound of those around him, he was chasing down Russell.
HIGHLIGHTS: Relive the action from a dramatic French Grand Prix, as Verstappen capitalises on Leclerc's misfortune
He passed the Mercedes with a brave move around the outside of Signes, but it had taken a little longer than ideal to find that weakness in Russell's defence. It was now Lap 31 and if this set of mediums was not going to last to the end, Sainz ideally needed to make his second stop no later than around Lap 35, to give himself enough time to make the places back up that he would lose by pitting.
But he stayed out long past that point as he caught and pressured Perez's third place Red Bull. By the time Ferrari asked him if he wanted to pit, it was Lap 41. Too late to be able to reclaim the place he would lose to Russell. At just the moment this was being discussed, Sainz made a brilliant pass on Perez going into the final corner and was now up to third. He was actually instructed to pit mid-manoeuvre.
Ferrari had judged that he would have insufficient tyre life left to pull out the extra five seconds of penalty time over Perez and Russell and that he would be doomed therefore to finish an official P5, at best, and with the risk of a tyre failure. This way, Ferrari reasoned, he could take his penalty in the pits and still get back up to P5 and with new tyres would take an extra point for fastest lap.
How he would actually have fared if he'd been left out will be forever unknown. Could the rubber have held on? Would Mercedes have used Hamilton to back Sainz up into Russell and thereby prevent him making that five-second gap? Or would he have been able to pass Hamilton too?
READ MORE: 63-point championship lead 'probably bigger than it should've been' admits Verstappen after French GP win
Mattia Binotto defended his team's strategy post-race: "As far as the choice we made, it was the proper and the right one… At first, we were trying to extend his stint as much as possible to have the best fit on the tyre's life, to make sure at least we're not overshooting any decisions in terms of tyre life. But as soon as we got all the information, which were required, we realised that there was not sufficient tyre life to go to the end of the race. As simple as that.
"And to stay out would have been a risk in terms of safety and reliability in terms of tyre life. So, we had to stop. More than that, I think that the pace of Carlos would not have been sufficient to open the gap more than five seconds to Perez and Russell."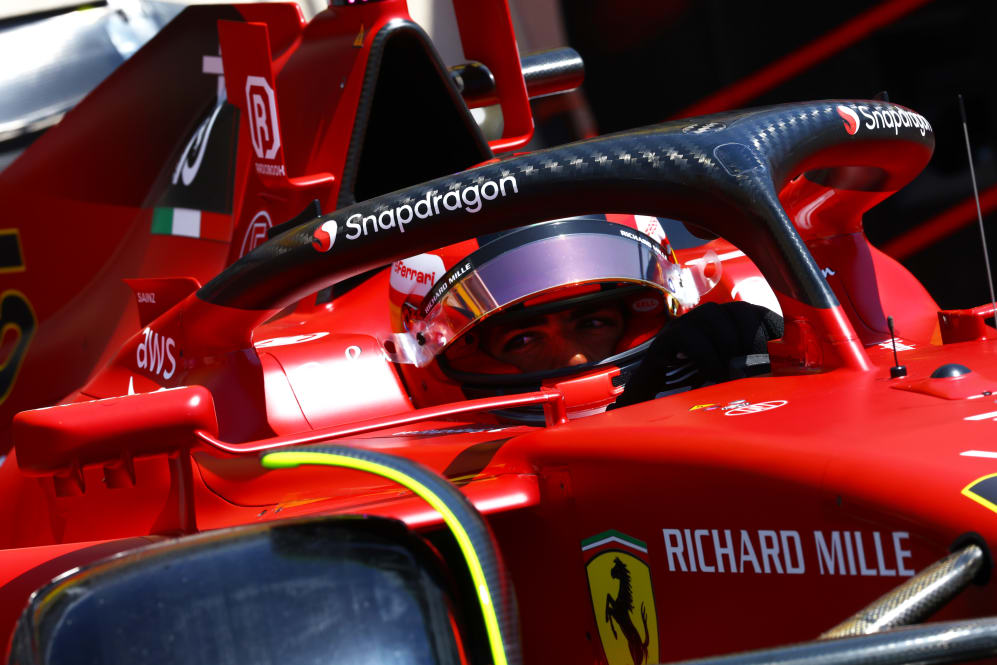 Sainz said: "I'm sure when they show me the numbers from the data and the tyres, that they strongly believe that I would not have made it to the end. We have to trust the numbers because it is what we base our strategy on. I'm sure they did it with the best of intentions. Obviously when you are in P3, in the podium position after starting last, the last thing you want to do is box and get out of the way and losing seconds in the pit stop. Maybe that is why I was more willing to take some extra risk there, but, in the end, the team played it safe with the tyres, which I totally understand and we will have to analyse together.
"I feel like without the penalties, this would've been a race weekend when we would've fought for pole position and the win. Even with the penalty and with a perfect race, a normal pit stop and no penalty we could've got to the podium, which is a strong weekend, a very good weekend for me as a driver, a weekend that gives me confidence."
FACTS AND STATS: Verstappen matches Stewart's win tally, as Alonso breaks Raikkonen record