Report
Sainz tows Leclerc to first French Grand Prix pole as Verstappen qualifies second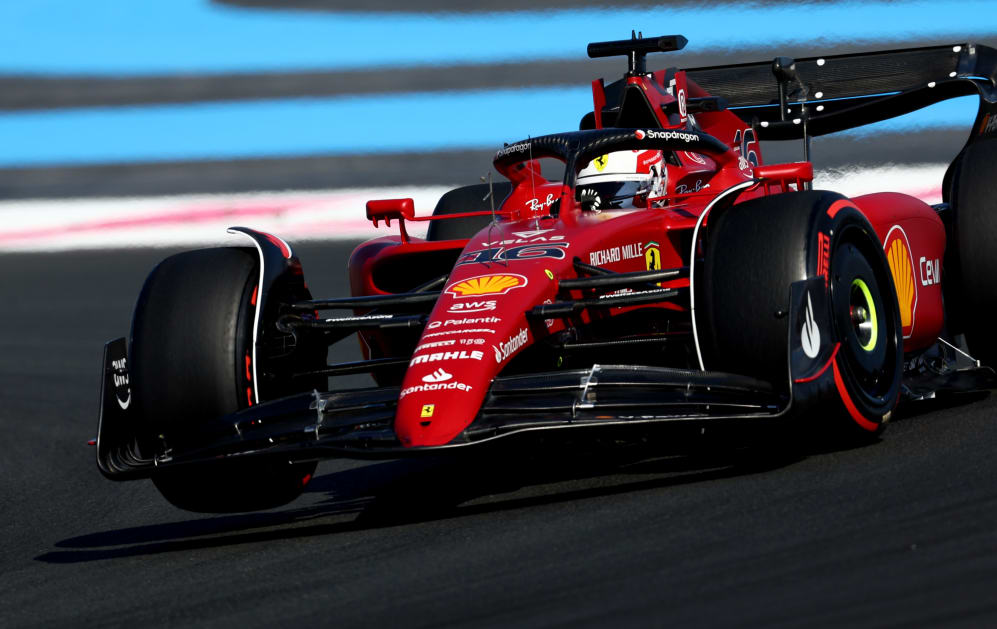 Charles Leclerc took Ferrari's first pole position at Paul Ricard since 1990, while rival Max Verstappen will join him on the front row for the 2022 French Grand Prix.
With the sun blazing down on the Circuit Paul Ricard, Leclerc topped Q1 ahead of Verstappen while Carlos Sainz, who will start at the back for engine penalties, aced Q2 with a stunning lap.
Q3 saw Leclerc enjoy a tow off Sainz for both his flying laps, the Monegasque improving to a 1m 30.872s to keep Verstappen behind by 0.304s. Sergio Perez finished third, 0.159s off his team mate, while Lewis Hamilton improved to P4 with his final run.
Lando Norris managed to split the Mercedes in P5 for McLaren as he dropped George Russell down to P6.
FP3: Verstappen leads Ferrari duo in final French Grand Prix practice
FORMULA 1 LENOVO GRAND PRIX DE FRANCE 2022
France
2022
Qualifying results
POSITION
TIME

1

Charles

Leclerc LEC

Ferrari

1:30.872

2

Max

Verstappen VER

Red Bull Racing

1:31.176

3

Sergio

Perez PER

Red Bull Racing

1:31.335

4

Lewis

Hamilton HAM

Mercedes

1:31.765

5

Lando

Norris NOR

McLaren

1:32.032
Fernando Alonso starts seventh right behind Norris – both Alpine and McLaren level on points ahead of the French GP – while Yuki Tsunoda qualified eighth.
Sainz sacrificed his Q3 to take P9 for Ferrari but, thanks to engine penalties, will start at the back with Kevin Magnussen, who made it to Q3 but didn't emerge in the session.
Daniel Ricciardo missed out on Q3 by under a tenth of a second in P11, while Esteban Ocon qualified P12 on the road for Alpine at home. Valtteri Bottas finished 13th in qualifying, leaving Aston Martin's Sebastian Vettel 14th and Williams' Alex Albon 15th.
Pierre Gasly and Lance Stroll (16th and 17th, respectively) missed out on Q2 by 0.06s, while oversteer for Zhou Guanyu saw him finish 18th for Alfa Romeo. Mick Schumacher's brief encroachment of track limits dropped him down to 19th and out of Q1, while Nicholas Latifi was 20th.
With penalties for Sainz and Magnussen, of course, those eliminated in Q2 and Q3 will see a bump up the grid for Sunday's race.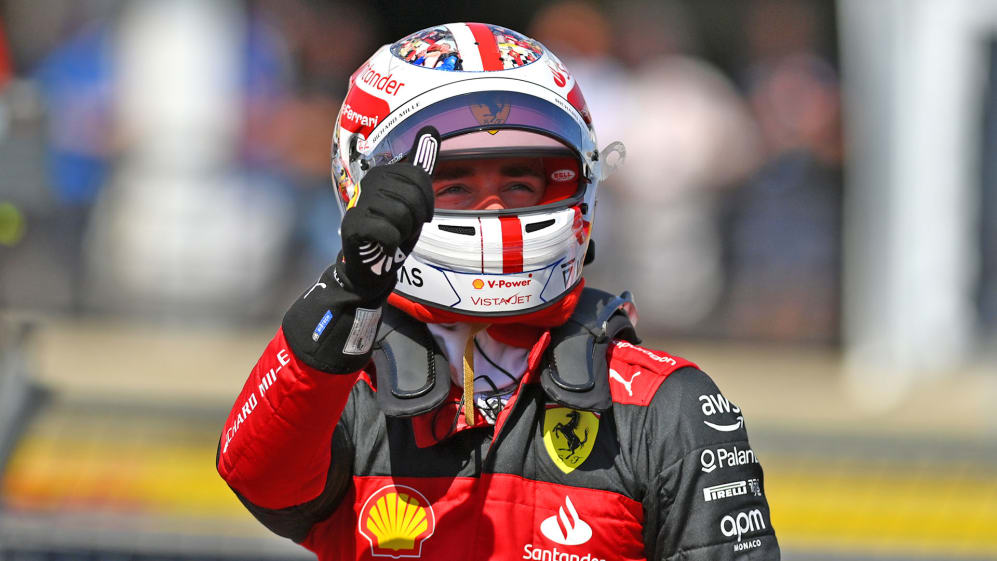 Q1 – Verstappen leaves time on the table as Leclerc sets the early benchmark
With temperature and wind speed rising, it was clear that qualifying would be a mighty challenge for the field in France.
Charles Leclerc took top spot with his first flying lap, leaving Max Verstappen second by 0.164s, and though the Dutchman attempted another lap, he didn't improve – though his second sector was far superior to Leclerc's and perhaps an ominous sign…
Carlos Sainz was over half a second back in third, the Scuderia driver to start at the back with engine penalties. Sergio Perez was fourth, 0.627s off top spot for Red Bull, while Lando Norris was the last driver within a second of P1 with fifth for McLaren.
Despite his back-of-grid start for new power unit components, Kevin Magnussen took sixth with his sole run of Q1, beating Alpine's Fernando Alonso – who enjoyed a solid tow from Verstappen – by 0.063s.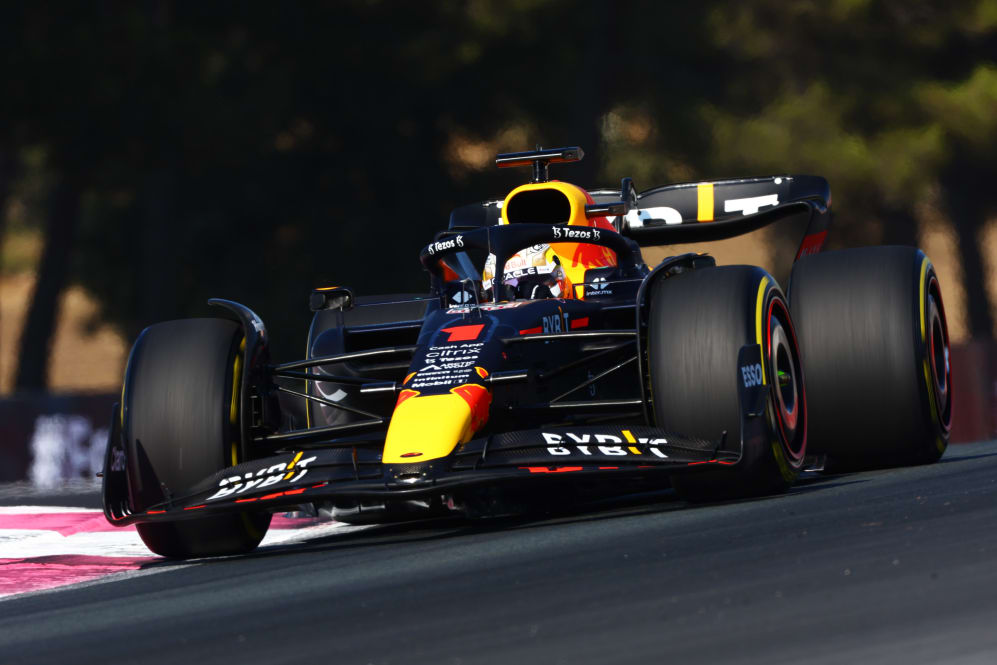 Valtteri Bottas was eighth for Alfa Romeo, leaving Mercedes' Lewis Hamilton ninth and George Russell 10th – both over 1.3s off the pace.
Having missed a chance to run soft tyres in FP3, Sebastian Vettel impressed for Aston Martin in 11th, to leave Alpine's Esteban Ocon 12th and AlphaTauri's Yuki Tsunoda 13th.
Daniel Ricciardo made it through to Q2 in P14 despite having his second run chalked off for track limits; Alex Albon shrugged off his Turn 8 spin to take P15 for Williams.
In 16th, Pierre Gasly was eliminated in Q1 at home by just 0.06s to Albon, having set exactly the same time as Lance Stroll, the Aston Martin driver frustrated by traffic in P17.
A cruel snap of oversteer heading onto the Mistral Straight saw Zhou Guanyu finish 18th, Mick Schumacher having a lap time deleted to send him from P11 to P19 and out of Q1 – with Nicholas Latifi last and 20th.
Knocked out: Gasly, Stroll, Zhou, Schumacher, Latifi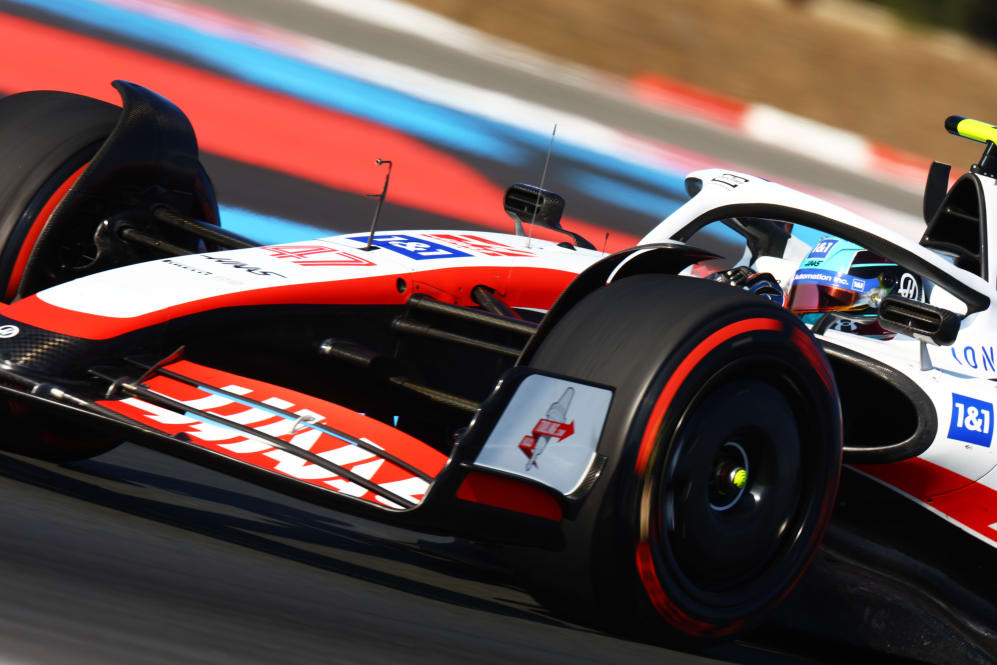 Q2 – Defiant Sainz goes for glory with stunning lap
Sainz put on a show with his first run, setting a time of 1m 31.081s to keep Verstappen at bay by a staggering margin of 0.909s. Perez was a preliminary third, just 0.130s behind his team mate, while Leclerc was another half-second behind in P4. As for Mercedes, neither Russell nor Hamilton was happy with their opening effort, in 12th and ninth respectively.
Leclerc improved to within 0.135s of Sainz on his second run, leaving Verstappen third and Perez fourth – only the Mexican coming out for a second run but failing to improve – as Hamilton ended out rounding out the top five.
Alonso split the Mercedes, just 0.002s ahead of seventh-placed Russell, while Magnussen made it to P8 for Haas. Norris took ninth and Tsunoda made it to Q3 for the first time since Baku in P10 – Ricciardo missing out by under a tenth of a second.
Ocon couldn't make it to Q3, finishing 12th ahead of Bottas, while Vettel and Albon were over two seconds off the pace in 14th and 15th respectively. With Sainz starting at the back, all eyes will be on the swift Spaniard's progress on Sunday; Magnussen's rapid run in Q2 will be cause for excitement too.
Both the Haas and the Ferrari had a chance to upset their rivals in Q3, too…
Knocked out: Ricciardo, Ocon, Bottas, Vettel, Albon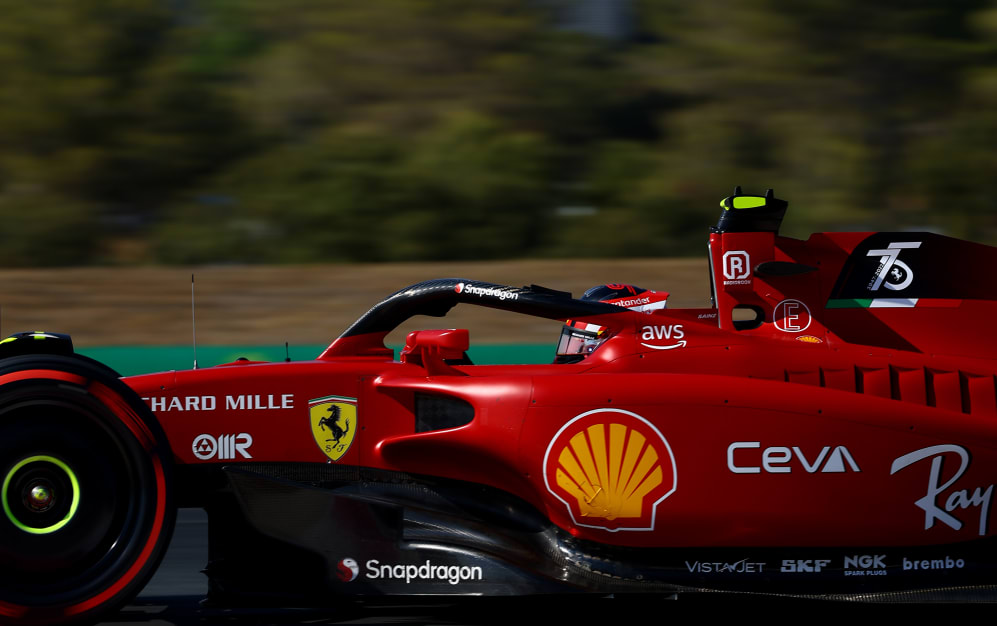 Q3 – Ferrari team up for first Paul Ricard pole since 1990
Ferrari's gameplan for Q3 was clear; they emerged in sequence for Sainz to tow Leclerc through the circuit's long straights, the Monegasque driver setting a provisional pole lap of 1m 31.209s. Verstappen was just 0.008s off – but he hadn't enjoyed a tow on his go.
Perez was a provisional third, 0.431s off in P3, while the Mercedes were on course for P4 and P5 with Russell ahead of Hamilton – both on used tyres for their first runs.
The customary lull gave fans time to fan themselves in the unrelenting heat with Perez breaking the silence to lead a train of cars out for the final runs. Ferrari continued their team game, Sainz to give Leclerc a tow for the second run; Verstappen emerged behind Leclerc, not Perez, for his second attempt at pole.
Leclerc had the edge and turned it into a gulf, improving to 1m 30.872s – thanking his team mate Sainz over the radio – and keeping Verstappen behind by 0.304s, despite the Dutchman improving. Perez also improved but ended up 0.159s off his team mate as he prepares to start on the second row.
Hamilton equipped a new set of softs and improved to P4, though he ended up over four-tenths off Perez, while McLaren's Norris managed fifth to split the Mercedes drivers as Russell ended up sixth. Alonso, in P7, starts behind Norris on Sunday, his Alpine squad equal with McLaren on points currently, while Tsunoda managed P8 for AlphaTauri.
Sainz's sacrifice saw him end up ninth in Q3 but he gears up for a recovery mission on Sunday alongside Magnussen – who didn't attempt a lap in Q3. Going tete-a-tete tomorrow from the front row will therefore be Leclerc and Verstappen.
Key quote
"It was a great lap. I've struggled all weekend to put a lap together and I managed to put it, but I have to say that I also had the help of Carlos and that was amazing teamwork because without Carlos it would have been much more close, so huge thanks to Carlos and I hope that he can join us back in the fight for the win tomorrow" – Charles Leclerc, Ferrari
What's next
The French Grand Prix kicks off at 1500 local time – which is 1300 UTC – with Leclerc and Verstappen once again set to duke it out from the front row, while Sainz will look to climb back through the field in the 53-lap encounter.