Feature
MONDAY MORNING DEBRIEF: The 3 key factors that enabled Verstappen to win the Italian Grand Prix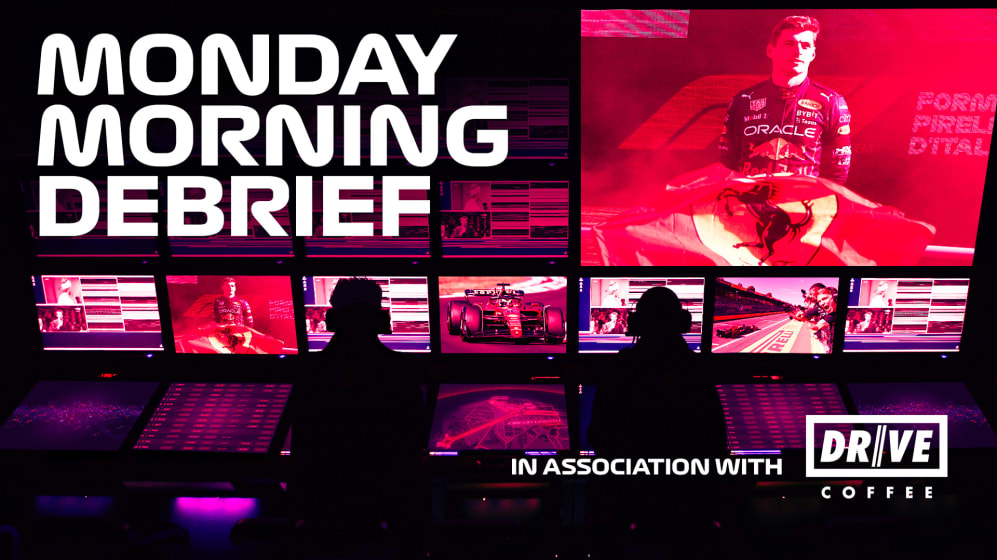 Max Verstappen's victory from his penalised P7 starting position at Monza wasn't quite as emphatic as his win two races earlier at Spa, from 14th. But it again underlined the Red Bull's increased advantage over Ferrari compared to the early part of the season when the two cars could often race on equal terms.
At Monza, although Charles Leclerc's Ferrari was around 0.15s faster than Verstappen in qualifying, it did not have anything like the Red Bull's pace on race day – just as at Spa and Zandvoort. What is responsible for the recent surge in the Red Bull's speed?
There are three key factors.
1. Aero efficiency
The Red Bull RB18 produces its downforce at less cost in drag than the Ferrari. This has always been the case but the layouts of Spa and Monza are extreme in how they reward this. They just happen to be in the same part of the calendar, so perhaps exaggerating the sense of a trend.
Red Bull were able to use a much bigger wing than Ferrari at Monza despite the elongated nature of the track, and yet still have competitive straight line speeds.
When running at the front and before he began lapping cars (i.e., with no DRS), Verstappen's typical terminal speed at the end of the pit straight was 320km/h (199mph), with Leclerc at 319km/h (198mph).
The official FIA speed trap lists only the fastest speeds recorded by each driver, which can be misleading because you can be comparing non-DRS with DRS speeds.
READ MORE: Verstappen takes his first-ever Italian Grand Prix win behind the Safety Car as Leclerc has to settle for P2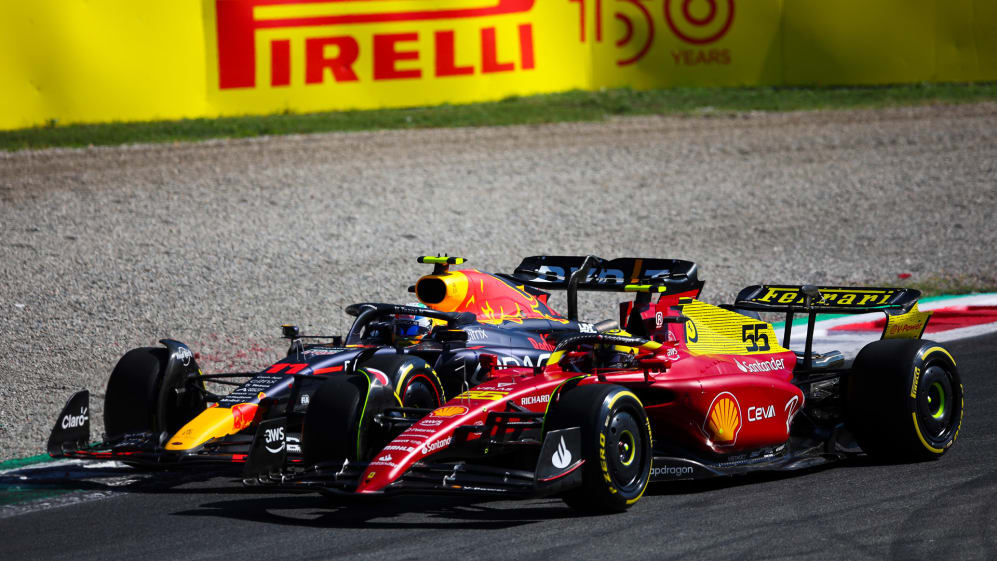 The Ferrari of Carlos Sainz, making a recovery from a penalised 18th place starting slot, and often getting a multiple-car slipstream in addition to DRS, was recorded as fastest through the trap at 356km/h (221mph). Leclerc was without DRS at any stage of the race (as he was either leading or out of Verstappen's DRS range). Verstappen, with the benefit of DRS, reached a best of 347km/h (209mph). But comparing non-DRS to non-DRS, the Red Bull and Ferrari were almost identical.
This was despite the Red Bull's bigger wing, and we know from GPS traces that the difference in horsepower between all four power units is now tiny (but still headed by Ferrari).
READ MORE: 'I'm sure we can win some other races' – Leclerc frustrated to miss out on Monza victory but sees opportunities to end Verstappen's run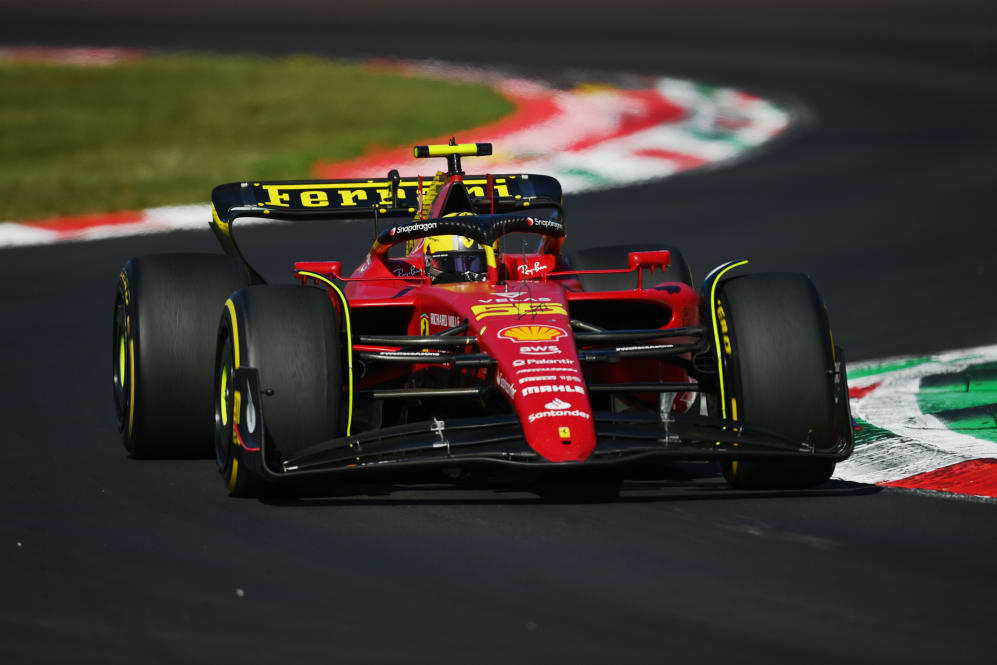 So if the Red Bull can reach the same straight-line speeds as the Ferrari despite a visibly bigger wing, we can infer that the aero efficiency of the whole car is significantly better, i.e. it can produce more downforce for a given amount of drag.
It was this which allowed the Red Bull to have a small but consistent advantage through the Lesmo corners and Ascari. The ultimate lap time advantage was small (Verstappen, with less of a tow than Leclerc in qualifying was 0.15s slower). But the more pertinent advantage the greater downforce brought Red Bull was that of tyre performance.
READ MORE: FIA explain decision to end Italian Grand Prix behind Safety Car
The tyre limitation at Monza was graining and wear of the front-left. A bigger rear wing will require a greater front wing angle so as to retain the preferred car balance – and that helps protect the front tyres especially when the limitation is wear. The Ferrari was eating into its front-left tyre much more quickly than the Red Bull.
Hence why even though the two cars were quite evenly matched on ultimate single-lap pace, Verstappen was twice able to demolish quite big race gaps to Leclerc, who was constrained to a slower pace by that left-front.
2. Red Bull weight loss
One of the Ferrari's key advantages over the Red Bull in the early part of the season was its weight. The Red Bull was reportedly over 10kg over the minimum permitted, around double that of the Ferrari. At an average track, that 5kg difference would be worth around 0.175s. Leclerc set a sequence of pole positions, but often the margin would be less than that. The weight really did seem to be a deciding factor in Ferrari's favour.
READ MORE: Verstappen says maiden Italian GP win continues an 'amazing year' as he edges closer to title
But it wasn't only the weight itself which had been causing it problems, as Verstappen explained in Monza: "Not only was the car very overweight but in the wrong place of the car as well. There was too much weight towards the front of the car so that's why it was just understeering a lot more and prone to front locking."
The Red Bull has been on a steady diet throughout the season and as well as the straight power-to-weight ratio improvement, it now has a chassis balance which allows Verstappen to extract much more from the car, allowing him to get rotation much earlier into the turn and thereby be quicker into the apex and earlier on the power.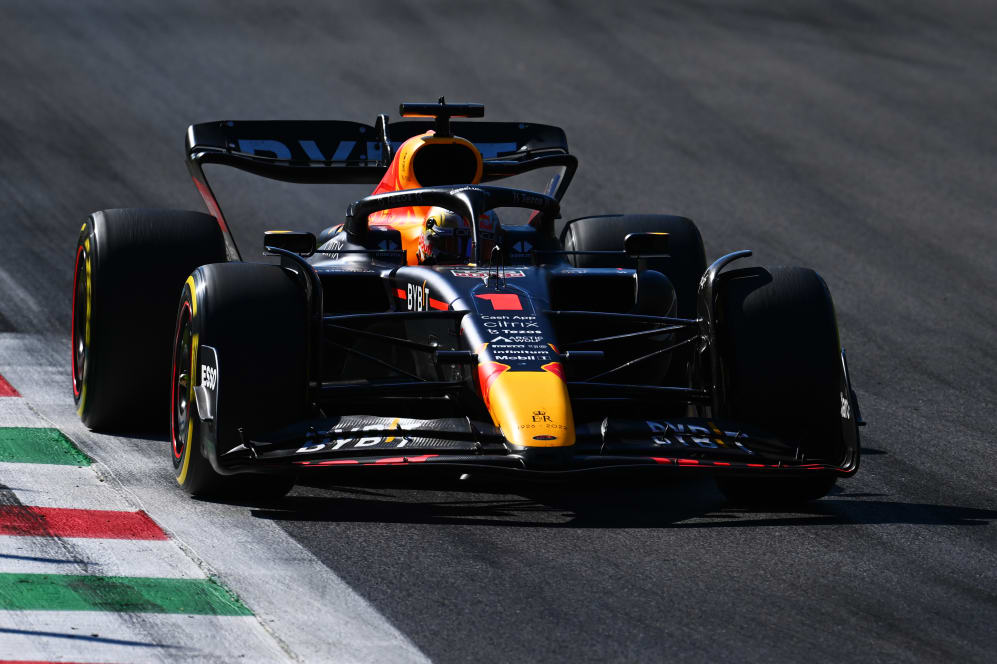 3. Ferrari tyre management
Ever since Hungary Ferrari have been struggling with their tyre performance. At the Hungaroring, Spa and Zandvoort, it was about thermal management – i.e. the tyres were tending to run too hot and had to be driven to a slower delta time to prevent overheating. At Monza it was about wear of the front-left, something from which it suffered earlier in the season too (notably at Imola and Miami).
"Since Hungary in the race pace we are suffering tyre deg and in that respect the Red Bull is a better car," admitted Ferrari boss Mattia Binotto at Monza. "They have been capable of developing that car for a better balance and better tyre degradation that we didn't. We are looking at the reasons because we need to address it – if not for this season then for the next one."
HIGHLIGHTS: Watch the action from the Italian Grand Prix as Verstappen beats Leclerc to victory
Binotto was at pains to point out that the Monza defeat was not from any difference in race strategy and that pitting Leclerc under the VSC and later making an additional stop were just an attempt at doing something different to Red Bull, as on the same strategies it was near-certain the Red Bull was going to win.
"It's not difficult to beat a faster car, it is impossible. Not only do you win if you have a fast car, you may only make it wrong with strategy and losing the race. [Verstappen] was faster.
"Whatever was the strategy, he would have won. But pitting and moving on to the two-stop was not the wrong decision because you never know what will happen in the race, you never know what will be his tyre degradation on Max on the longer stint. If you look back at our gap to Russell, for example, the gap at the end was big and comfortable. Overall it was not a risk but a gamble that turned not into a positive choice."