Feature
More potential Lap 1 fireworks and Sainz on a comeback charge – What To Watch For in the Hungarian GP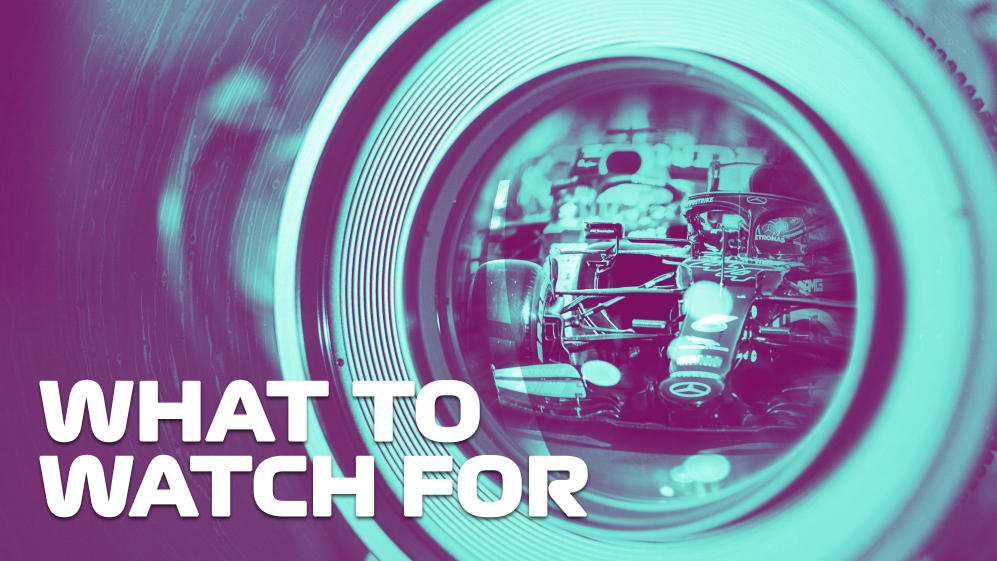 From title rivals set to resume a tense duel to their team mates providing an intriguing support act, and from the next generation leading the chase to Carlos Sainz out of position, we pick out five key things to look out for in Sunday's race at the Hungaroring…
1. Eyes on the title rivals
Hamilton is a row ahead but Verstappen with a tyre advantage
There was a telling moment after qualifying when Max Verstappen was asked about the approach to racing Lewis Hamilton on Sunday if the pair go wheel-to-wheel again following their collision at Silverstone.
The question was prefaced with the fact it was a topic that had been covered a lot, but the press conference host didn't get time to complete it before Verstappen interrupted and said he wanted the questions to stop and that it was "ridiculous" how much he and Hamilton had been asked about it.
READ MORE: Verstappen explains why he's gone for the opposite strategy to Mercedes – and why he's fed up with questions about racing Hamilton
But only moments before, his team principal Christian Horner had stated that everyone would want to tune in for the start of the race, with Verstappen on soft tyres directly behind Hamilton – on mediums – and able to try and attack on the opening laps.
Regardless of your views on the incident in the British Grand Prix, it has added a whole new level of drama when it comes to the way the pair will engage with each other next time – and there's every chance that 'next time' will come on the long run down to Turn 1.
2. The importance of the second drivers
Bottas and Perez are right in the mix alongside their team mates
But this isn't just a case of Hamilton vs Verstappen in Budapest. In fact, Valtteri Bottas made sure there's at least one car between the pair with a strong qualifying performance that locked out the front row for Mercedes.
Like Hamilton, Bottas will start on the medium compound and has more flexibility in terms of his strategy, but it also makes him the more vulnerable of the two Mercedes drivers if there is a big advantage for the Red Bulls starting on softs. And Sergio Perez has ensured he's in that conversation by securing fourth place alongside Verstappen.
READ MORE: Horner brushes off Hamilton slow out-lap as 'part of the game' after Perez misses out on final Q3 run
We haven't always seen all four cars at the front and in the mix, but Bottas and Perez are both able to influence the way the fight goes and will see their own opportunities for victory, especially if the title rivals are too focused on each other. But they've also shown they are team players when asked and they could be used as wingmen if required, too.
In order to play a significant role, however, they're both going to need to get off the line well, with fast cars threatening from behind.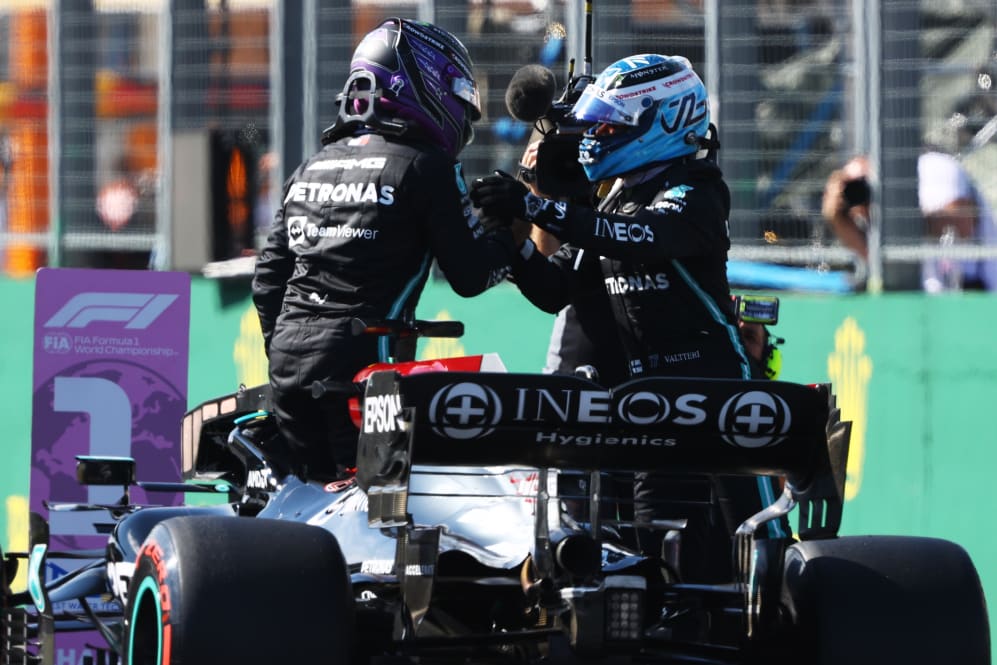 3. A remarkably close fight behind the top four
Gasly, Norris and Leclerc were covered by just 0.013s
Those fast cars all felt like they could have secured a spot on the second row on Saturday afternoon, with Pierre Gasly leading Lando Norris and Charles Leclerc by an extremely small margin. Gasly himself was just 0.062s away from beating Perez to fourth place after the Mexican failed to start his final run, but where they all end the first lap is going to be crucial.
Track position is key in Hungary, and the AlphaTauri has looked extremely competitive in Gasly's hands this weekend, as well as at a number of rounds this year, while we know how strong the McLaren and Ferrari can be over a race distance.
READ MORE: Gasly explains how impressive P5 in Hungary qualifying won him a Ferrari-related bet with team boss Tost
In Silverstone, Norris was able to hold off Bottas for the first stint on a track that is easier to overtake on than the Hungaroring, so if any one of the three get ahead of a Red Bull or Mercedes they could completely change the complexion of the race.
Realistically, the three youngsters will all be looking at each other and aiming for the best-of-the-rest position, which would be a strong statement for Gasly with one Red Bull seat yet to be finally confirmed for 2022. For Norris and Leclerc it could play a big role in the constructors' championship, with McLaren and Ferrari currently separated by just 15 points.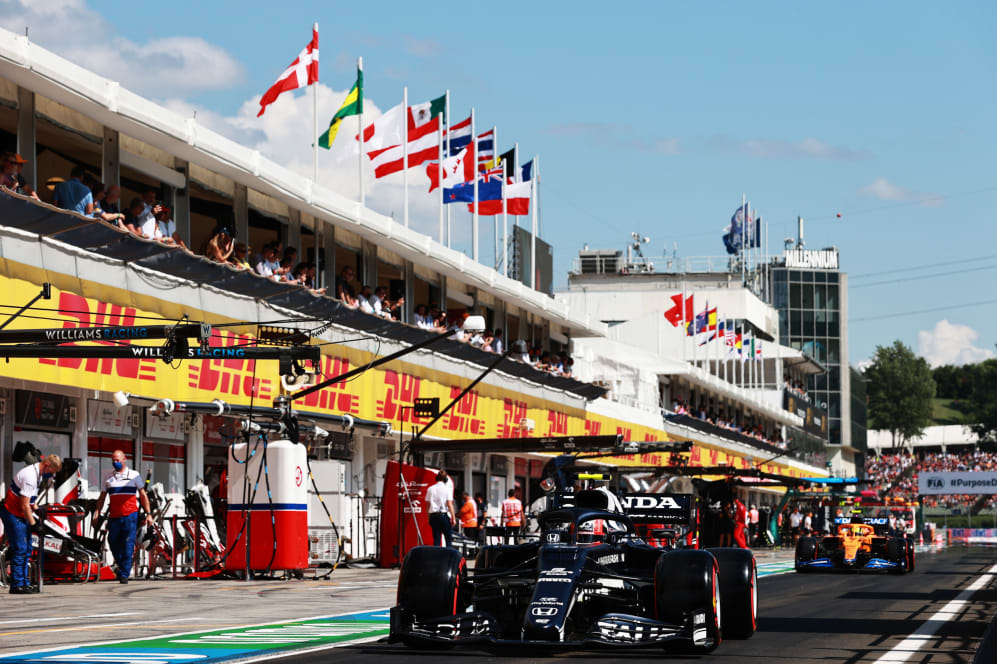 4. Tsunoda and Sainz needing to make up ground
Crashes on Friday and Saturday proved costly for both
If Ferrari want to make up ground on McLaren, then they will also need to see something special from Carlos Sainz, who has been left with the tough task of climbing through the field from 15th on the grid, assuming he doesn't need to replace his gearbox.
The Spaniard lost control at the final corner on his first timed lap in Q2, blaming a gust of wind for him ending up in the barrier and with a damaged car. Given the fact he couldn't get the car into reverse, there could be a gearbox issue that would lead to a further grid drop. But either way, he is a long way from the points in a quick car.
READ MORE: Sainz blames sudden increase in wind speed for 'puzzling' Q2 crash
Sainz was fourth fastest in FP3 and looked well set to be in the mix with Gasly, Norris and his team mate Leclerc, but the incident leaves him needing him needing an attacking drive.
The same can be said for Yuki Tsunoda, who crashed in FP1 and missed almost all of FP2, and so was on the back foot in qualifying and dropped out in Q1. Gasly showed the potential in the AlphaTauri and Tsunoda has not been afraid to try moves in the past, so he might be another to provide action from further back.
5. Tyre troubles
Put simply: It is hot!
Track temperatures exceeded 60C on Saturday and the forecast is for more of the same on Sunday, which makes managing tyre temperatures extremely difficult. Even over one qualifying lap, drivers were having to be careful about how much they pushed, so the opening stint could be particularly tough.
Only the Mercedes pair are starting on mediums in the top 10, so eight of the frontrunners could face the same issue of thermal degradation, and if so then the driver sitting pretty could actually be the car in 11th place. And that is Daniel Ricciardo.
READ MORE: Hungarian GP Qualifying Facts & Stats – Historic eighth pole for Hamilton matches his idol's record
Ricciardo has been lacking a bit of confidence over one lap and dropped out in Q2, but he gets a free tyre choice and might be a bit more comfortable in a race scenario, even if it's not going to be easy for anyone.
One thing the potential for overheating does open up is overtaking opportunities, with drivers sliding around a lot more when the temperatures go up. It's not fun to drive an F1 car in such conditions, but it can make for entertaining racing.