'Most special race of my career' – Hamilton calls Brazil 2021 his 'best race ever' as he celebrates 10 years at Mercedes
Lewis Hamilton has called his 2021 Sao Paulo Grand Prix victory "the most special race of my career", as he reflected on some of the most memorable moments from his 10 years racing for Mercedes.
At the time, Hamilton had been embroiled in a tense world championship battle with Red Bull's Max Verstappen, and was trailing the Dutch driver by 19 points with just four races, and the Sprint in Brazil, left to go in the season.
READ MORE: Hamilton labels Bottas a 'great team mate' as he reflects on 10 years at Mercedes
However, after qualifying on pole for the Sprint, Hamilton was disqualified for a DRS infringement and dropped to the back of the grid – with an additional five-place grid drop for the race after Mercedes fitted a new engine on to his car.
The Briton then went from last to fifth in the Sprint, before going from 10th to first place in the race, overtaking Verstappen in the closing stages of the Grand Prix to take a much needed victory.
"I think for sure my best race ever and probably the most special race of my career," said Hamilton, reflecting on that weekend at Interlagos. "I was so proud to hold this flag on the podium. Growing up I'd always loved Ayrton Senna; I'd watch him when he is carrying a flag.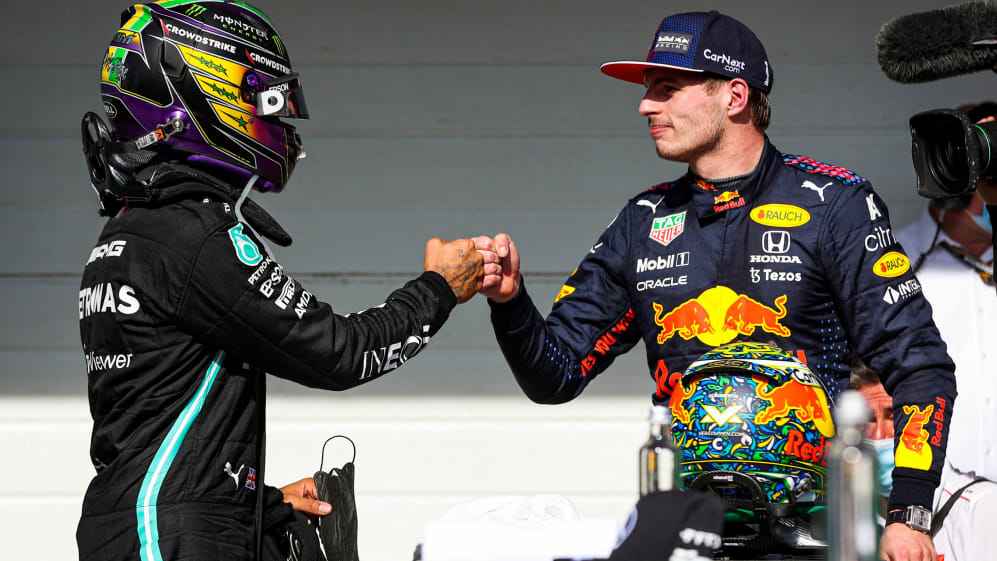 "Anyways, I'd qualified on pole, and then I got disqualified for a wing that was 0.02 millimetres out or something crazy like that. I remember in that moment for me, my heart just sunk.
"Because I knew that I had to win every race, and I remember in that moment I thought it was over, I can't win this world championship.
READ MORE: Russell teases 'big changes' to the W14 after trying developments in the Mercedes simulator
"And just with all the work we had done through the year, I just felt so deflated and so powerless. And somehow, it's been something that I've been able to do my whole career, somehow, I was able to move on.
"You know what we are going to get there, there is nothing you can do about the past, you move forwards, you can do this. I just stayed in the evening, and just put it aside. I did all the studying, I came back the next day, and I drove from last to first.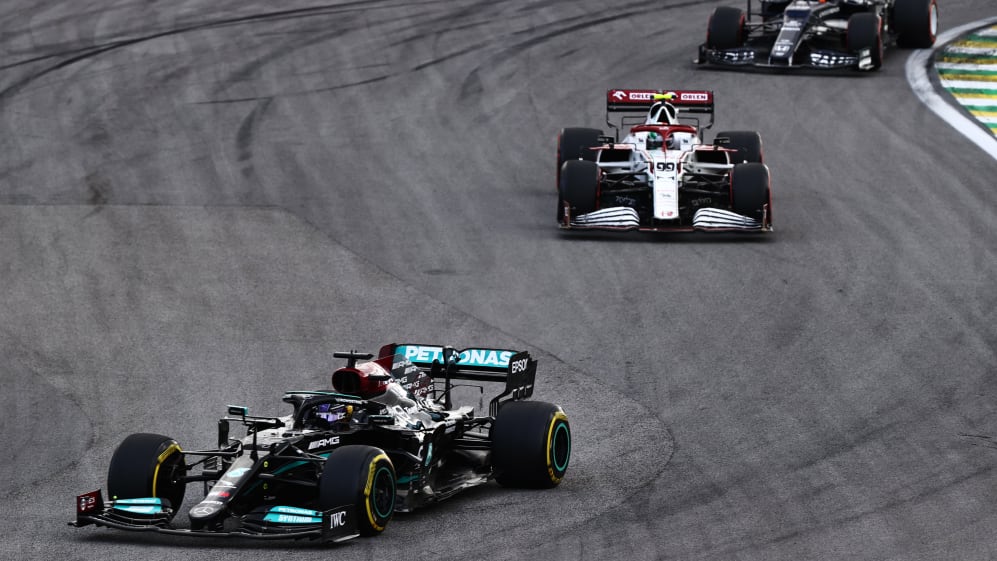 "And I saw one of the marshals holding the flag, and I stopped and grabbed it. That was just one of the most special moments, when I held the flag up on the podium."
ANALYSIS: Mercedes technical reshuffle part of a wider course correction
He added: "It was really just a signal to everyone within Brazil that I acknowledge you, I appreciate you, I appreciate Ayrton and love Ayrton. I always have since I was a kid. I was hoping that I would lift up the nation in some way even though I wasn't from Brazil, except now I am Brazilian."
Hamilton will now turn his attentions to another Sprint this weekend in Baku, with the Briton currently fourth in the drivers' championship on 38 points – 31 points behind leader Verstappen.