MSC Cruises and Formula 1 join forces to launch a unique Grand Prix hospitality experience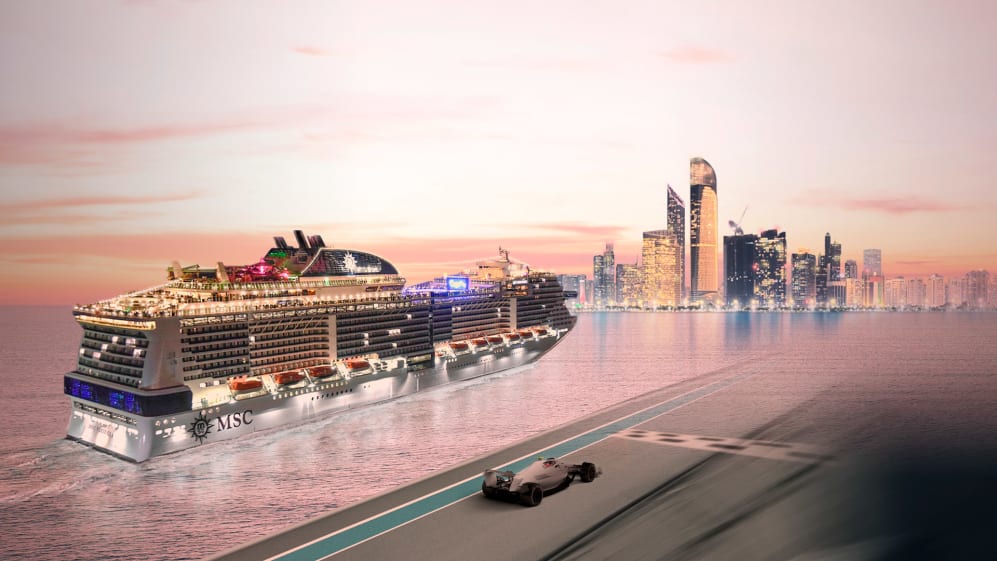 Formula 1 and its Global Partner, MSC Cruises, have today unveiled new fan hospitality packages offering unrivalled race weekend experiences at this year's Abu Dhabi Grand Prix.
Fans will be able purchase hospitality packages on the cruise ship MSC Virtuosa, ranging from cabin only tickets, to the full F1 Experience, which will give fans insider access through a premium all-inclusive experience, with exclusive track activities such as a Pit Lane Walk and a Guided Track Tour.
READ MORE: Stunning Red Bull RB18 show car simulators to go on sale via F1 Authentics
From 23 to 27 November, MSC Virtuosa will be docked at the Abu Dhabi Cruise Terminal and will serve as a hotel for guests. Fans onboard will be able to see out the 2023 season in style with a fully integrated Grand Prix experience, which will combine the drama and spectacle of the track, with MSC's specially designed programme of F1-themed activities and entertainment.
MSC Virtuosa offers comfortable and stylish accommodation combined with an incredible array of amenities including restaurants and bars, two theatres, a shopping mall and Mediterranean-style promenade, luxurious spa and fully equipped gym, five swimming pools, an interactive waterpark, extensive kids' areas and much more.
For diehard fans searching for the ultimate Formula 1 weekend, there is a choice of cabin + F1 Experience that includes exclusive trackside activities, through to premium all-inclusive hospitality (Turn 1 Suite, Paddock Club and Legend), including exclusive insider access such as Pit Lane Walk, Guided Track Tour on a flatbed truck, Formula 1 personnel appearances, and more. Sales for the packages opened today and can be booked here.
This collaboration marks a new era for Formula 1's relationship with MSC Cruises, who have been a Global Partner since 2022. Through a shared passion for excellence, sustainability, and global entertainment, Formula 1 and MSC Cruises will take race weekend accommodation to the next level.
IT'S RACE WEEK: 5 storylines we're excited about ahead of the 2023 Saudi Arabian Grand Prix
Stefano Domenicali, President & CEO of Formula 1, said: "We are thrilled to join forces with MSC Cruises and bring fans a unique and unparalleled hospitality experience during the 2023 Abu Dhabi Grand Prix. With luxurious accommodations, exclusive insider access, and the convenience of all-in-one race packages, we're confident that this partnership will make the race weekend truly unforgettable."
Gianni Onorato, CEO of MSC Cruises, said: "Through this exclusive hospitality offering we are bringing together the very best of two worlds – Formula 1 and MSC Cruises. By collaborating together, we are integrating the incredible atmosphere at the track with the incredible experience on board our ships to create an unrivalled and truly memorable race experience for fans of all ages."