Feature
NEED TO KNOW: The most important facts, stats and trivia ahead of the 2023 United States Grand Prix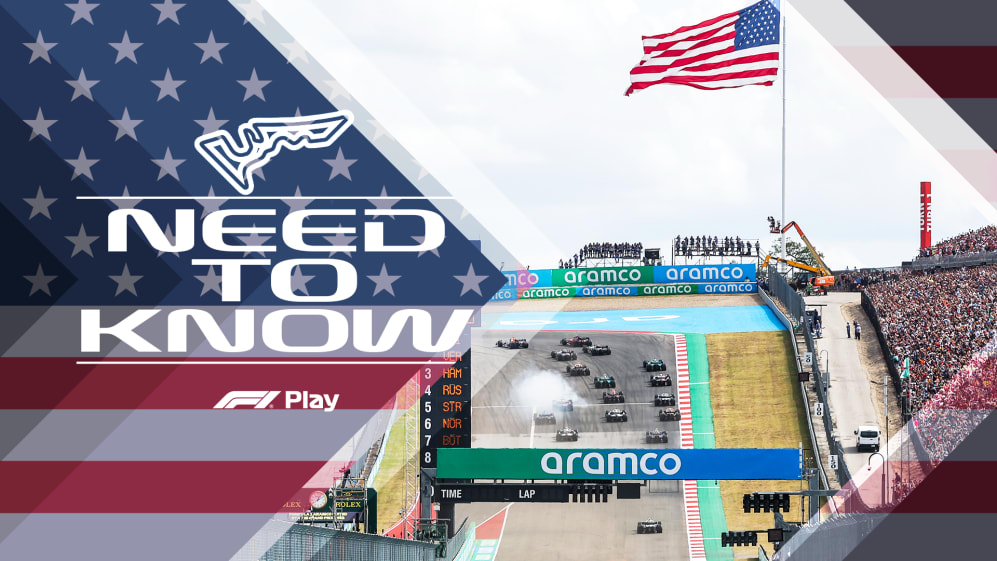 After a standalone visit to Qatar, F1 heads over the Atlantic for another triple-header sequence, kicking off with the United States Grand Prix. Ahead of the event at the Circuit of The Americas, Need to Know is your all-in-one guide with stats, trivia, insight and much more. You can also see how fans have voted using our F1 Play predictor game.
With the Sprint format in play, first practice and qualifying will take place on Friday, October 20, followed by the Sprint Shootout and Sprint on Saturday, October 21 and the Grand Prix itself on Sunday, October 22.
IT'S RACE WEEK: 5 storylines we're excited about ahead of the 2023 United States Grand Prix
Vital statistics
First Grand Prix – 1959 (Sebring)
Track Length – 5.513km
Lap record – 1m 36.169s, Charles Leclerc, Ferrari, 2019
Most pole positions – Ayrton Senna (5)
Most wins – Lewis Hamilton (6)
Trivia – Austin set a new F1 record with a three-day attendance of around 440,000 fans in 2022
Pole run to Turn 1 braking point – 250 metres
Overtakes completed in 2022 – 152
Safety Car probability – 29%*
Virtual Safety Car probability – 57%*
Pit stop time loss – 20 seconds
*From the previous seven races in Austin
FAN VIEW: Max Verstappen is dominating this season like no other, and F1 Play gamers believe he will once again be incredibly difficult to beat in Austin this weekend. Indeed, around 80% reckon the mighty Dutchman will be fastest over a single lap at Circuit Of The Americas. Lando Norris is next with just under 10%.
The driver's verdict
Jolyon Palmer, former Renault F1 driver: The Circuit of The Americas is a great new track that takes inspiration from parts of other legendary corners on the calendar.
The uphill Turn 1 is difficult at the race start as there's loads of different lines that can be taken, then you sweep through the first sector, which is a bit like Silverstone, where you're trying to find your rhythm. After that, it's the long back straight and you've got to get your braking point right at the end of it…
READ MORE: Ricciardo returns to F1 action with entertaining Nashville demo run
Probably the hardest section on the circuit is Turn 13 through to Turn 15, which feels like an odd complex of corners behind the wheel. Turn 13 is conventional, but finding your line through to 15 is not easy, while that Turn 14 area puts a lot of load on the tyres.
You go through the quadruple right-hander after that, followed by Turn 19, which is a really nice corner – though track limits are an issue. Finally, you stop for Turn 20, then it's a short burst to the line, but drivers need to be careful not to light things up as it's easy to break traction.
There are also plenty of overtaking opportunities during the race with DRS on the run to Turn 12 and Turn 1.
Last five United States GP pole-sitters
2022 – Carlos Sainz (Ferrari)
2021 – Max Verstappen (Red Bull)
2019 – Valtteri Bottas (Mercedes)
2018 – Lewis Hamilton (Mercedes)
2017 – Lewis Hamilton (Mercedes)
BARRETTO: From 17-year-old rookie to three-time champion – what next for Max Verstappen?
Last five United States GP winners
2022 – Max Verstappen (Red Bull)
2021 – Max Verstappen (Red Bull)
2019 – Valtteri Bottas (Mercedes)
2018 – Kimi Raikkonen (Ferrari)
2017 – Lewis Hamilton (Mercedes)
FAN VIEW: The race pace of that RB19 is a sight to behold, and virtually impossible to deal with for any of its rivals in 2023. No surprise then that the newly-crowned triple world champion Verstappen has racked up around 95% of F1 Play votes for the race win in Texas on Sunday. The other drivers are friendless.
Strategy and set-up keys
Bernie Collins, former Aston Martin F1 strategist: Austin plays host to the penultimate Sprint event of the 2023 season this weekend, but it's the first time the format has been run at the Circuit of The Americas – adding another element of intrigue.
Balancing car set-up across every part of the track is the main challenge: Sector 1 is mainly high-speed corners, demanding high downforce; Sector 2 is essentially a long straight, demanding low drag and therefore low downforce; while Sector 3 is predominantly made up of low-speed corners.
READ MORE: Verstappen's fellow three-time champions – and the greats he's overtaken in the all-time list
Given the nature of the layout, overtaking is relatively easy for the drivers, with a high number of overtakes expected in the Grand Prix, where two-stop strategies have been favoured in recent years due to high tyre demands resulting in high degradation.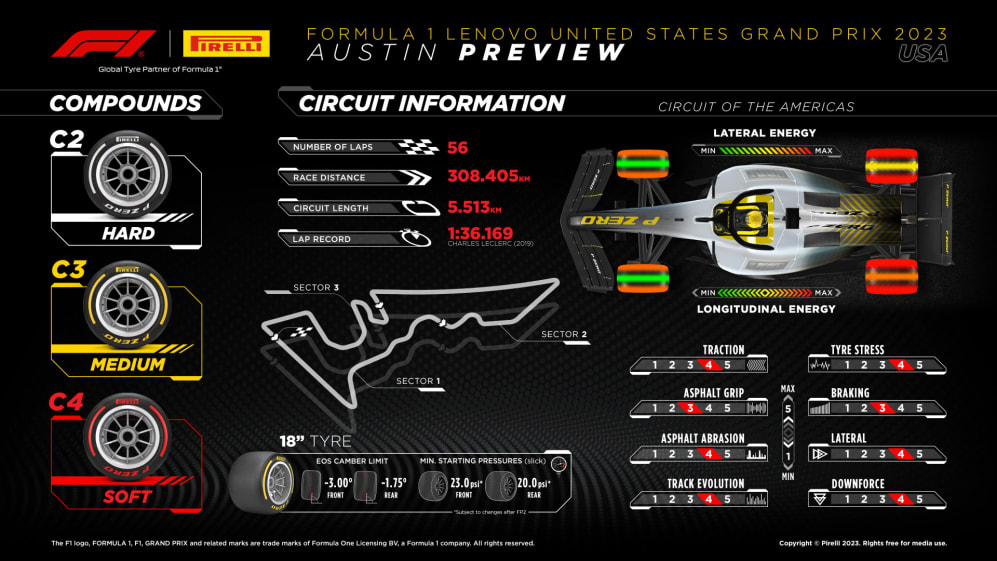 Another factor that teams and drivers need to stay on top of is the potential for very variable ambient and track conditions across the weekend. Those conditions, however, seem consistent over this upcoming weekend, with the ambient and track temperatures looking to be on the hotter side compared to normal. The wind also appears changeable, so that will bring changes in set up requirements particularly for the high speed Sector 1.
The bumpy nature of the track can also cause a headache, while the dramatic track elevation change into Turn 1 makes for a blind corner entry, which is particularly challenging on the opening lap of the race.
FAN VIEW: Once again, with one position likely out of the equation (Verstappen) and Norris fancied to grab second, the rest of the drivers are feeding off third-place scraps via F1 Play. Oscar Piastri is favourite to grab the final spot, but there is also support for Lewis Hamilton, George Russell and Charles Leclerc.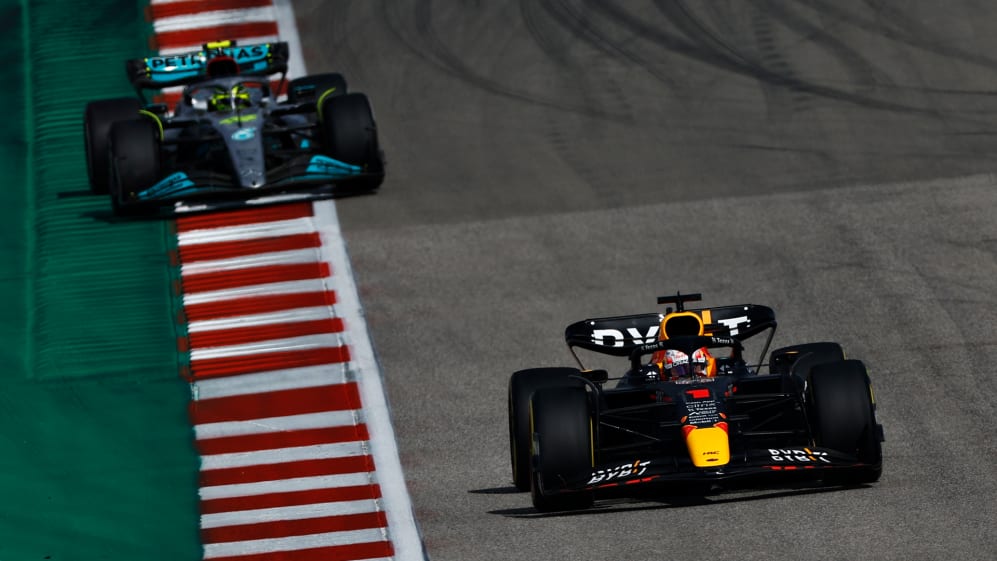 Current form
Max Verstappen sealed his third consecutive world title in the Sprint last time out in Qatar. He then backed that up with a dominant performance on the Sunday to take his 14th Grand Prix win of 2023.
But while the constructors' and drivers' titles are both wrapped up heading into Austin, there's still so much to play for up and down the grid. Plenty of eyes are on McLaren – and rightly so – with both Oscar Piastri and Lando Norris making it onto the podium at the last two races.
Let's also not forget that Piastri, in amongst Verstappen's title celebrations, was the Sprint winner out in Lusail. With Austin also a Sprint weekend, the Australian rookie may sense an opportunity here, as will his team mate.
F1 NATION: Verstappen charges on, Mercedes look to bounce back and Ricciardo returns – it's our United States GP preview
The papaya team are now only 11 points behind Aston Martin and 79 points behind Ferrari in the constructors' – that P3 is certainly up for grabs.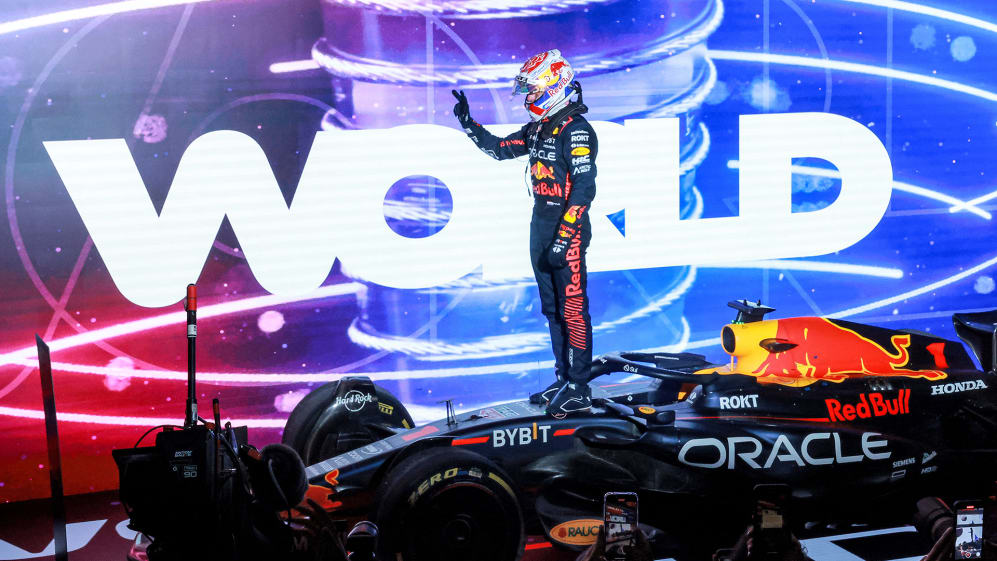 In the drivers' rankings, runner-up spot is also hotly contested between Sergio Perez and Lewis Hamilton. Red Bull, and Perez, were left wondering what might have been after Hamilton's clash with team mate George Russell sent him out of the Qatar Grand Prix on Lap 1, but Perez notched up 15 seconds' worth of time penalties in the race as he finished 10th.
With the gap just 30 points between Perez in P2 and Hamilton in P3, with fourth-placed Fernando Alonso only 11 points behind the Mercedes man, there's plenty yet to be decided.
FAN VIEW: Despite Aston Martin's lack of pace – at least compared to that early-season charge – F1 Play gamers still expect Fernando Alonso to be very much in the battle for points here. There is also good support for Daniel Ricciardo as he returns for AlphaTauri this weekend, along with team mate Yuki Tsunoda..
Iconic moment
The inaugural race in Austin back in 2012 was an exhilarating watch, as Lewis Hamilton chased down Red Bull's Sebastian Vettel in his McLaren. With Vettel having lost momentum behind a backmarker, Hamilton sensed his opportunity to pounce – and duly took his chance.
Watch the action as it unfolded in the video player below...