New Aston Martin boss Krack reflects on team's 'very difficult weekend' in Australia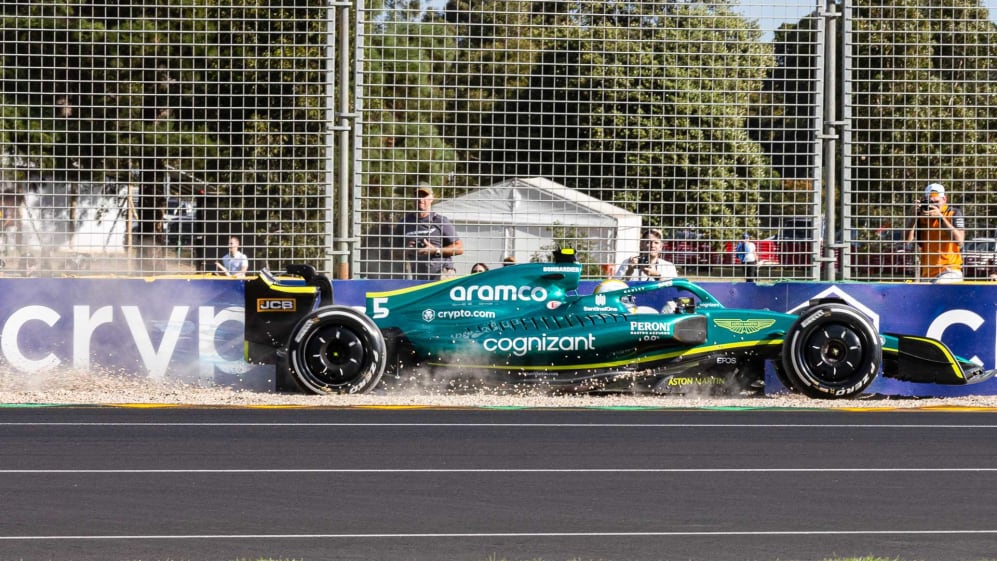 Aston Martin Team Principal Mike Krack unpacked a weekend that saw Lance Stroll take P12 from 19th after pitting three times – and Sebastian Vettel crash out in his first appearance of the season.
Stroll copped a three-place grid penalty for a Q1 collision with Nicholas Latifi (below) on Saturday and, starting 19th, pitted from hards to mediums on Lap 3, then back to hards on Lap 4 – swapping for hards again on Lap 23 after Vettel crashed out to bring out a Safety Car. Despite a battling drive from there, Stroll would ultimately finish P12, meaning that, with Williams taking their first points of the season in Melbourne, Aston Martin are now the only team still to score in 2022.
READ MORE: Alonso 'spechless' after weekend unravels to leave him last in Melbourne
Team boss Krack explained that Aston Martin's problems began back in FP1 when Vettel stopped out on track, with his car smoking.
"We had a very difficult weekend because we had a lot of car damage. It started already on Friday when we had a small problem on the power unit, which we had to change, so we didn't get so much time.
"Then obviously the on-track incidents were more visible to everybody, and that was a lot of work. I think when we came here, we thought we would have been a little better than we had been before, but obviously… we had much more disruption than you can afford at the end of the day.
"I think at the end of the race we were still in a position where you hope we could score but eventually it did not happen. Overall, quite a disappointing weekend, I have to say, so now we need to really collect all the bits that we have… we are starting to run low on spares, so it's something we need to address."
READ MORE: Vettel says Aston Martin was 'too much of a handful for me' after crashing out of racing return in Australia
As for Vettel – who made his first appearance of the season in Australia but crashed out at Turn 4 on Lap 23 after an early trip into the gravel – Krack explained that the four-time champion's woes were not down to a lack of practice; rather the Team Principal implied that the team's hardware was the problem.
"First of all, I am happy Seb is fine. After all these incidents I think if someone like him, like a four-time world champion, has these issues that he was having this weekend, this is not down to not driving, because he has driven the car – this is really something that we need to look at – what car we provide him, what feedback he gets from the car…
"Him being off so much as he has been this weekend is not normal, and I do not think that this is related to him having missed two races; I mean he has been a multiple winner in Melbourne, he knows where he is here.
"He has had some tests with the car so I think it would be really easy to say he was not there for two weekends. But a driver of that class – we really need to check what tools we are giving him."
READ MORE: How an electrical gremlin caused Sainz and Leclerc's wildly contrasting weekends in Australia
Meanwhile, Krack warned that there was "no magic" solution to Aston Martin's issues, as they now prepare for the next race in Imola.
"You have to have a quick car, you have to make no mistakes, you have to have good drivers. The whole thing is not together at the moment, so we have to really work hard to get there. There is no magic, at the end of the day."