'No idea why I didn't have pace' says baffled Bottas after dropping from pole to third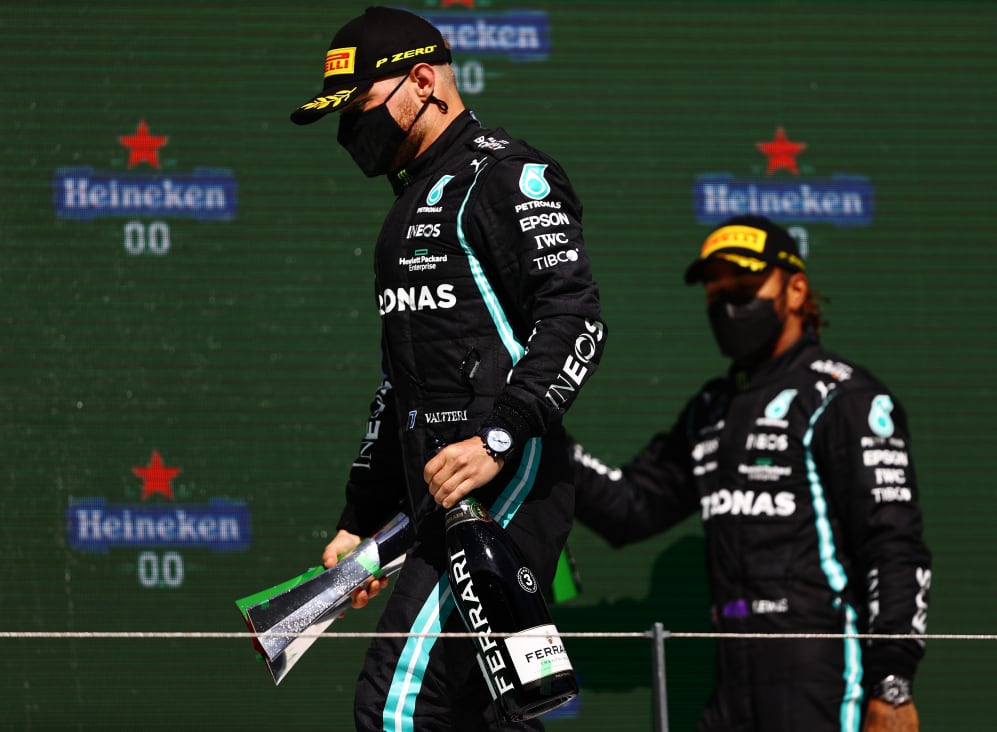 He may have taken his first pole position of the season on Saturday, but Valtteri Bottas was left scratching his head as he finished third in the 2021 Portuguese Grand Prix behind Red Bull's Max Verstappen and victorious Mercedes team mate Lewis Hamilton.
The Finnish driver led 19 laps in Portugal but Hamilton led a crucial 34, the Briton taking the lead from his team mate on Lap 20. And Bottas ended up a "disappointing" third from first on the grid, losing position to Verstappen shortly after his pit stop.
READ MORE: Hamilton explains why he got jumped at Safety Car re-start - and how he fought back to win in Portimao
Asked how his race went, Bottas replied: "Disappointing. When you start from the pole position, you have only one target for the race and that is to win the race. it didn't happen today, so I'm disappointed.
"I don't really know in the first stint why I didn't have the pace; I felt like everything in terms of the re-start, everything was good from my side but I could see quite quickly in the race with the mediums I didn't have pace like Lewis and Max had, and I have no idea why."
Bottas did claw his way back after being passed by Verstappen, but a sensor issue cost him a chance to retake the place and the only consolation – apart from his 58th podium for Mercedes – was a Fastest Lap bonus point as Verstappen's benchmark was struck off for track limits violations.
READ MORE: 'It was a lot of fun' – Norris revels in McLaren pace after third straight top-5 finish
"It was better on the hard tyre [after pitting on Lap 36]. At some point I was catching Max, then I had an issue with one sensor and I started to lose power – I lost like five seconds to Max – and that was it," said Bottas.
In chase of Verstappen, the Finn was being spurred on by Team Principal Toto Wolff – something that the driver clearly appreciated after the race.
"It's been many times that he's opened the radio and said something… " explained Bottas. "It's supportive and it shows that there's the support and the passion behind. It never hurts. Obviously I'm giving every single bit that I have on track, but it's good."
The third-place finisher is now fourth in the standings, five points behind McLaren's Lando Norris and four ahead of Ferrari's Charles Leclerc - but a full 37 behind leader Hamilton.