'No point worrying about Ferrari form', says Hamilton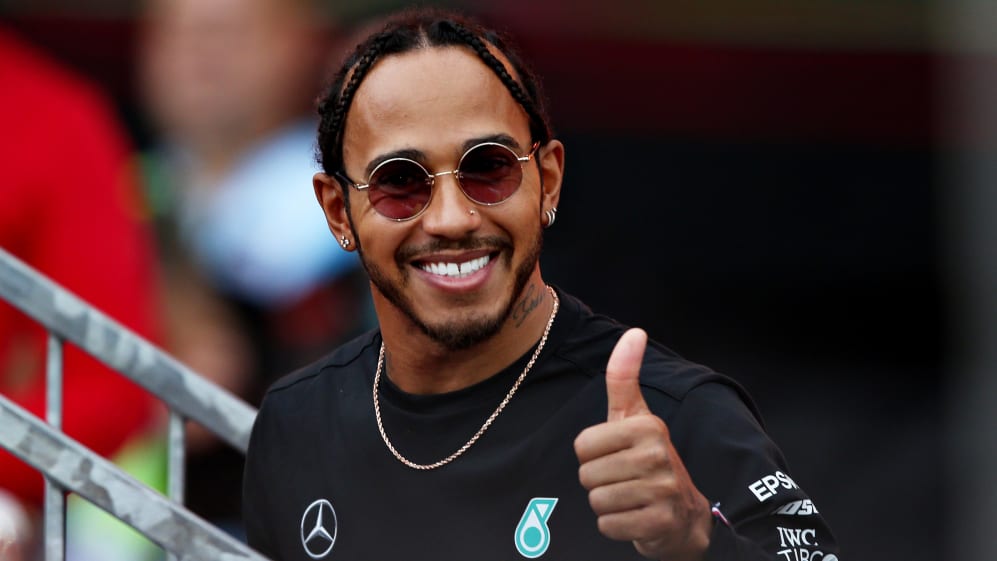 Mercedes may find themselves on the back foot following Ferrari's recent run of three wins on the trot. But while Lewis Hamilton urged his team ahead of the Russian Grand Prix to start digging deeper, he was also adamant that he wouldn't be losing any sleep over Ferrari's current form.
There was plenty of talk in Singapore of Sebastian Vettel ending his winning drought. But Hamilton finds himself in his own mini-drought, too, having now gone three races without a win for the first time since China 2018. And arriving in Sochi, he issued a rallying cry to Mercedes to get back to their dominant, opposition-crushing best in the very near future, having questioned his team's hunger after Singapore.
READ MORE: Bottas doesn't want repeat of Singapore team orders in Russia
We've probably not extracted 100% on the weekend, and that's what we need to get back to
"Honestly, there's no point in worrying, because what will be will be," said Hamilton. "[But] I would say these last three races, we've probably not extracted 100% on the weekend, and that's what we need to get back to – extracting the maximum. And it might make the smallest difference and might mean that we're just ahead or just in a better window to be able to get by, who knows? But that's what we're going to start targeting.
"Naturally I don't put it all on the team – I think together, we can do a better job," he added. "I can definitely help squeeze a little bit more out of the car, I can try and squeeze a little bit more out of myself. I still haven't done a perfect lap, so potentially with a more perfect lap in qualifying, I can make that subtle difference."
You'd have expected Hamilton's confidence to be buoyed by the fact that Formula 1 now arrives at a Sochi Autodrom track where Mercedes have been undefeated since 2014. But given the recent run of form, which has seen Ferrari triumph at low downforce Monza and the high downforce streets of Singapore, Hamilton appeared pessimistic about his and Mercedes' chances this weekend.
FORM GUIDE: The favourites for pole, points and victory in Russia
If the Ferraris are in the lead, it could be like Monza
"We've got nearly a 2km straight [in Sochi]," he said. "We know how fast [Ferrari] are on the straights, and if you look at these last two races, we've been stuck behind, not being able to get by.
"If the Ferraris are in the lead, it could be like Monza – you're just following them and when they get to the straight, they stay [ahead] even if you have DRS.
"But of course, we will continue to try and push. I think qualifying's where we mostly lost out in the last three races, so that's where we've got to try and improve."
One reason for Hamilton to be cheerful ahead of the Russian Grand Prix is his 65-point gap over team mate Valtteri Bottas in the drivers' championship, with just six races left to run – and 156 potential points left to be had – in 2019.
2019
How the drivers' standings look ahead of Russia
POSITION
POINTS

1

Lewis

Hamilton

Mercedes

296

2

Valtteri

Bottas

Mercedes

231

3

Charles

Leclerc

Ferrari

200

4

Max

Verstappen

Red Bull Racing

200

5

Sebastian

Vettel

Ferrari

194