Feature
FORM GUIDE: The favourites for pole, points and victory in Russia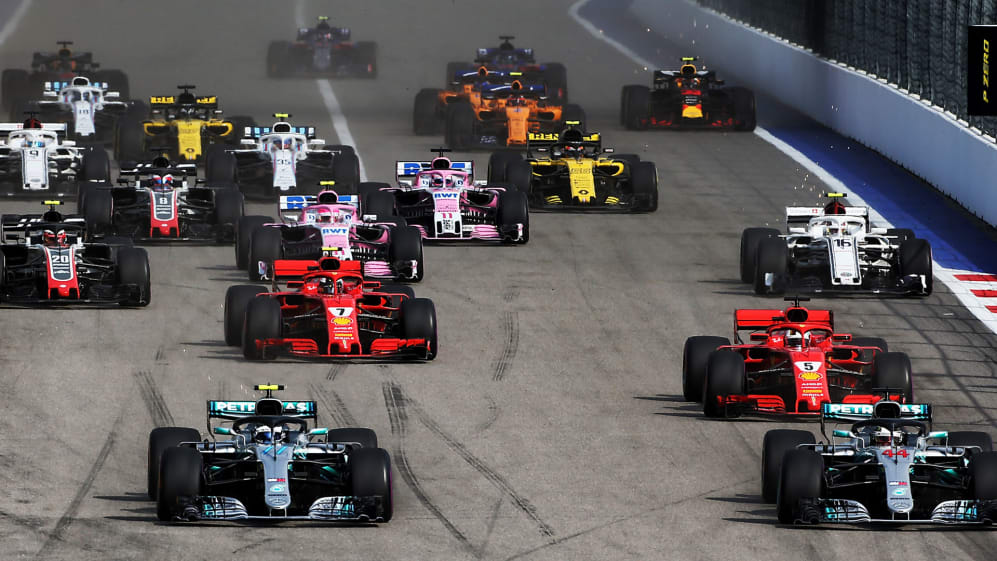 After Ferrari sprang a surprise in Singapore, can they repeat the trick this weekend at the Russian Grand Prix? We take a look at the favourites ahead of the action at the Sochi Autodrom.
Who's the top tip for pole?
Well, up until Singapore, the response to this would have been easy: Valtteri Bottas. The Finn was on pole here last year, and has never been out-qualified by a team mate in Russia, while Lewis Hamilton's last Russian pole was in 2014, and he's been out-qualified by his team mate at Sochi ever since.
But Ferrari's shock performance around the Marina Bay Street Circuit – a performance which no-one, not even they (and yes, not even we) predicted – has turned that on its head.
READ MORE: 5 Reasons We Love... The Russian Grand Prix
Ferrari's last two pole positions have come on circuits with the lowest and highest downforce requirements of the year respectively, Monza and Singapore. If we can infer from that that the Ferrari SF90 is now the strongest all-round package – and it's a big claim – then at the medium-downforce, power-rewarding Sochi Autodrom, Ferrari could have a repeat of Sebastian Vettel's pole from 2017.
As to whether it would be Vettel himself or Charles Leclerc who took it, bear in mind that Leclerc qualified seventh here last year for the minnow Sauber squad, and has out-qualified Vettel in the last eight races…
FAN VIEW: Despite Sebastian Vettel's win in Singapore, Lewis Hamilton and Charles Leclerc remain the favourites for the Russian GP according to F1 Play gamers. 43% have chosen the championship leader, against 39% who opted for Leclerc. Only 9% of gamers believe Vettel will take back-to-back wins.
Who's looking good for the win?
No-one has beaten Mercedes at a Russian Grand Prix since 2014 (and, yes, if you count Benz's wins in the 1913 and 1914 Russian Grands Prix, their record extends even further). But Toto Wolff appeared worried ahead of the weekend – "Sochi has been a strong circuit for us in recent years," said he, "but those trends don't mean anything once we are on the ground" – and given that Ferrari are coming off the back of a trio of wins for the first time since 2008, he had good reason to be.
On paper, Hamilton is the winningest driver in Sochi, having won three out of the five races here, with Bottas and Nico Rosberg winning the other two. Really, though, Bottas should have one more win and Hamilton one less, given that team orders swapped the drivers around last year. Assuming there's no 'Valtteri, it's James-ing' here in 2019, if Bottas can string his weekend together, he looks the favourite in the Mercedes camp, given that he lurves this place, the super-smooth Sochi tarmac perfectly suited to his economical style behind the wheel.
READ MORE: The two key factors behind Ferrari's surprise Singapore form
But if Ferrari can continue their recent form, both Vettel and Leclerc look equally well-positioned to take advantage, Vettel now finally with some wind in his sails following his Singapore win, and having finished on the podium in Sochi in the last two years, while Leclerc drove an incredible maiden Russian Grand Prix last year – including his famous 'round the outside of Magnussen' pass through Turn 3 – to finish P7.
FAN VIEW: One category in which Charles Leclerc is favoured is that of fastest lap. One in four F1 Play gamers have picked the double race winner to pick up the extra championship point, with Mercedes pair Lewis Hamilton and Valtteri Bottas the next most popular choices.
Who's a podium outsider?
Red Bull. And very much an outsider, too, considering that they've never finished on the podium in Russia before, on top of the fact that, like last year, they're set to take grid penalties for changing engines.
Still, in 2018, Max Verstappen made it all the way back up to fifth after starting 19th, so if he can go two better in 2019, he might well get his first taste of champagne in Russia. What's going to be intriguing, though, is seeing how Alex Albon fares in the pair's first 'straight fight' on a track both of them are familiar with (unlike Singapore), Albon having won the Feature Race here in F2 last year.
Interestingly, while Red Bull have never podiumed here, both Williams and Force India (now Racing Point) have. And given that rain is possible across all three days of running in Sochi, we could be due another upset this weekend.
FAN VIEW: After three Safety Car periods last weekend, three in five F1 Play gamers believe the silver AMG Mercedes will be called upon once again in Sochi. This tallies perfectly with the historical stats – the Safety Car has been deployed three times in the five races held at this circuit.
Who'll hoover up any points on offer?
Sergio Perez is a driver who goes very well in Sochi, the Mexican having scored at all five Russian Grands Prix – including that Force India podium mentioned above, when he finished third for the team in 2015. And given that Racing Point/Force India have taken double-points finishes at the past two Russian Grands Prix, it's looking good for the team in pink.
Look out, too, for Kevin Magnussen, who's finished in the points three times out of the four he's raced here. The Haas VF-19 enjoyed the smooth track surface in Barcelona – so if it can work well this weekend in its Melbourne/Hockenheim hybrid configuration, the Dane is a driver who can get the job done in Russia.
Meanwhile, although McLaren re-established themselves as the leading midfield team in Singapore, neither of their drivers has glowing records in Sochi, Lando Norris having a double retirement in F2 last year (although he did qualify in P2), while Carlos Sainz has never started in the top 10 here, and has only finished in the points once in four attempts. So if Renault can take advantage, it could have repercussions in the battle for fourth place, with the Anglo-French team just 18 points behind McLaren currently.
FAN VIEW: Lando Norris's run to seventh place in Singapore has caught the eye of F1 Play gamers. The McLaren driver is the most popular selection in his group, chosen by 38% of entrants to beat team mate Carlos Sainz, the two Renaults, the two Haas cars and Kimi Raikkonen's Alfa Romeo.