No regrets for Russell over slick gamble in Montreal quali, as Hamilton 'overwhelmed' by P4
George Russell believes that he had the opportunity to do "something extraordinary" in qualifying in Montreal, as he defended his surprising decision to switch from intermediate to slick tyres in Q3, which left him down in eighth place on the grid following a spin.
Russell made the decision to switch to a set of soft tyres for his final run in Q3, but with parts of the track still wet, he was unable to get temperature into his tyres and failed to register a final lap, after spinning into the barrier at Turn 2.
While Russell admitted that he could have ended up as high as third had he stayed on the intermediate tyres, he backed his aggressive decision to try something different and shoot for pole.
READ MORE: Alonso aiming to lead Lap 1 in Canada after taking first front row start in 10 years
"I'm not all really," said Russell, when asked if he was disappointed with how qualifying had played out. "Had I stayed on inters, I would have qualified P3, P4, which okay is not a bad result. But in a scenario like that, you've got the opportunity to maybe do something extraordinary and go for pole.
"In Sochi last year we did that with Williams and qualified P3 and it doesn't take a lot for that just to change. So, glad I went for it, glad we tried it, obviously was not meant to be today but that's what you've got to do sometimes."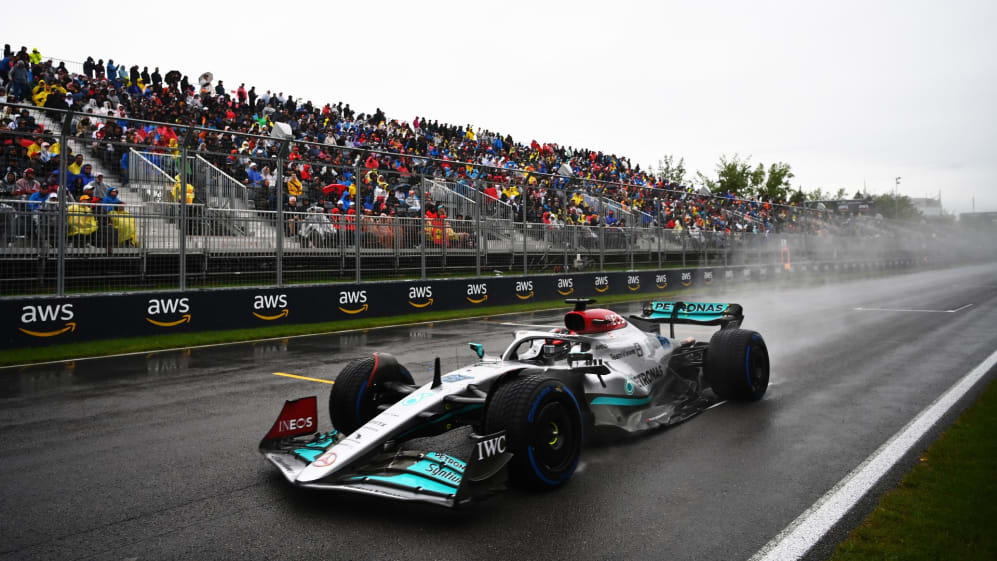 Russell will now start the race on the fourth row alongside the Alpine of Esteban Ocon. And while he believes Mercedes should have good pace in the race, he says overtaking could be difficult for his team on Sunday.
"I think it might be a little bit tricky to overtake because we are lacking a bit of straight-line speed," admitted Russell. "We've got good pace compared to the teams around us, so hopefully we can do something on the strategy to get ahead of Haas and Ocon."
READ MORE: Pole-sitter Verstappen expecting tough battle with Ferrari in Canadian GP after taking pole, as Perez admits 'I messed up'
Russell's team mate Lewis Hamilton chose to stay out on the intermediate tyre for his last run and wound up in fourth – his highest qualifying position of the year. And while he was grateful to start so high, he said it could have been better.
"I didn't even know I was fighting for the top positions!" said Hamilton. "I was just giving it everything, but I was on a consistent strat mode, and our fastest strat mode that you can use.
READ MORE: Tost says it's '100% confirmed' that Gasly will race for AlphaTauri in 2023
"Obviously, I got to use it on the last lap, but my battery was a little bit low, tyres were hot, so I didn't get to go quicker at the end. But I'm still grateful for this position. That's the best this year, it's a bit overwhelming at the end afterwards like, oh my God, this is a step forward for me.
"This is a position that hopefully I might be able to try and fight Fernando [Alonso, starting P2] maybe tomorrow, who knows, but just trying to hold position is my goal."