No risk of 'losing control' of drivers, say Ferrari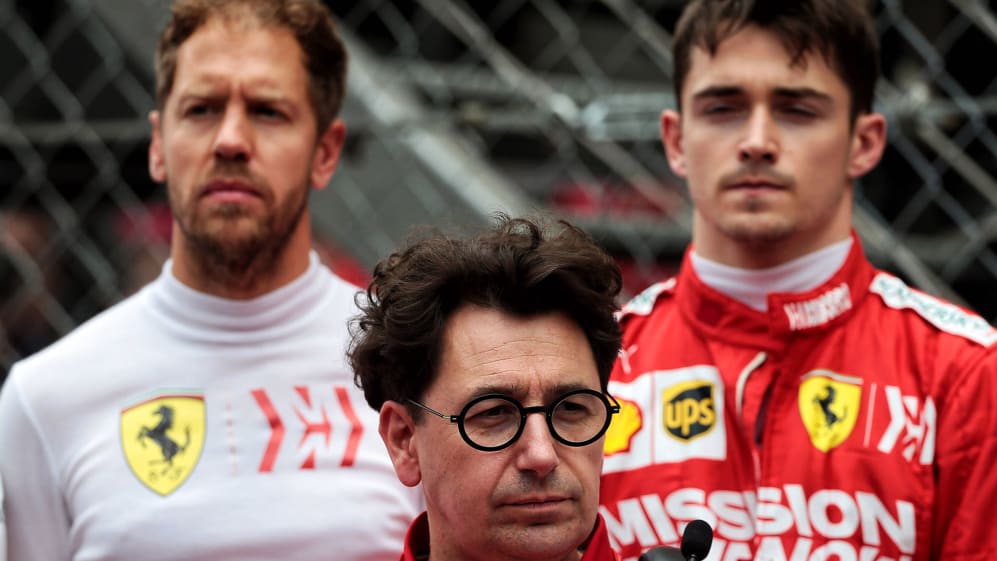 Managing two star drivers, both capable of winning races, is never an easy task – as Ferrari Team Principal Mattia Binotto has discovered this season. But Binotto believes Sebastian Vettel and Charles Leclerc's rivalry will not boil over, despite their 'disagreements' this season.
Both drivers have expressed their clear displeasure at the other in recent races, Vettel when his younger team mate failed to return the favour of providing a slipstream in Monza qualifying, and Leclerc when he felt the four-time champion had ignored team orders following the race start in Russia.
READ MORE: Should Ferrari change their approach to avoid driver disharmony?
With four rounds of the 2019 campaign remaining, Leclerc has a nine-point advantage over Vettel in the fight for a likely third place in the standings. With much honour at stake, could Ferrari yet lose control of their drivers?
"No, I don't think there is the risk of losing control because there is a difference between not managing drivers and at least having the intent to manage them," said Binotto.
"There is always a solution which is not manage them – maybe someone may do so. I think our intention is to try to manage the situation to the benefit of the team and secondly to the benefit, overall, as well, of the drivers.
"We may do a few things that can be addressed or improved and I think that is what we are building and trying to do for the future."
They are all going for a single objective, which is winning...
Binotto makes no secret of the fact that he has discussed the situation with his drivers, describing the talks as 'positive, constructive, honest, fair and transparent', but he refused to rule out future tensions between the pair – a problem which he suggested was in many ways a nice one to have.
"I think what happened in Sochi… nothing really bad, but certainly something that needs to be improved and addressed and I think it's only an opportunity of lesson learned and trying to do better in the future. But how much I'm confident it will not happen [again], I'm not at all.
"I think these are both very good drivers. They are all going for a single objective, which is winning, but I think what again is more important is that at least between us we've got clarity and fairness and I think that's key.
"I think that they are both performing very well and, as I've often said this season, it's somehow a luxury for a team principal having this situation!"
The question now is whether Binotto and Ferrari will have the luxury of a race win in Mexico this weekend after the disappointment of Japan, where after a front-row lockout their race unravelled, allowing arch rivals Mercedes to score a 1-3 finish and with it their sixth successive constructors' crown.