'What's clear is the situation wasn't clear' – Leclerc not expecting repeat of Sochi team orders confusion
It felt like it was a huge deal from the outside, which it definitely wasn't
"Obviously there was some misunderstanding from the car but I think we've had a discussion and everything is clear now," he said, speaking in the drivers' press conference in Suzuka. "Obviously it felt like it was a huge deal from the outside, which it definitely wasn't, but now everything is fine.
"What is clear is that the situation wasn't clear for both of the drivers starting the race," he added, "But what's important is that we spoke about it and we'll make sure this situation doesn't happen again in the future."
READ MORE: Legendary F1 journalist David Tremayne on Ferrari's intra-team battle
Vettel, too, played down the situation, insisting he was firmly focused on the future, rather than raking over what happened in Sochi.
"We spoke about it obviously, more than once," he said in Suzuka. "We speak with each other. Maybe different to what some people think. But I think it's pretty clear. Obviously now it's two weeks ago so we look forward.
"We didn't write anything in stone," he added, when asked if the drivers now had clear rules of engagement. "I don't think it's necessary. Probably there's certain things that we could've done better looking back. But in the end we look forward and look forward to this race and the next races. So not worried too much."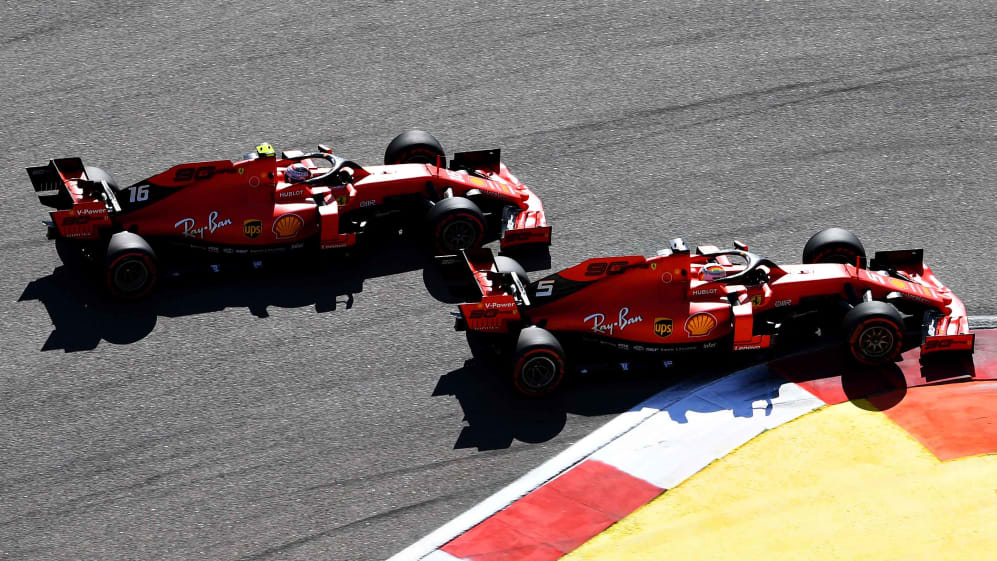 Looking ahead to the weekend in Japan, Leclerc was optimistic about Ferrari's chances of taking a first victory here since 2004 – especially given that the Monegasque is on a run of four pole positions, with the Japanese Grand Prix having been won from the front row at all but two races since 1991.
"It's working pretty well since we came back from holidays," said Leclerc. "The car feels great. We've had, I think, four poles in a row, which is nice. The last two races have been a bit… not what I expected, but the performance is there, which I think is the most important, and there are no reasons for us not to be competitive this weekend, so we'll see how it goes.
"I think we need to focus on Friday especially," he added, referring to talk in the paddock that the approaching Super Typhoon Hagibis would disrupt the schedule this weekend. "Saturday seems to be very tricky, if not impossible to drive, so Friday will be very important, and then I hope we can have a very positive Sunday."
READ MORE: F1 'closely monitoring' Typhoon Hagibis ahead of Japanese GP
With Leclerc having scored the most points of any driver since the end of the summer break – helped by him clinching the first two wins of his F1 career in Spa and Monza – the Monegasque currently finds himself third in the drivers' standings, 34 points adrift of Valtteri Bottas' second place, but 21 ahead of Singapore Grand Prix winner Vettel.