Norris credits 'homework' for superb Sakhir GP start, but says McLaren lacked pace to move further forward
A phenomenal Lap 1 of the Sakhir Grand Prix – helped by some pre-race homework – may have seen Lando Norris jump from P19 on the grid to P10. But sadly for the McLaren driver, he'd climb no higher than that, with Norris describing the remaining 86 laps of the race in Bahrain as a fight for survival.
Saturday's qualifying session had not been a good one for Norris, with the Briton ending up off the pace and down in 15th on the grid – while a tactical change of turbocharger and internal combustion engine demoted the McLaren driver even further down to P19. But with Norris having been diligent in his race preparation, he was at least able to overcome his lowly starting position with a brilliant getaway.
POWER RANKINGS: Perez or Russell – who got the higher rating for Sakhir?
"[I had] a really good launch," said Norris. "I'd reviewed a lot of videos, probably every single onboard from [the Bahrain Grand Prix] for both starts, the first one, and the one after the red flag, to try and figure out what's the best line to do and where people generally try to go and so on.
"So I did my homework and all of it paid off on the first lap. I was P10 so things were looking very hopeful at that point. But after, not so much…"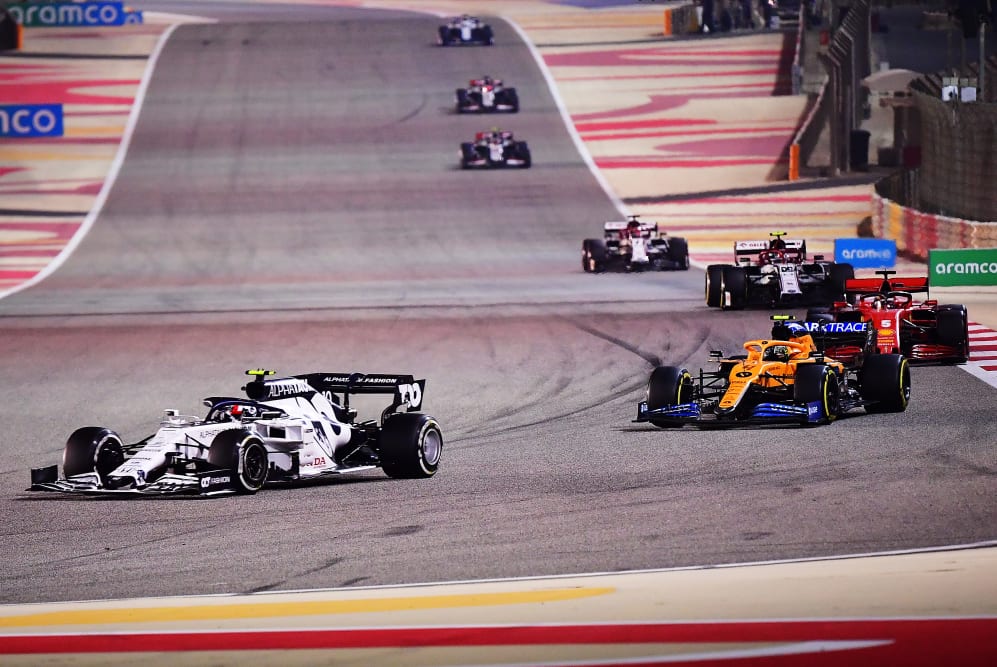 Having done the hard bit to get himself into a points-paying position, however, the rest of the Grand Prix was a slog for Norris, who said that his McLaren MCL35's struggles in dirty air were the reason he progressed no higher than 10th – on an evening his team mate Carlos Sainz claimed fourth.
"When I was on my own, I was quite comfortable with the car," said Norris. "The problems occur when we're following lots of people. When it was the first half of the race and there's... a seven-, six-car train in front of me, it disturbs the airflow a lot on the aero of the car, and that's where the problems really start to happen.
READ MORE: Sainz says he 'cannot complain' about P4 after conceding defeat to 'quicker and luckier' drivers
"We didn't really have the pace to go much further forwards and that was it. It felt like I was trying to survive, more than ever attacking people and it just made my life very difficult to try and get any more points but one. I felt like the things I could maximise and the opportunities I had, I did a good job on, which was Lap 1 and the overtakes. But for pure pace on a single lap, I think we just struggled a bit with, so a bit of understanding and things to do before next weekend [in Abu Dhabi].
"I'm still happy with P10," he added. "But just one point on a day like today with Racing Points first and third… with them, first and third is a big points score but for us, we just couldn't do it today."
All is not lost for McLaren ahead of the Abu Dhabi season finale, however, with third-placed Racing Point just 10 points ahead of McLaren in the constructors' championship – while McLaren head Renault by a further 12 points.