Norris hails 'amazing' McLaren performance after consecutive Imola podiums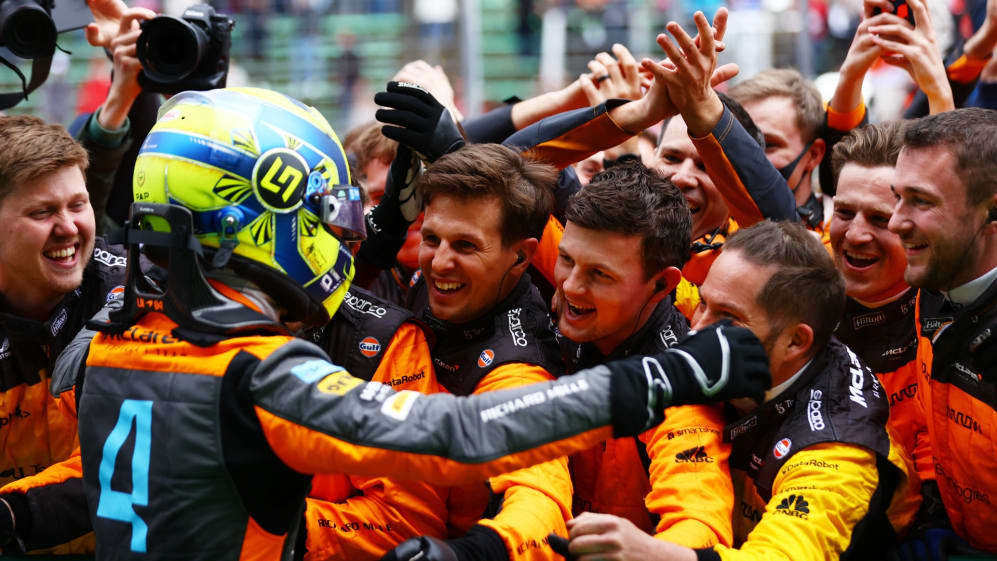 Lando Norris was beaming with pride after he secured his second straight podium finish at Imola with P3. And the Briton was effusive in his appreciation of the work done by McLaren, praising the squad's "teamwork" after a difficult start to 2022.
Norris started the race in P5, but after a brilliant getaway, which he said "won us everything today", the McLaren driver made his way up to P3. However, he was quickly overtaken by Charles Leclerc and spent most of the afternoon racing alone in P4.
But, after Leclerc hit the barrier at Variante Alta chasing Sergio Perez for P2, Norris was able to move up into P3. And the ecstatic McLaren driver admitted that the result was better than the team had expected heading into the weekend.
READ MORE: Verstappen leads Red Bull 1-2 as Ferrari falter in action-packed Imola race
"Amazing race, amazing weekend to be honest," said Norris. "To beat one Red Bull and a Ferrari is much more than were expecting. I'm happy. The team deserve it. From where we were in race one to now scoring a podium, they all deserve it, so top job to the team.
"I think today and this weekend, it wasn't necessarily all about the car; I think a lot of it was the teamwork, the pit stop was amazing and just how we executed the weekend, which is what gave us this result.
"With the start, the strategy, the qualifying, judging the tyres and all of this stuff, the smaller things that you don't get to see, it's what got us this podium today, so it's lovely to see. I guess fourth was still going to be an amazing position, amazing result for us and better than we were expecting coming into the race and into the weekend for sure."
READ MORE: 'I was too greedy' – Leclerc laments error that cost him Emilia Romagna podium to cap tough day for Ferrari
After a difficult start to the season for McLaren, the results are now starting to come, with Norris and team mate Daniel Ricciardo having also finished P5 and P6 in Melbourne. But when quizzed about the upward trajectory of the team, Norris was cautious, conceding that they did not yet have the third best car in the pecking order.
"We worked so hard in Bahrain, and we got so little out of it," said Norris. "And even the more effort we put into the last few races, it's nice to see it paying off in a way. Honestly, we brought some small things, but nothing which has boosted us into P3.
"Me being me, I don't believe we had the third best car today behind Red Bull and Ferrari. The Alfa Romeo was extremely fast as well. The improvements we've been bringing are definitely moving us forward, slowly forward and we definitely need to try and keep that up."
READ MORE: 'I paid for Ricciardo's mistake' says Sainz, after ending second straight race in gravel trap
Unfortunately for McLaren, Norris's strong result wasn't matched by team mate Ricciardo, who hit Carlos Sainz on Lap 1 before enduring a "painful" race to finish P18.