Norris hails 'best race in F1' after passing both Racing Points on final lap for P5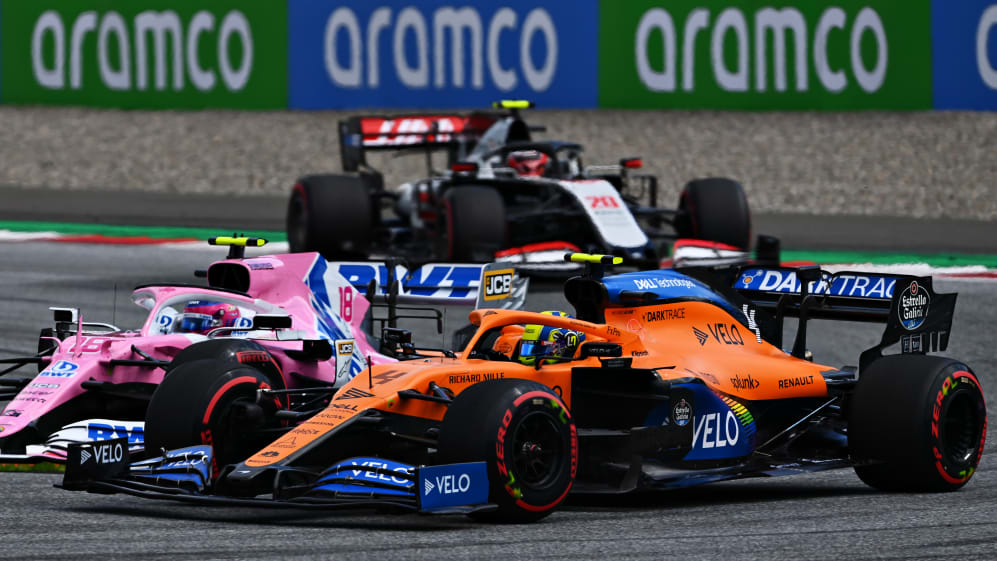 It's been quite the week for Lando Norris. From his superb podium in the opening race to chest pains in practice that left him struggling to drive the car. But it all came good once more on Sunday, with a stunning final two laps boosting him from P8 to P5 at the chequered flag in the Styrian Grand Prix. And despite that rostrum last time out, it was this race the McLaren driver was keen to call out as his "best race in F1".
"[It was a] really good race from me," said Norris. "Probably my best race I've done in Formula 1 in [that race pace was] definitely not my strength last year and also something I worked on a lot last year, over the winter and this year. To see those gains and some of those boxes ticked, I'm very happy with it."
WATCH: Disaster for Ferrari as Vettel and Leclerc retire early after first-lap crash
Norris, who started ninth after a three-place grid penalty, pitted on Lap 39 – later than any of his midfield rivals – and swapped from soft to medium tyres, giving him a chance to push hard in his second stint.
With two laps to go, running P8, he closed in on a battle between Racing Point's Lance Stroll and Renault's Daniel Ricciardo, watching as Stroll pushed Ricciardo out wide at Turn 3, before capitalising and sweeping past the Renault.
A lap later he passed Stroll into Turn 4 and then just two corners from the line he passed the other Racing Point of Sergio Perez, the Mexican limping to the line having damaged his front wing in a battle with Red Bull's Alex Albon.
Looking back at the Turn 3 pass on Ricciardo, Norris said: "This one was a bit lucky. They're fighting and I was hoping for that. I had to brake a lot harder and I had a lot better slipstream from Stroll, and made the most of that. I was a bit nervous what was going to happen.
"[At Turn 4, alongside Stroll], I was a bit nervous, I lifted on the exit. You know, I didn't have the most confidence in where I was going to end up or get squeezed to on the exit [of Turn 4]. I had the option of backing out. I waited the next half a lap, made the most of my tyre, the slipstream, I had DRS and it worked out perfectly.
2020
Drivers' standings after Styria
POSITION
POINTS

3

Lando

Norris

McLaren

26

4

Charles

Leclerc

Ferrari

18

5

Sergio

Perez

Racing Point

16

6

Max

Verstappen

Red Bull Racing

15
"So then we got a bit lucky with Perez on the last corner and I would say this concluded one of the best races of my F1 career so far," he continued.
It says much about the 20-year-old Briton's relaxed approach that the first thing he did after stepping in front of the media was to wish his sister a happy birthday.
"She wished me luck the other day and that came through," he said with a smile. And now sitting third in the world championship standings, behind only the Mercedes duo of Valtteri Bottas and Lewis Hamilton, Norris certainly has plenty to smile about.