Norris happy with recovery to P5 in Azerbaijan GP after 'annoying' opening lap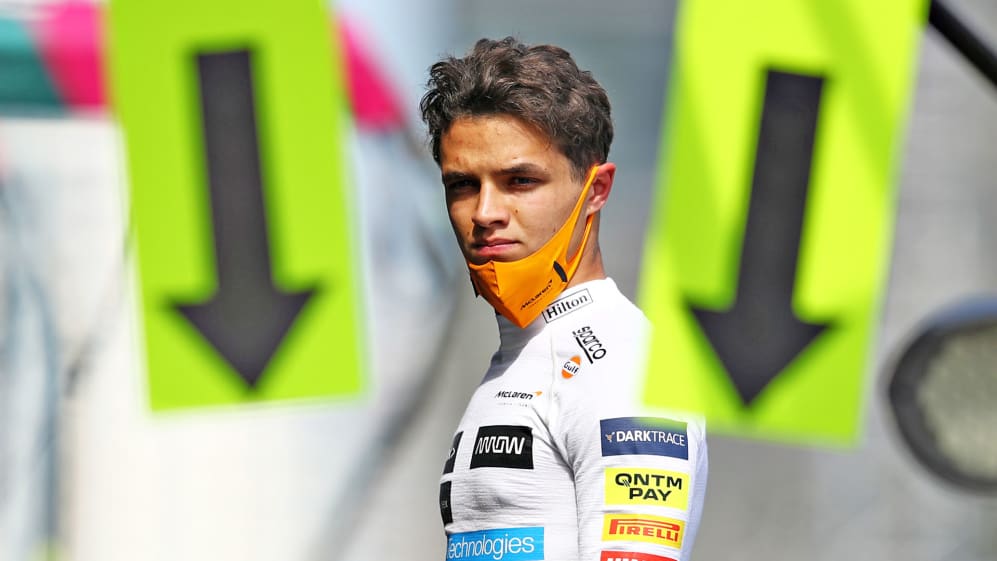 A penalty for Lando Norris saw him start the Azerbaijan Grand Prix in P9, while following a cautious start, the McLaren driver was down in P12 by the end of the opening lap. But after overcoming that bad getaway to finish fifth at the flag, Norris declared himself happy with his recovery in Baku.
A red flag infringement for Norris in qualifying saw him dropped three places from his P6 grid slot, while a steady start from the Briton then allowed Mercedes' Valtteri Bottas, Aston Martin's Sebastian Vettel and Alpine's Esteban Ocon to slip past him.
READ MORE: Perez beats Vettel to Baku victory after Verstappen crashes out from lead late on
But although Norris admitted after the race that seeing the likes of Vettel and AlphaTauri's Pierre Gasly on the podium had made his first lap travails all the more frustrating, the McLaren driver said he was nonetheless satisfied with his fifth top-five finish in six races this year – with Norris having gained two extra places after passing Yuki Tsunoda and Lewis Hamilton at the Lap 50 race restart.
"P5 I'm happy with in the end, especially after the final restart, to grab two extra positions was better than I expected," said Norris.
"As disappointing as the first lap was, I don't feel like I did a terrible job; it's just sometimes you can get a bit unlucky, you can't go right or left, so you go in the middle and get a bit sandwiched. I think most of my starts and first laps have been good this year, just this is the first difficult one, which happens sometimes.
"It's always difficult to judge how aggressive you want to be, how many risks you want to take," he added, "but I thought I took a decent amount of risk versus reward ratio and it paid off, so pleased with a P5.
"It's annoying because you want to think you could be in a position like Pierre or Seb were – but they also had very good pace, they've been quick all weekend, Seb had great pace on the soft tyres, so not a lot we could do to defend from them."
READ MORE: Leclerc says possible tree branch on track triggered start of fall from pole to P4 in Baku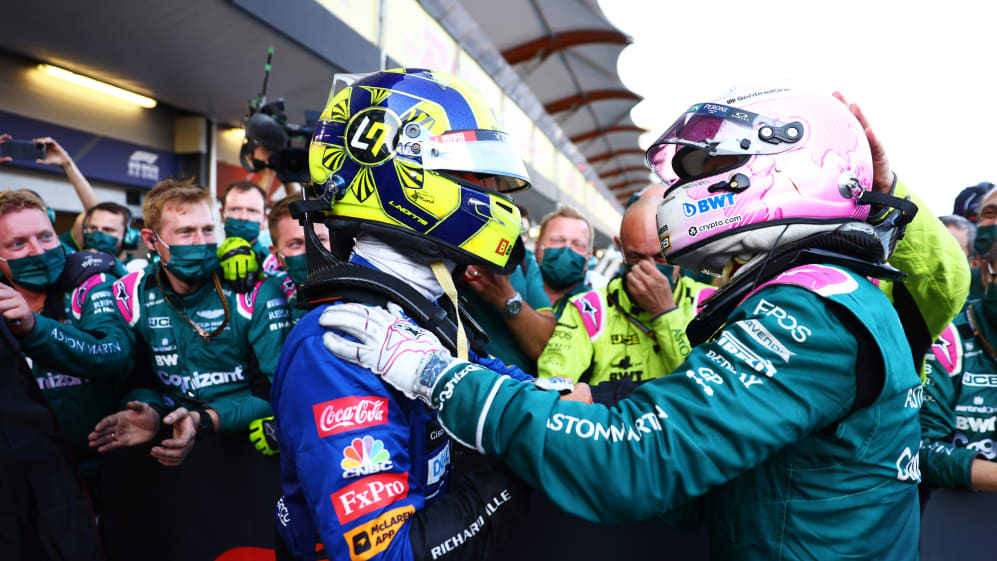 On the very last lap of the race, Norris had tried and failed to find a way past Ferrari's Charles Leclerc, as the Monegasque ultimately came home fourth. And with the second Ferrari of Carlos Sainz claiming eighth, as McLaren's Daniel Ricciardo took ninth, Ferrari were able to move to third in the constructors' championship, two points clear of McLaren.
But according to Norris, given the fact that Ferrari had had the pace to claim pole position and fifth on the grid in Baku as McLaren had to make do with ninth and 13th, the team could be pleased with their damage limitation versus their Italian rivals.
READ MORE: Steiner says Haas duo have 'cleared the air' after Schumacher left fuming by last lap Mazepin jink in Baku
"I think after yesterday, it's definitely [positive]," Norris told Formula 1's Post-Race Show, "with Charles starting on pole and only finishing just ahead of us, and nice having Daniel in the points, just helping us out that bit more. It's tough because they still got more points than us, but there's still a long way to go in the year, so we'll just keep it up and keep fighting."