Norris hoping for 'lonely' Dutch GP after qualifying P7, as Ricciardo reveals cause of Q1 exit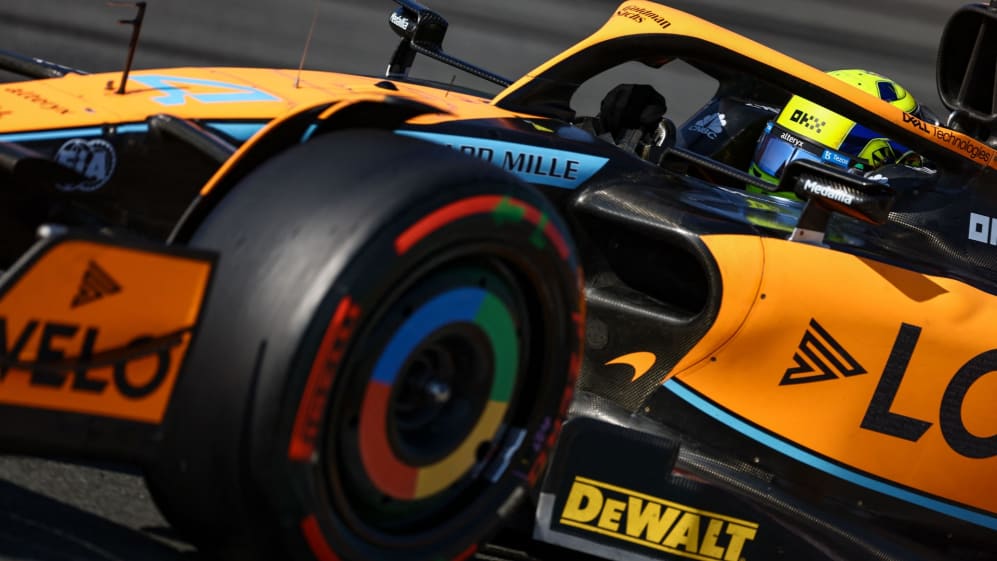 There where contrasting fortunes on Saturday afternoon at McLaren, as while Lando Norris made it into Q3 at Zandvoort, team mate Daniel Ricciardo was knocked out in Q1 and will line up 17th on the grid. And after qualifying, both drivers reflected on their differing performances...
Norris will start the race from seventh, and the Briton was delighted with the result, as he admitted that beating the Alpines of Esteban Ocon and Fernando Alonso – who qualified in 12th and 13th respectively – was not what he expected at the start of qualifying.
"I mean, after my first lap in Q1, I wasn't very hopeful because I was a long way off that Alpine and so on and it felt like quite a good lap, so I was a bit like 'oh no'," Norris admitted. "So I had to push it a bit more and try and unlock a little bit more from the car, which I think I did and took some good steps forward.
READ MORE: 'It's good to finally be back' says Leclerc despite losing out on Zandvoort pole to Verstappen
"And actually by surprise ended up P7 ahead of guys we were expecting definitely to be a bit quicker than us today. So I was happy with my job, a little mistake here and there, even on my final lap but nothing that would have changed the position, so a good day for us."
Norris was also asked about his hopes for the race on Sunday, to which he replied: "I mean, I don't want to get confident because [Alpine] are out of position. They've been quicker than us all weekend, even yesterday we were just in a different performance mode comparing to them, but they have just been quicker all weekend. Yeah, we will see.
READ MORE: Verstappen says he took 'full risk' to nail pole position for home race as Perez explains Q3 spin
"I think we will have good opportunities. I've given myself and us the best chance of scoring some good points. I expect the top six to just pull away and hopefully leave me a lonely race, which I would actually look forward to tomorrow. But there are a lot of quick cars behind, including Mick [Schumacher in P8]. Haas have looked quick today especially, so not expecting an easy race, but I would love one."
Ricciardo on the other hand was knocked in Q1 for third time this season – he started 12th in the Austrian GP after starting 16th in the Sprint – and the disappointed Australian was left lamenting an issue at the final corner that brought an early end to his qualifying session.
"The second-last corner, I guess whoever in front of me it was, they went and put a wheel in the dirt or something, so as soon as I pulled out of the, call it chicane, corkscrew, whatever, and I was looking obviously up to the next apex and I could see just brown all over the track," said Ricciardo.
EXCLUSIVE: Piastri on joining McLaren, leaving Alpine and making his F1 debut
"A lot of dirt and I was hoping that it wouldn't affect the grip but it did and it cost me about three-tenths I think. So that was the difference, putting me out in Q1. I think the lap, it was okay; it wasn't electrifying but it was definitely good enough to keep going in quali, and I think then it was a couple of tenths to find."
He continued: "Actually, I don't think it was tracking to be too bad, especially where we were this morning, we were pretty lost in FP3, scratching our heads. It was trending like it was better but one of those ones where you can't do much."