Norris on why 2021 was his best year in F1 – and how Ferrari fight has sharpened focus for 2022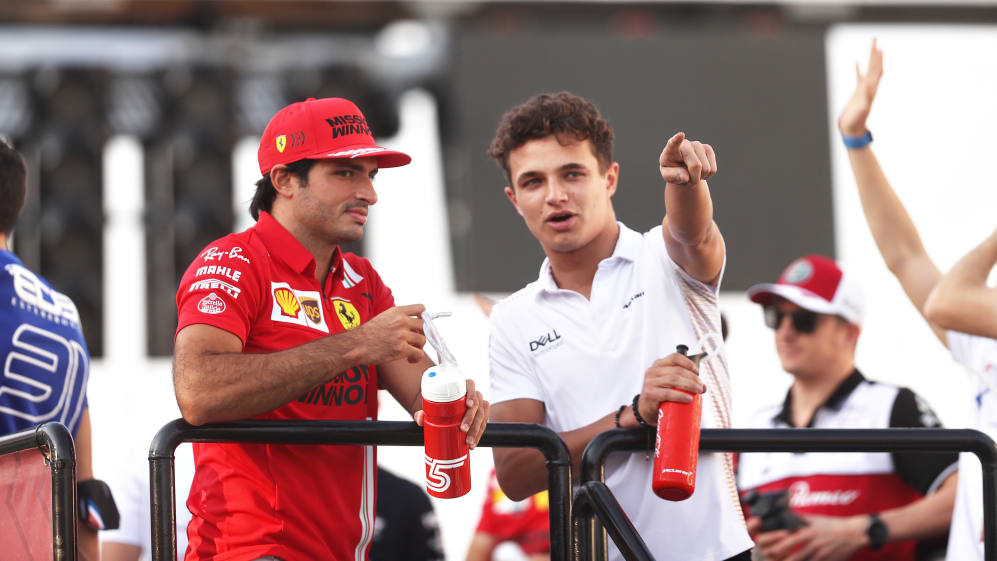 McLaren's Lando Norris is gearing up for his fourth full Formula 1 season, and said the experience of fighting Ferrari in 2021 has put him in a prime position to battle towards the front of the field in 2022.
Norris finished a stellar sixth overall in the 2021 driver standings with 160 points – more than he scored in his first two seasons combined – although his efforts weren't enough to prevent Ferrari from claiming P3 in the constructors'.
But speaking after the season closer in Abu Dhabi, the 22 year old – who scored four podiums across the season, claimed his first F1 pole position and narrowly missed out on taking his maiden win at the Russian Grand Prix – was asked just how much he'd learned from the fight with Ferrari, and whether 2021 had been his best season to date.
READ MORE: 10 things every Formula 1 fan should be excited for in 2022
"It's definitely been, I would say, my best season so far, which is always a good thing when I'm only in my third season," he said.
"I think I've achieved a lot, done well for the team and been there for the team when we've had those chances to be on the podium and score the points and bring that fight to Ferrari for as long as possible… I think from my side, and even for us as a team, it's been a very good year and we should be happy with what we've done.
"I would say it's helped quite a bit," he added on the season-long scrap with Ferrari. "Just being with that mentality of them keeping us on our toes, them keeping us pushing, trying to find [the] smallest bit of lap time.
"It's definitely been good for us, probably the same for them in that it's not been an easy year for them; I think it's benefitted both of us. But for sure I would say that it's been a tough season. I still believe that we've had a much better season than [2020], we're closer to the front, and to the rest of [the midfield the gap] is also much bigger."
The Briton explained that the continuous challenge posed by Ferrari throughout last season also stopped him and McLaren getting "complacent" as they – along with the Scuderia – aim to get back to their winning ways with a fresh assault in the new-for-2022 cars.
READ MORE: 'P3 not our target' says Binotto – but 2021 result gives Ferrari 'self-confidence' for 2022
"I think it's easy at times to get complacent and start to take your mind off of this, especially if you're on your own – if you're just the third-quickest car with no one ahead of you or behind you there's definitely ways to fall into that trap," continued Norris.
"It's still been a very good season, I think not just in terms of results and points but also how we've worked together as a team, the way we've maximised things."
McLaren will be looking to bridge the gap to Red Bull and Mercedes in 2022 while also remaining wary of Ferrari, who have talked up their own improvements ahead of the new season.