Russell, Grosjean, Leclerc and Vettel reveal one-off helmet designs for Abu Dhabi Grand Prix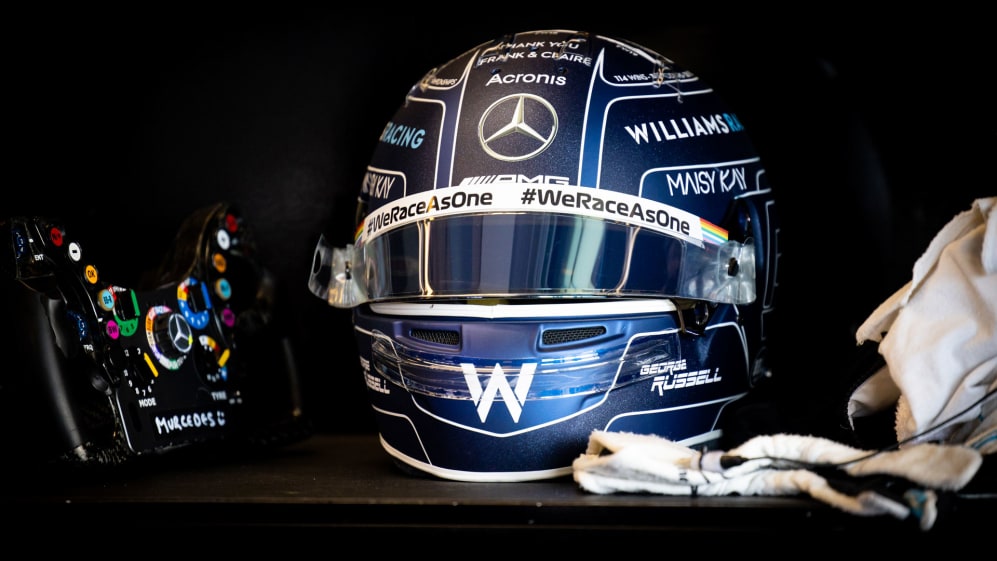 Romain Grosjean has unveiled a special helmet – designed by his children – that he had planned to wear for the 2020 Abu Dhabi Grand Prix, while George Russell is using a special design paying tribute to Williams founder Frank Williams this weekend. Ferrari's Sebastian Vettel also has a one-off design for his final Ferrari start, while his team mate Charles Leclerc is paying tribute to Vettel himself with his helmet.
Grosjean's helmet was designed by his three children Sacha, Simon and Camille for his final F1 race, but after the Frenchman was injured after a heavy crash in the Sakhir GP, he is not taking part in the Abu Dhabi GP this weekend. Ahead of the race, he revealed the special design on social media, and said he hopes to use the helmet in a future race.
Oops! Error retrieving Twitter post
Vettel, whose Turkish GP helmet is up for auction, has a chrome dome in Abu Dhabi, as he marks his final race with Ferrari before his switch to Aston Martin next year. In a social media post, he said: "As you can see, it's very glittery because in Abu Dhabi we are racing into the night. Most importantly we've got the Italian flag and the German flag on top and the message 'grazie ragazzi' and 'grazie to Ferrari, Italia, Maranello and the tifosi' written on top."
He also has the number of his Ferrari race wins, podiums and starts printed on the helmet, as he says goodbye to the Italian team after six years.
READ MORE: Vettel pinpoints 2018 as 'decisive moment' in Ferrari career as he prepares to leave team
Oops! Error retrieving Twitter post
Leclerc has paid tribute to his Ferrari team mate Vettel with a helmet design that includes the message "Danke, Seb" on the dome, and has images of Vettel and Leclerc set into the number 16 on the side of the Monegasque racer's headgear.
Oops! Error retrieving Twitter post
Oops! Error retrieving Twitter post