Norris revels in P5 performance in Monaco as Ricciardo explains 'struggle' that led to Q2 elimination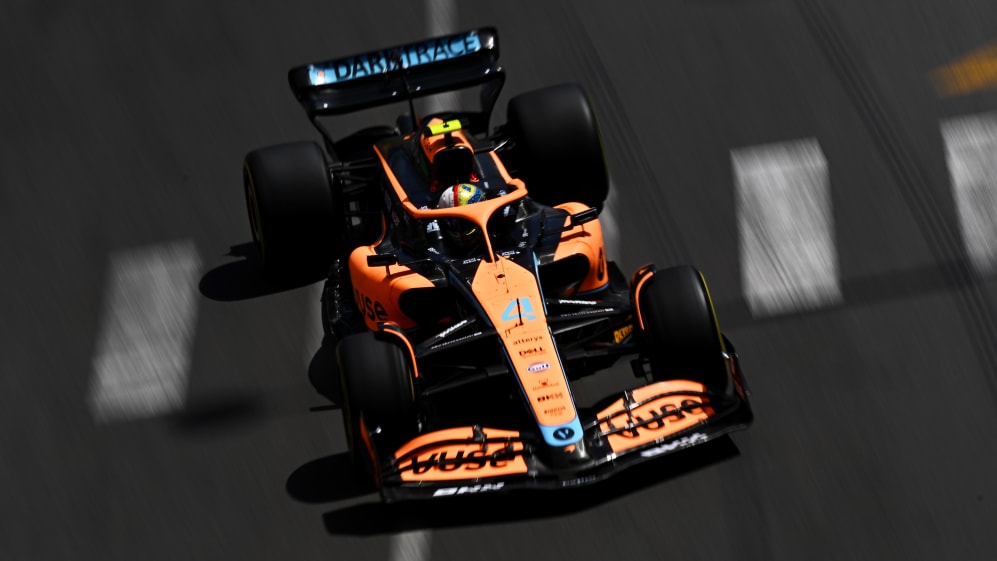 McLaren drivers Lando Norris and Daniel Ricciardo faced contrasting fortunes in qualifying for the 2022 Monaco Grand Prix, with the former qualifying P5 and the latter P14. Norris was happy – if hoping to be closer to the front-runners – while Ricciardo was understandably disappointed.
Norris took a podium in last year's Monaco Grand Prix and managed to achieve 'best of the rest' status with P5 behind the Red Bulls this year, in a qualifying session that was ended early due to a collision between Sergio Perez and Carlos Sainz. The Briton was asked if he was "delighted" with his Saturday showing.
READ MORE: Leclerc takes majestic pole on home turf in Monaco as bizarre Sainz-Perez crash brings early end to qualifying
"I am, for sure. Yes, it's tough because we've always kind of been in the gap between not slow or slow enough to be racing the other guys and not quite quick enough to be next to a Red Bull or Ferrari, which is a shame, but I tried.
"Honestly it wasn't a perfect lap, but it was one which was good and the car's been feeling very good all weekend, I've been comfortable in it and I've been able to have confidence to do the laps when I needed to and so on, so I've been happy. It's just a shame that we just missed out that little bit extra to be competitive enough for the top two teams, but I'm very happy with P5 for today."
Is there another podium on offer on Sunday for Norris? After all, he took to the rostrum in 2021 after Charles Leclerc crashed at the end of Q3 and failed to take the start.
"I want to be optimistic that the people above us have problems, but you never know," continued Norris. "I think the main thing again is that we just score some good points. It's always hard to know what the expectations can be coming into Monaco – we knew slow-speed corners… they're our weakness, but for some reason when we come to Monaco it always changes a bit, just because you have to change the philosophy of how to set up the car and things, and it goes in a little bit the opposite direction to what we expect.
"So I think we'd take P5. It's still a long race tomorrow, and things can happen to us just as much as it happens to other people, so we'll see."
READ MORE: Leclerc hoping to 'finally' end home race jinx after dominant Monaco pole
Ricciardo, who qualified 14th between the Haas cars of Kevin Magnussen and Mick Schumacher, explained why he couldn't join Norris in Q3.
READ MORE: Russell says win is possible from P6 on the grid if rain hits Monaco on race day
"There were a few mistakes [in Q1] so I think actually we were in a decent place for what we were and then normally you just keep building, keep building through the session, and that's where I just couldn't build and get the grip and find that big step that everyone, or I guess most others, seemed to make. That's still the struggle.
"I mean, I know they're saying there's a chance of rain and storms, so hopefully that is the case and maybe [it will] spice things up, but unfortunately another not-great quali for Monaco," concluded the Australian, who was P12 on the grid here a year ago.