Norris says he'll 'cherish' surprise Monaco podium after resisting late pressure from Perez
Lando Norris resisted intense pressure from Red Bull's Sergio Perez in the final laps of the Monaco Grand Prix to claim his second podium in five races this season after finishing P3 behind winner Max Verstappen and his former team mate Carlos Sainz – with Norris particularly delighted to have made the rostrum at a race McLaren had predicted would be tough for them.
After a strong qualifying performance that saw Norris take P5 on the grid, just 0.044s slower than second-placed Verstappen – who would eventually cruise to a comfortable victory after Ferrari's Charles Leclerc failed to take the start – Norris benefitted from the retirement of Mercedes' Valtteri Bottas in the race to finish P3, withstanding a late assault from Perez to claim his third career podium.
READ MORE: Verstappen claims dominant Monaco victory over Sainz and Norris, after polesitter Leclerc fails to take start
"It's been a pretty crazy weekend," said Norris. "The car's been pretty good to drive, I've had a lot of confidence, felt very comfortable and I think that showed yesterday with probably an alright outright package not being quite there yet compared to [Red Bull and Ferrari], but that confidence to push the car in qualifying to be only two-tenths off, which was a pretty cool achievement for us.
"And then to be there [in the race] and make the most of other people's mistakes, like Bottas' one with the pit stop, to grab a podium too… it's been a cool weekend, especially here in Monaco, it's even more special than any other track. I'll cherish it but I'm just hoping there's plenty more of them and we can do it at other tracks, because I think that's going to be the harder thing to do."
Norris' P3 – with the Briton lapping team mate Daniel Ricciardo midway through the race, as the Australian came home a distant 12th – saw him move up to third in the drivers' standings, thanks also to Bottas' non-score.
WATCH: Norris waves as he laps McLaren team mate Ricciardo
But asked after the race about the pressure he'd been put under in the latter stages by Perez, Norris replied: "As soon as we put the hard tyre on… it was a much more difficult car to drive, much easier to lock up and snatch the front, worse over the bumps and so on, so not a lot of confidence. And as soon as I heard where Sergio was in terms of his tyre strategy, how much later he boxed, I got pretty worried.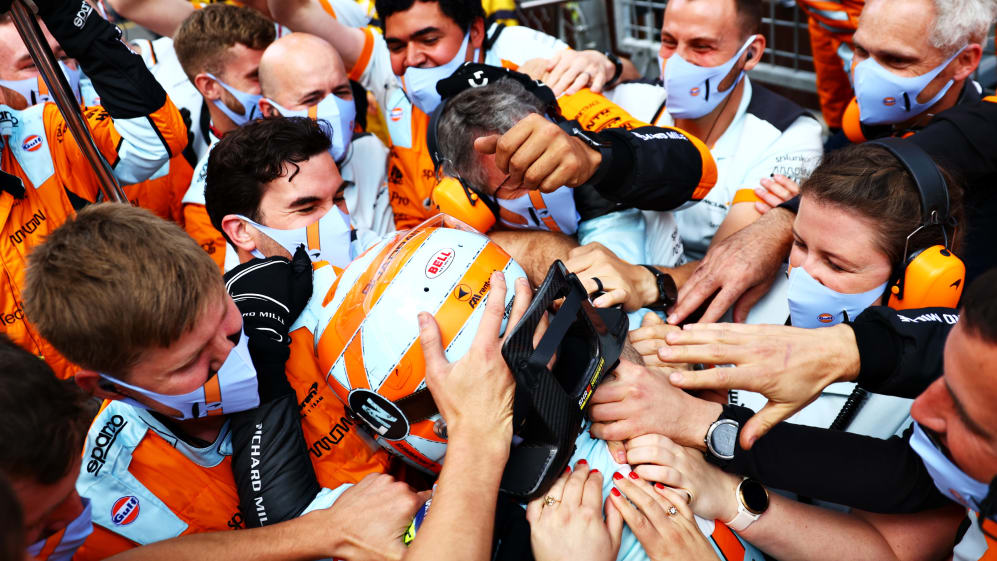 "But I kept it on the black stuff which is the most important, didn't hit any walls and I think as long as you're good out of the last corner and out of Turn 8 [Portier] and you cover those two places well, he's not going to pass, so it wasn't too bad.
READ MORE: Sainz says P2 in Monaco a 'bittersweet feeling' as he 'genuinely thought we could win'
"Of course I'm smiling, I'm super happy," added Norris, after claiming McLaren's first Monaco podium since 2011. "It's something you never really think of, and we definitely didn't think of coming into this weekend. We thought it would be one of the toughest weekends we've had all season, but it's almost turned into the opposite. So it's pretty insane, pretty incredible."