Norris says McLaren have taken 'a big step forward' after 'surprisingly' good P4 outing in Austria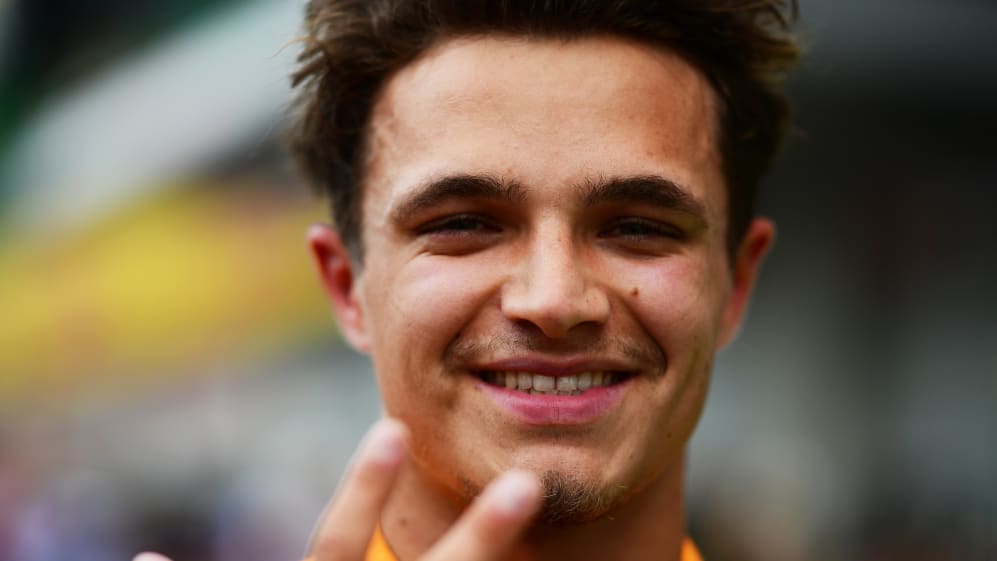 Lando Norris was happy to be back fighting at the top of the field after finishing in a season-high fifth position at this weekend's Austrian Grand Prix – with Norris later promoted to P4 following a penalty for former team mate Carlos Sainz.
Norris did not make the greatest start from fourth on the grid, losing out to the Mercedes of Lewis Hamilton on the run down to Turn 1. However, once the race settled, he was able to put pressure on his compatriot, before overtaking him later on in the race.
DRIVER OF THE DAY: Superb fifth place in Austria earns Norris your vote
After pitting for the second time, he was running in fourth behind Carlos Sainz, before the Red Bull of Sergio Perez came past in the closing stages of the race. However, he was able to take P5 – his best finish since finishing fourth at the 2022 Singapore Grand Prix, with that made even better by a post-race penalty for Sainz that promoted him to P4.
Speaking after jumping out of the cockpit, a cheerful Norris said: "A very good day for us, honestly. I didn't expect it to be quite as good. I was a little bit nervous going into the race about what to expect and how we were going to do and what the pace of the car was going to be.
"Especially from a degradation side of it, I think like the first five laps of every stint, you know, I felt confident we could be quick. Just could we maintain that, could we stay there for the whole race?"
Norris continued: "And surprisingly it was better than I was expecting. So, a good surprise, definitely helped us achieve the result today.
"The upgrade has definitely helped us take a big step forward. So, I'm very happy. A good amount of points and a good reward for the team."
READ MORE: Verstappen beats Leclerc for victory in Austria to make it five wins in a row
When asked if it was nice to be fighting near the top of the field once again, Norris responded: "It makes such a big difference to fight some of the quicker cars and the bigger teams and not just that but to be fighting for P5, I guess, makes a big difference.
"It's just a lot more exciting for myself, probably for everyone watching, for all of the McLaren fans and everyone who works within the team, of course it's more exciting.
"You feel like you're getting rewarded and that makes a big change, so very happy with how everyone's done, the progress we've made, but clearly more to be done."
Team mate Oscar Piastri did not enjoy as successful an outing, with the Australian rookie taking the chequered flag in P17, albeit that he was later bumped up to 16th following penalties for other drivers. After the race, he was left ruing an unfortunate clash with the Haas of Kevin Magnussen that left him with wing damage.
EXPLAINED: Why did the Austrian Grand Prix race result change?
Asked whether it had been a 'difficult' race, Piastri – running the non-upgraded MCL60 – responded: "You summed it up very well. Difficult. Picked up some wing damage in the middle, I think with [Kevin] Magnussen and a couple of others kind of having their own incidents in front and I didn't really have anywhere to go.
"A shame there, but I think even without that, our pace wasn't very good. Obviously, the positives, a very good finish for Lando and the team, so I'm looking forward to getting those parts next week."