Norris surprised by 'much better pace' of Renaults at Silverstone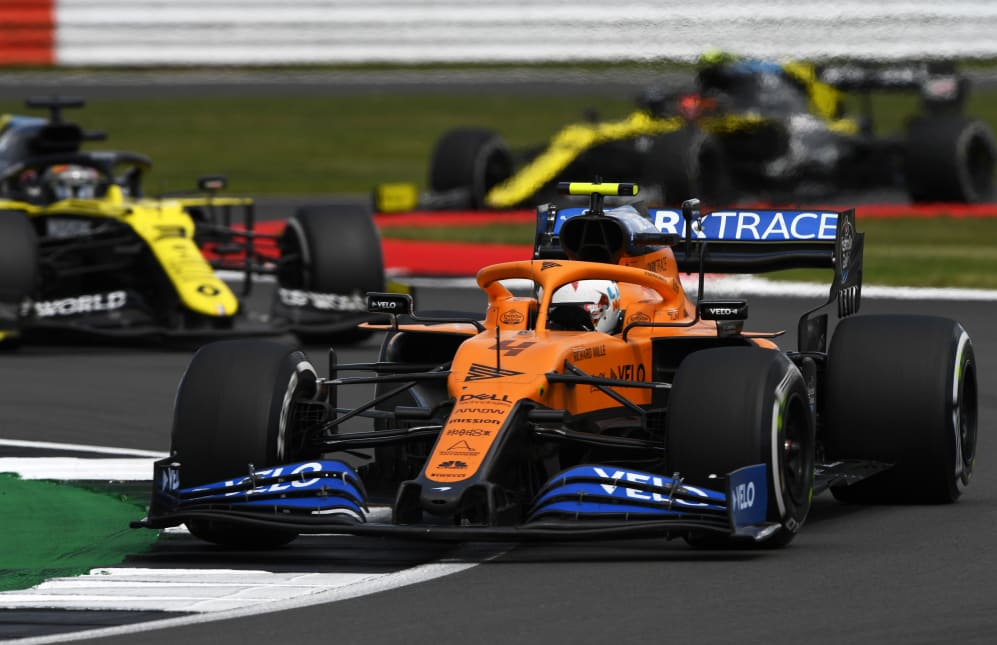 Lando Norris was forced to concede that McLaren's rivals Renault had enjoyed 'much better' race pace than him during the British Grand Prix, after a late pass by his future team mate Daniel Ricciardo demoted Norris to fifth at the flag.
The McLarens had looked the stronger of the two teams in the first half of the race, with Norris – who'd initially lost out to Ricciardo and team mate Carlos Sainz on Lap 1 after locking up into Brooklands – re-passing the Renault of Ricciardo around the outside of Luffield during the second Safety Car restart on Lap 19.
READ MORE: Hamilton limps to seventh British Grand Prix victory after late tyre drama
The two McLarens then quickly cleared the un-pitted Haas of Romain Grosjean, Sainz on Lap 22, and Norris on Lap 25. But while Ricciardo couldn't pass Grosjean until Lap 36, he was then able to quickly reel in Norris, bottled up behind his tyre vibration-afflicted team mate Sainz, with Ricciardo passing Norris for fifth on Lap 49 of 52 before inheriting fourth when Sainz's tyre let go one lap from the end.
"It was just a very difficult race," said Norris, having finished in the fifth place he'd started in. "I don't think we had the best pace today compared to [qualifying]. I think the Renaults were definitely quicker than us, and it just made our lives difficult, having to push more than we wanted to, and push the tyres more than we wanted to.
"But from my side, it was not terrible really. I made a couple of mistakes, one on the first lap where I let Carlos by, but then after that it wasn't too bad. We had a good strategy with the pit stop, we both came out in decent positions."
READ MORE: 'Luck hasn't been with me' says Sainz after last-gasp tyre drama robs him of points at Silverstone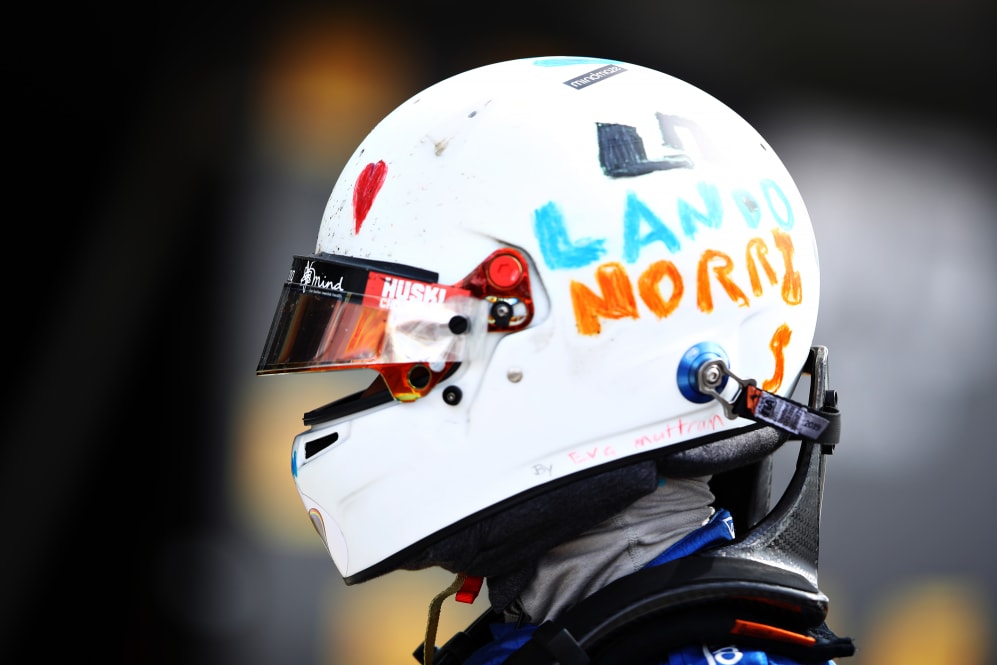 Norris, who raced sporting a special helmet design created for him by a six-year-old fan, was also asked about his mid-race team radio calls pleading for Sainz to speed up, given the fast-approaching Ricciardo behind.
"Well around this track, and with the cars we drive nowadays, as soon as you get within three, four seconds, you can feel the lack of downforce, you feel like you're destroying the tyres more than you want to," he replied.
READ MORE: Grosjean handed warning from stewards after 'potentially dangerous' defence of Sainz and Ricciardo
"It was difficult to keep Daniel behind. He had much better pace and the only thing I could do was try and push up to Carlos but then I started to struggle a bit more with the tyres so there was not a lot we could do. I don't think we had the pace compared to [the Renaults]."
There were some positives to help put Norris' race in perspective, however, with his still-strong fifth place meaning that he maintains fourth in the drivers' standings, while McLaren keep their 100% finishing record for both cars in 2020 – the only team, other than Mercedes, to manage that feat.