Ocon thanks Alpine team mate Alonso for 'fighting like a lion' to help him to maiden win in Hungary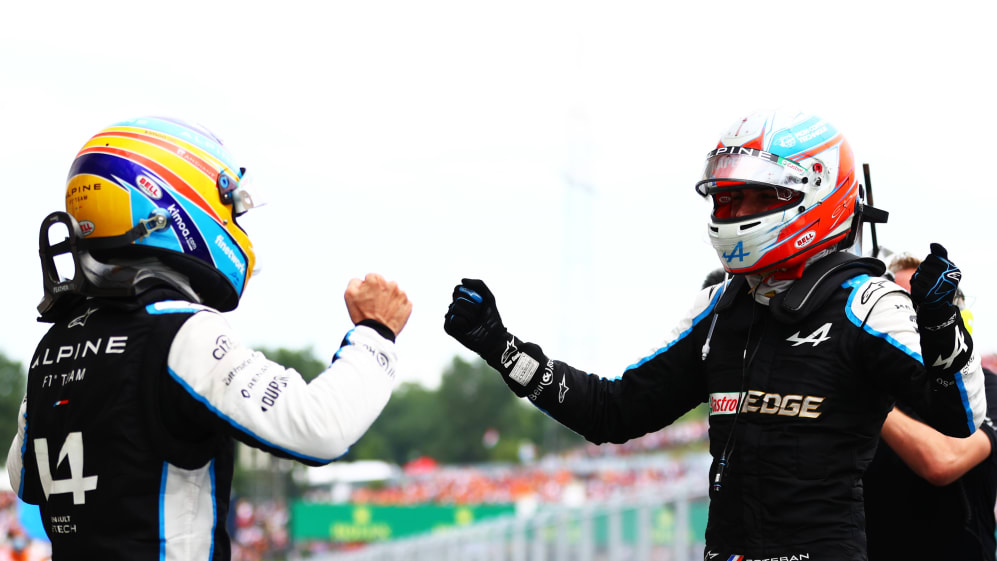 Alpine team mates Fernando Alonso and Esteban Ocon now have another thing in common: They both won their debut F1 races in Hungary, driving for the team from Enstone. And after his shock victory, Ocon gave his heartfelt thanks to the Spaniard for his heroic rear-gunner performance at the Hungaroring, crediting the two-time champion for helping him win his first car race of any kind since 2015.
Ocon was the big beneficiary of the first lap drama in Hungary, picking up six places to run P2. He then took the lead after Lewis Hamilton stayed out on intermediate tyres on a drying circuit after the red flag re-start - though the Briton might have roared back to victory on his alternate strategy late on had it not been for Alonso's stoic defence of P4.
On fresh medium tyres, it took Hamilton 10 laps to make his way past a tigerish Alonso, and by then it was too late for the Mercedes driver to challenge Ocon for the lead – let alone Sebastian Vettel for P2, though the German was later disqualified, promoting Hamilton up to second and all the other finishers up a place as well.
READ MORE: Hamilton says he's still suffering effects of Covid as he's treated for 'fatigue and dizziness' after gruelling run to third in Hungary
"I mean, it is an awesome moment in my career, that's for sure," said the emotional Frenchman in the press conference. "I don't have words to describe it but it's the first win for the Renault Group since they came back to Formula 1.
"After… difficult times, the trust they put in me, I'm glad that they get this reward – and I also want to say a special thanks to Fernando [who] has been fighting like a lion in that race, because that probably contributed to give us a gap, give us a bit of a breather.
"I said it to many different press out there: I received a lot of bad comments about Fernando before he joined the team but we are forming a great duo together, pushing the team in the same direction and hopefully it's the first win of many for us – and hopefully we can share the podium in a short moment," he added.
This victory is Ocon's first in single-seater racing since he won the 2015 GP3 Series (now F3) season opener in May at Circuit de Catalunya. Not only that, he is the first French driver to win a Grand Prix with a French car and French engine since Alain Prost did so for Renault in 1983.
DRIVER OF THE DAY: Alonso's defensive masterclass gets your vote in Hungary
But that glory was very nearly dashed by Vettel as the four-time champion finished just 1.85s seconds off the 24-year-old at the chequered flag, before the Aston Martin driver was disqualified for a fuel issue.
"We are back where we belong so that's fantastic," said Ocon, "but Sebastian was mega quick the whole race, put me [under] big pressure. But we managed to hold him off so that was a great effort.