Ocon delighted with first home points in France as he looks to fight with 'full force' on return to Hungary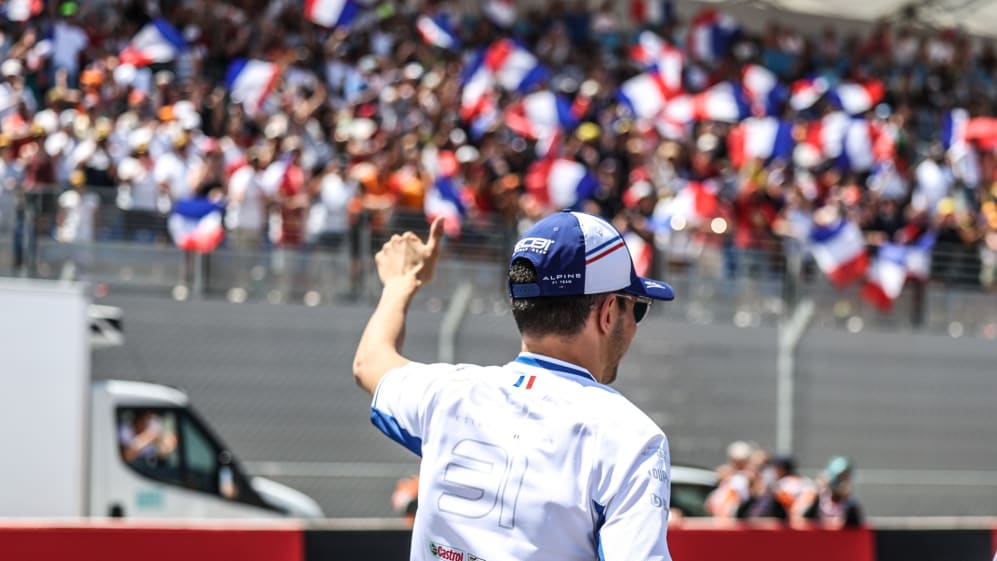 Esteban Ocon finished in eighth place at Sunday's French Grand Prix, with the Alpine driver delighted to finally claim points at his home race – at the third time of trying – after what he described as "not the best weekend from our side".
Ocon started the race in 10th but collided with Yuki Tsunoda at Turn 8 on Lap 1 – receiving a five-second time penalty as a result. However, Ocon brushed that off to finish eighth behind Lando Norris, securing a double points finish – with Fernando Alonso in sixth – at his and his Alpine team's home race.
"It's been a good race definitely," said Ocon. "It's a bit unfortunate the incident with Yuki, because we probably could have had a fight with Lando towards the end of the race. But other than that, it's good to score points with both cars.
F1 NATION: Victory for Max, questions for Ferrari – it's the French Grand Prix review
"We overtake McLaren in the constructors' championship [for P4], which is quite good. And in a weekend when it was not the best weekend from our side, I think we can be happy with how it's gone.
"The goal today was to score points with both cars, and we've done just that. I'm happy with my race today and it was brilliant to drive in front of the home fans who have been incredible all weekend, so thanks to them for all their support."
Next on the calendar is this weekend's Hungarian Grand Prix at the Hungaroring, the setting for Ocon's first ever victory in Formula 1 last year. And the French racer revealed his excitement at returning to Budapest for the first time since standing on the top step of the podium 12 months ago.
"I can't wait [to go back to Hungary]," said Ocon. "It's going to be two great races in two [weeks], great memories of course from last year, so hopefully we can fight in full force.
READ MORE: Record-breaker Alonso says he played French GP 'like a chess game' on way to P6
"It will be emotional to be back in Budapest for sure," he added ahead of the race. "I can already feel all the memories of last year coming back. But that was last year, and we need to be fully focused as a team to deliver another solid weekend.
"It will be important to go into the shutdown with a feeling of having really cemented that fourth spot in the constructors' championship. We know it will be difficult, but we have the team and the tools to do just that. We will be giving it one last push before a well-earned break for the team who have worked incredibly hard all year."